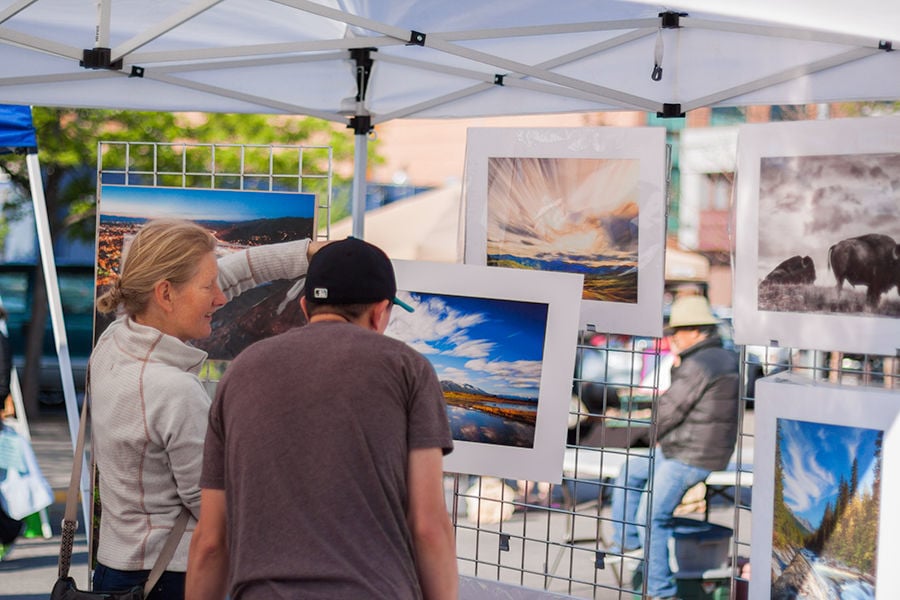 Visitors to downtown Missoula on Saturdays this summer will notice a staple of the summertime is gone: The Missoula People's Market.
The booths of arts and crafts vendors on East Pine Street won't return this year, as organizers say it wasn't workable due to the health restrictions around COVID-19.
"Unlike the farmers markets, we are considered a social gathering and non-essential, which means we would have much stricter rules about spacing and the number of people allowed into market," said Megan Haney, a member of the board of directors, in an email. "We would have to cut vendors, and it would prevent normal shopping activities like browsing and trying things on. If these rules aren't heavily monitored, we would be shut down. Plus, we would need additional staffing to place a barricade around the perimeter of the market and to count the number of people in the market at all times. We are a nonprofit and do not possess the funds for this kind of staffing, and unfortunately volunteers are not always reliable."
Haney said they normally would've been set up downtown from May through the end of September. About 60 permanent vendors and as many as 50 rotating guest vendors would participate through that period.
"Above all else, we want to keep our vendors and community safe, and in the end we came to realize that, as a humble nonprofit, we did not possess resources to do so. We worked very hard to explore all options, and the decision was made with very heavy hearts," she said.
Haney, who makes jewelry and sculpture under the Wander & Rain name, said that all six of the board members are artists, and three are full-timers that rely on the market for a significant amount of their income.
To help offset the loss for vendors, they're using the market's website and Facebook page to spotlight their members and websites.
The foot traffic ebbs and flows, but in general there are "definite peaks where there is an excited traffic jam through market. We see a surge in the beginning of the season because everyone is so excited to be out enjoying early summer. Then of course there's tourist season which seems heaviest in July and August."
The People's Market isn't the only event of its type that organizers found unworkable in the current environment. The Summer MADE Fair in Caras Park, which offers a similar mix of fine art and tactile craft items, is postponed until August. The River City Roots Festival, which features live music along with an art show and large crowds, decided it will re-envision its August event. 
Stay up-to-date on what's happening
Receive the latest in local entertainment news in your inbox weekly!