When going about daily life in Montana, no one expects a Picasso in the corner, but there it is. An earthenware pitcher's surface decorated with a profile of a face and an owl in black and white markings on a brushy gray surface.
Don't touch it, but if you could, the bottom is stamped with "Edition Picasso," and "Madoura," the pottery studio in the south of France that he collaborated with on editions of his work in clay.
"Grave Gris," dated to 1954, was purchased by the Relic Gallery, run by collector Brian Sippy and Tim Gordon, a Missoula-based appraiser who's appeared on "Antiques Roadshow." It's been "hiding" in the corner for weeks now, although some have taken notice.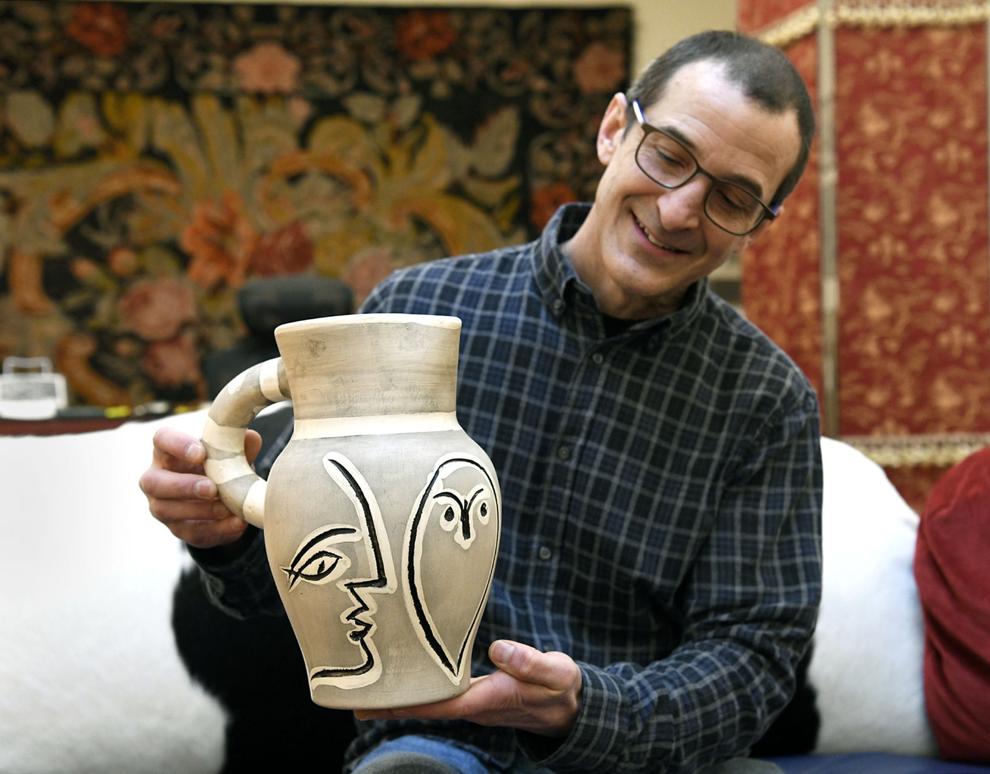 Sippy said the pitcher has naturally attracted attention from the many ceramic artists around Missoula. "We have a very strong and respected clay community here, and the word got out," he said.
With Picasso, discussions of fame are relative — his ceramics are not quite as well known as the rest of his art to the general public. Oddly enough, though, Gordon said that Picasso became interested in the idea of ceramics after the prices for his paintings increased drastically and were far out of reach of most buyers.
In 1946, he traveled to the south of France and was impressed by the work done at the Madoura studio by George and Suzanne Ramie. He began to think of ceramics as "fine, expensive works to the common man," Gordon said.
Not long after, he began working with Madoura in what became several decades of a "wonderful collaboration that created this empire and produced thousands of works," Gordon said. Picasso would personally oversee the creations in a partnership, and the Ramies would produce them in editions. (The piece at Relic is one of 500.)
Artists throughout history have worked closely with assistants for myriad reasons. Matisse directed the placement of his famous cut-out images after his health declined. Contemporary artists like Julie Mehretu oversee projects of massive scale. Here in the Northwest, you can think of Dale Chihuly, whose complex glass sculptures are not a solo endeavor.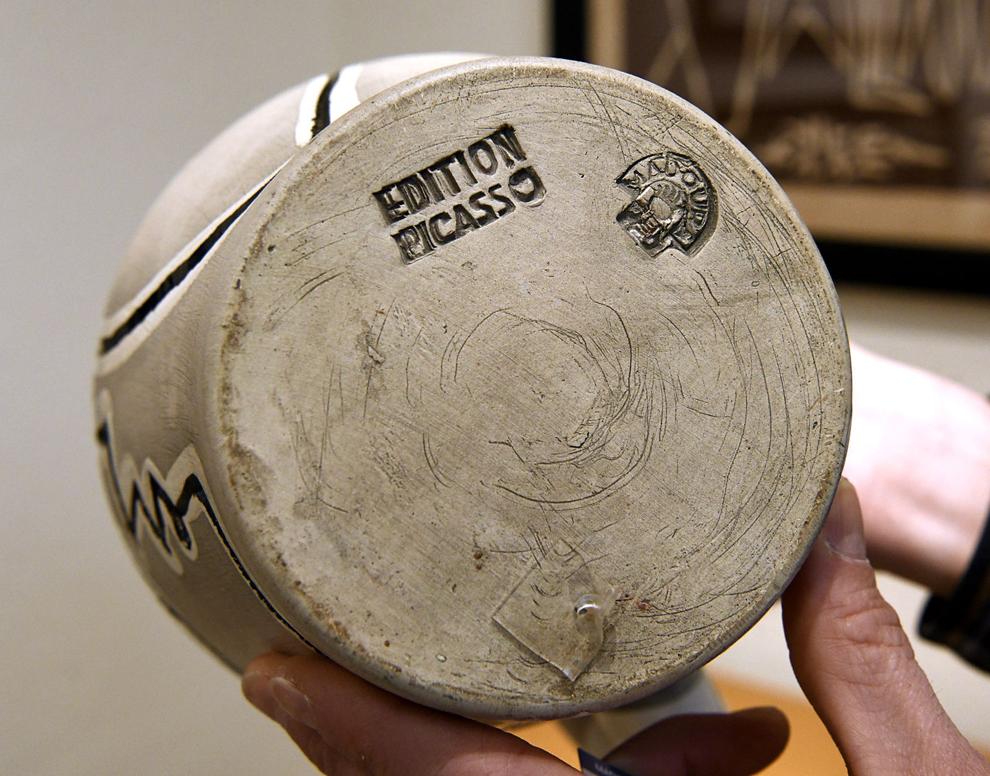 But the final product looks like and is the artist's creation. "Grave Gris" is partially glazed white earthenware, with shallow lines carved in the surface with a clay knife. The brushed texture makes you want to pick it up, Gordon said, and it wasn't "just done by happenstance. He selected those because they draw you in."
The owl and neoclassical faces on each side show his love of "antiquity, and so he wanted to incorporate the imaginary world, the ancient world, with mythical creatures and true beasts," or "timeless conflict, and conflict between mortals and immortals."
While the ceramics weren't "cheap" per se, even at that time, they were decorative wares and affordable compared with his 2D work. That's held true with the appreciation in value of all of his art. Gordon said the ceramics have become popular with and sought-after for auction houses. "They're not cheap," he said, but they are "legendary."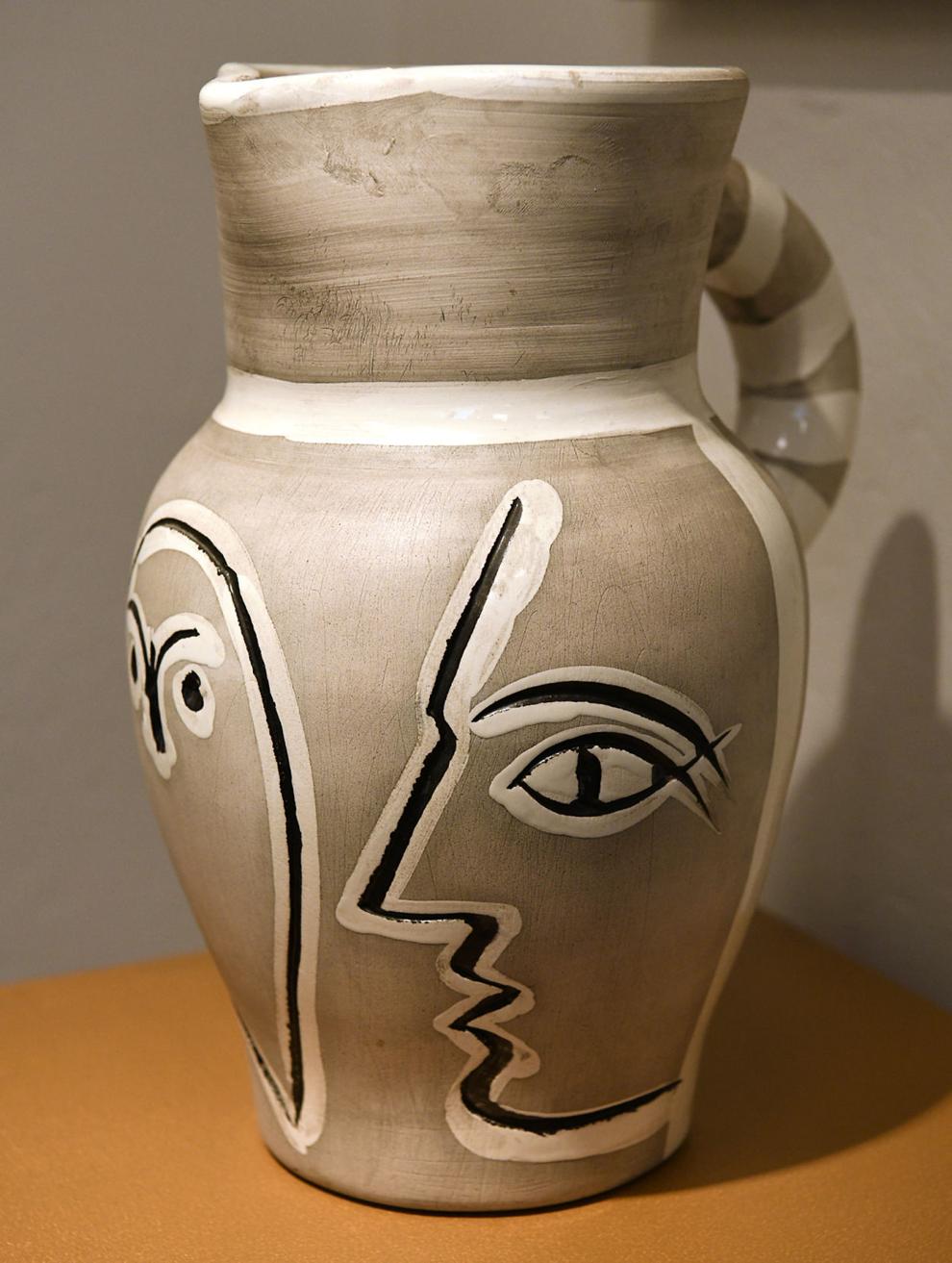 It's of a piece with the other objects in the gallery, which specializes in fine art and antiques. You might see a Roy Lichtenstein print, or a David Shaner pot, or a pair of unopened first edition Air Jordans. Or a Picasso.
Relic is open on Tuesday, Thursdays and Fridays from 11 a.m.-6 p.m. and Saturday from 11 a.m.-3 p.m. Wednesdays are appointment only. For more information, go to 120nhiggins.com.