Architecture shapes a community, yet the public doesn't often hear the ideas that went into the design of a building that they work or live in, or merely pass every day during their commute.
With "Process: The Art of Architecture," an exhibition at Western Cider's tasting room, MMW Architects shows sketches, models, finished photographs and more from four of their projects around Missoula.
Ellie Costello, the cidery's tasting room manager, said the company likes good design: One of the co-owners, Matt LaRubbio, is a designer, and they remodeled their California Street building from an old warehouse.
"We really love the whole process of designing, all the way through creation and how that impacts the community and creates community spaces," she said. In the case of MMW, she said the firm's work affects the community, yet people don't "connect those buildings back to who's designing and conceptualized them."
MMW, which employs 22 people, is "invested in the community and we love doing projects that have a direct impact on the community," concentrated in Missoula, the Flathead and Bitterroot, according to Kurt McGrane, a project architect.
They range from small-scale, like modern-looking shade structures for the Milwaukee Trail that are constructed from scraps by volunteers at Home ReSource, to prominent structures around town including the Park Place public parking garage on East Front Street; the Poverello Center; the Good Food Store, the James Bar; and the Equinox and Solstice affordable housing projects on West Broadway and Russell. The firm also designed the new Radius Gallery building, which is under construction next to the Missoula Mercantile hotel.
The drawings at Western Cider show off a few of their recent projects: the new two-story library in Hellgate High School, the Sweetgrass Commons affordable housing project in the Old Sawmill District and a private residence.
They also included a new contemporary project on the Northside, a set of three three-story rectangular townhomes on North First Street and Grand, just across from the pedestrian bridge.
If you've been wondering what to call the hard-rectangular style of building that's popping up around Missoula, there's not a specific name beyond "contemporary."
In this case, the client asked for a contemporary look and MMW generated its design, based on a variety of factors.
Associate Architect Ryan Schumacher said they analyze a site and examine the surroundings, the potential view, which sides will get sunlight, and the positive and negative features of the site.
When thinking about the design, they considered how it's a transitional neighborhood near both the railyard and near the traditional brick Northside structures and the larger, modern-looking apartment buildings.
They wanted as much of the front facade as possible to be glass, framed by deep blue steel walls, eventually selecting unusual window panel sizes that resemble Mondrian paintings, which they aligned facing west to provide a view of the valley, including Ch-paa-qn Peak.
Another factor they had to consider is that it's a infill project that places three townhomes onto a single lot.
Various challenges included balancing that density with an individual look for each townhouse; one trick was varied color accents to provoke some emotion. The inclusion of a ground-level garage pushed the main living spaces to the second and third floors, affording the residents more privacy on a street that gets a lot of foot traffic.
You have free articles remaining.
As a whole, the process involves a lot of hand-sketching (which you can take a look at in Western Cider) and working closely with the client through multiple iterations of a design that holds to the original vision.
"It's not a straight line, we're circling back, we're revisiting, but the goal is always have design and details that reinforce that big idea," McGrane said.
Even after the design is complete, they continue working with the client and the contractor, "a fluid process to get to the end," McGrane said.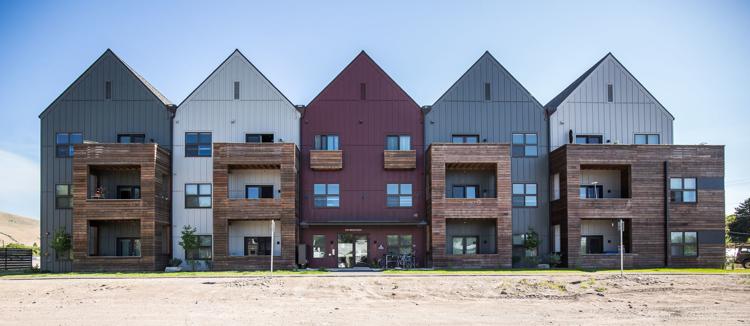 The Sweetgrass Commons is a three-story affordable housing project built in the Old Sawmill District constructed by Homeword. McGrane said the nonprofit emphasizes strong design in the context of constraints on funding and specific requirements on unit type and amenities such the number of laundry rooms. As a whole, they want to "bring dignity and make a really a nice place for people to live who otherwise couldn't afford it," McGrane said.
For this project, too, they looked at the surrounding neighborhood: To the west are Sawmill District developments with three- to four-story buildings. To the east, a neighborhood of one- to two-story single family homes with pitched roofs, interspersed with greenhouses and some light industrial.
They decided on pitched roofs for the five connected Sweetgrass structures that break up the mass of the building. The color palette — white, gray and maroon — was settled on after more than a page's worth of variations. The distinct look of the wood balconies sets it further apart. McGrane said they designed the balconies to look like they're solid walls with punched openings to meet a zoning requirement.
A funding requirement drove the decision to choose a particular wood, a sustainably harvested Oregon fir with a lifetime stain, which "gives the wood a pre-weathered patina and doesn't require any maintenance" for its usable life.
At Hellgate High School, the new library was sited in a former courtyard, making it a central hub for the students, McGrane said. It's been "reimagined as a two-story library space with sculptural tree columns and skylights above it." The columns are more efficient than a traditional column, meaning they didn't need to include as many.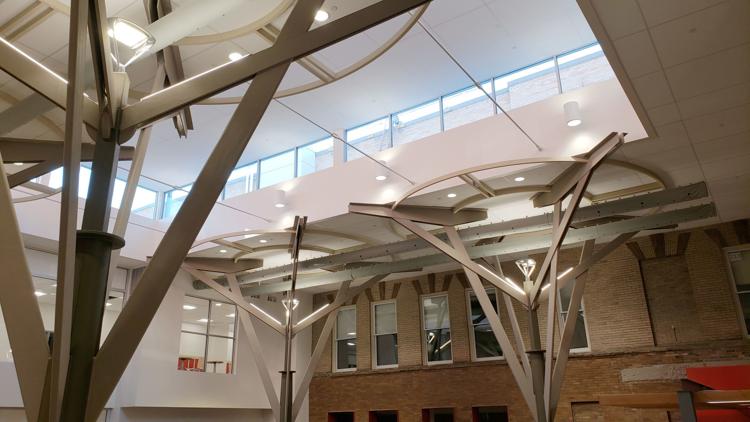 On Wednesday, you can check the drawings or give it a try yourself. Members of the Missoula Architecture and Design collective will give a short introduction to architectural drawing and then set you loose to make your own dream house. They did the same during First Friday, and a wall is lined with people's sketches — both earnest ones, and others that are fairly minimal and humorous. One drawing includes only two features: a "big yard (for dogs)" and a "dog bath."
The collective was started a few years ago to help bridge the architects and the community, so far through First Friday events or partnering with nonprofits. Architecture "plays such an important part in people's everyday lives," Schumacher said. Placing their work in the public square means they get feedback.
"There's good comments and bad, but at least there's a dialogue that happens which is a good thing," McGrane said.