On stage the weekend of its gala opening, the Montana Repertory Theatre's national touring production of "Barefoot in the Park" appeared just as it should.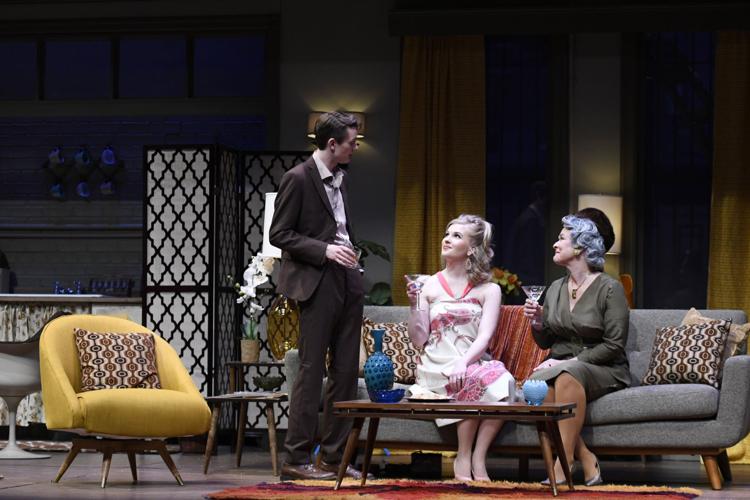 Whitney Miller, a junior at the University of Montana, walks through a door on stage at the Montana Theatre into a bare apartment, a fifth-floor walk-up in New York City circa 1963. In no time, her character, Corie, is exchanging Neil Simon's witty dialogue with her husband, Paul, played by Hunter Hash.
By Act II, the drab beige dwelling is transformed into a hip, decorated home with oval-shaped period furniture, even down to the princess phone.
After the weekend's performances, the cast and crew break down the little apartment and transport it to Plains, where they performed in the high school gym, an annual tradition for the Rep. The next evening, they were on to Helena. On Friday, they returned to Missoula for another run in their home city.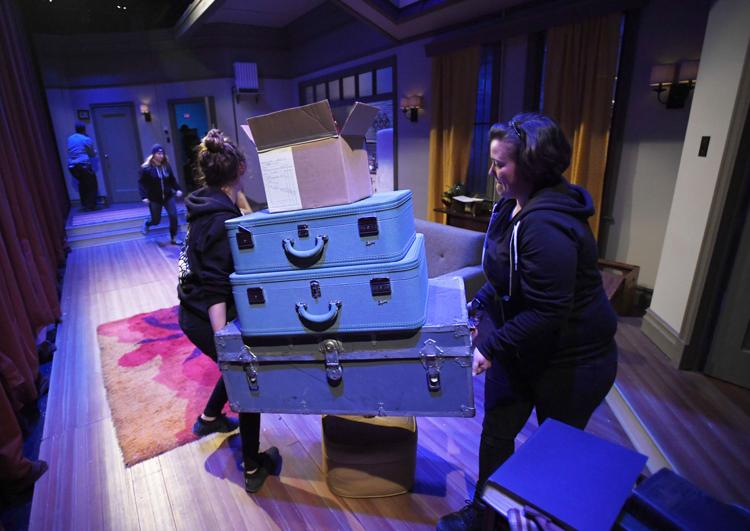 Later this week, they'll begin a run of 30 cities that will wind them around Montana and through Nebraska, Missouri, Kansas, Iowa, Oklahoma, Texas, Alabama, Mississippi, North Carolina, Virginia, Kentucky and Florida and close out on the second day of April in Ohio.
Convincing these audiences across the country to suspend their disbelief requires no small amount of preparation. But the Rep, a professional company in residence at UM, has been doing this for years, with unseen backstage work yielding rewards for its audiences and actors.
"A tour like this teaches you stamina in a way that I don't think you could learn anywhere else," said Cally Shine. During last year's tour of "All My Sons," she played Sue Bayliss, a testy neighbor, and also served as assistant production manager. "Crewing is your first job, and then you get to step back and tell a story." Learning to build a stage before you step onto it humbles you as a performer, she said.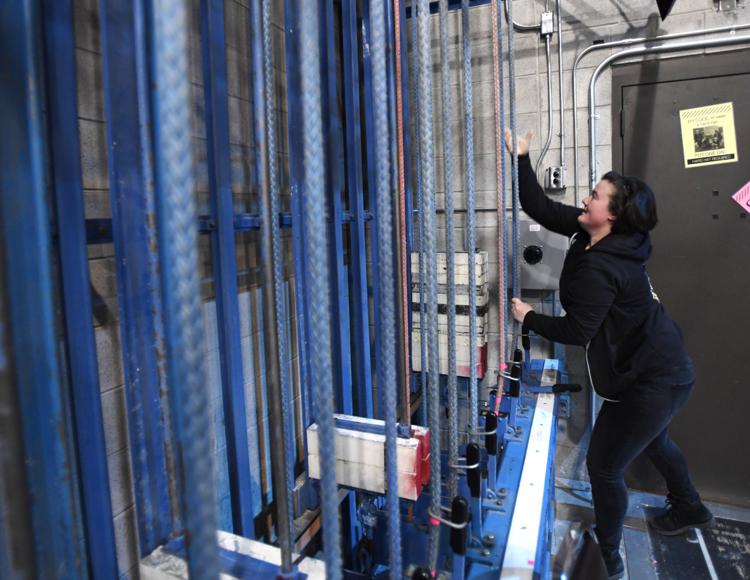 "It's a privilege for me to get to tell a story," she said.
One of the first steps on the Rep's annual tour is casting. This year, artistic director Greg Johnson picked two UM students for the lead roles, a relative rarity.
He looked at performers in New York City and Seattle before selecting the two, who beat out competition from professionals represented by Actors Equity.
Casting for a tour takes different considerations than a home production.
"They have to have the discipline and the maturity to maintain a performance," Johnson said. They'll not only perform each night, but as students, they'll have to help set up during the day and perform at night. It takes a "special type of person," he said. The workload and the travel leaves no room for a prima-donna.
Three weeks before the gala debut, they begin daily rehearsals, working eight hours a day with their three equity professionals: Mark Kuntz as Velasco, a cosmopolitan neighbor, Colton Swibold as a telephone repair man, and Laurie Dawn as Corie's mother.
A typical play allows for six weeks of rehearsals, meaning the Rep cast has to be ready to perform off book with props and costumes in a shorter period of time, said Teresa Waldorf, the Rep's educational outreach coordinator and a theater instructor at UM. Instead of weeks spent in a rehearsal hall with taped blocking, they begin work on a set constructed the summer before.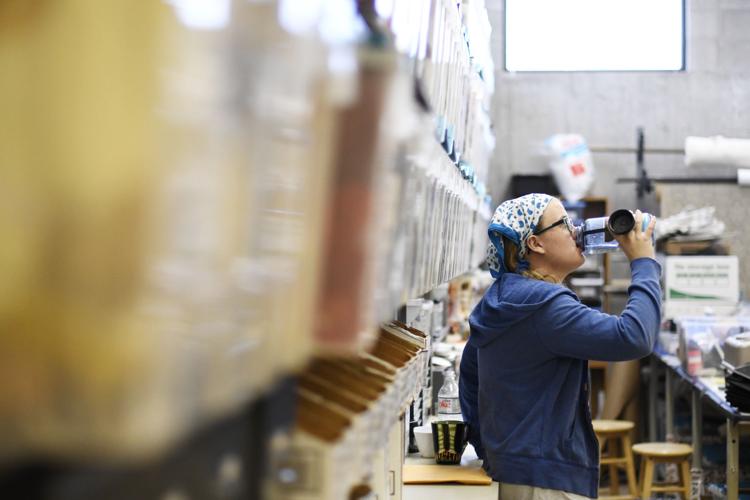 The set is a facade in the truest sense. It looks like a New York apartment circa 1963 to the audience. To the cast and the crew, it must sensibly break down.
The design and construction are a collaboration between scenic designer Joey Sarno and Rep technical director Brian Gregoire.
As designer, Sarno said he's charged with creating "a visual landscape that must be constructed cleverly, broken down, and pieced back together from performance to performance."
It's a team effort as it moves "from page to stage," he said. They consider and compromise on materials and sizes, breaks in the set walls and placement of seams, and more.
"Talking to the technical director is a bit like therapy in that I'm discussing all of my concerns and questions," he said.
Jason McDaniel, the Rep's production manager, said "the artistry comes" in crafting a set that doesn't appear to be a piece-meal construction to the audience.
"It's a feat to create something that looks beautiful, can be broken down quickly and loaded with minimal resources," he said.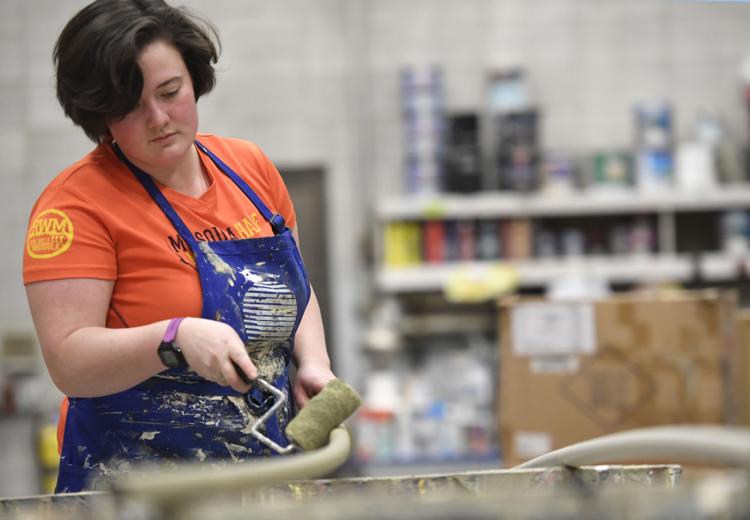 Those individual pieces will be carried through doorways and up and down staircases in venues that each have their own quirks and backstage set-ups.
Anyone who's moved furniture knows that durability matters: The set elements need to be strong enough to last anywhere from 30 to 50 performances, depending on the tour.
That little world they present onstage needs to fit in the back to two 26-foot Budget rental trucks.
You have free articles remaining.
It's a Jenga puzzle they assemble the same way every time.
"They have to unload it in a certain order and load it back in in a certain order to make sure it fits," he said. It's methodical: They use a computer program to make sure everything aligns correctly, then test it before the tour. They take pictures, draw diagrams and make notes.
This year, they have a crew of 12: the actors, stage manager and assistant stage manager, wardrobe person, technical director, sounder engineer and master electrician. Miller is doing double-duty as a carpenter, and Hash is second electrician.
That's all before they hit the road, where life takes on a different pace.
"You live an entire lifetime in one day," Kuntz said, "And you wake up the next day and it's all fresh and new and you do it all over again."
A typical day begins at a hotel, where they wake up early enough to drive to the next venue in the next town, aiming for a 10 a.m. load-in. Shine, who's returning this year as company manager, recalls getting up at 4 a.m. and driving straight till 10 a.m.
With the help of the local crew, they load in from 10 in the morning till 2 or 3 in the afternoon. Shine was a student on the last tour, so she helped with those parts. They take an hour break, then a company meeting, then check the microphones and the lighting. The actors have about half-an-hour to get ready before showtime at 7:30.
She said Johnson gives the students advice for preparing for the stage while readying a set.
"He tells actors to prep by counting the bricks as you walk into the theater and counting the bricks as you walk back out. As you walk in, count each brick and start to build your character, and then as you walk back out, count them down again so you leave that character on stage, you leave them on the boards," she said.
Once the load-ins become routine, she said there's less mental juggling as an actor. They have story structures and blocking and beats to make, even if they don't feel 110 percent.
"You have to rely on the tools of your trade and the rehearsals that you've done and trust yourself as an actor," she said.
After the show's over and they take a bow, they head back stage, change out of their costumes and repeat the process. That apartment doesn't get to stay in one place overnight.
Then they return to the hotel, and sleep and head out again the next day.
Kuntz toured with the Rep's "Great Gatsby" (2015) and "Biloxi Blues" (2013), in addition to 17 years with Montana Shakespeare in the Parks.
"My preferred life in the theater is the touring life," he said. "It feels like home to me to be on the road."
Hope Rose Kelly, this year's stage manager, is returning for her third tour with the Rep. She said you develop family-like relationships from driving, working and living together.
There's unique problem-solving exercises. During the "Gatsby" tour, they stopped overnight in South Dakota en route to Ames, Iowa. The temperatures dropped to freezing, so cold the Budget truck carrying the set walls couldn't exceed 30 miles an hour. They had to wait hours for a replacement, while the truck with props forged ahead.
"We didn't get that truck in until an hour before curtain time," she said. They had to perform without the walls, something they'd have to do eventually in smaller venues.
One of the payoffs of the tour is exploring and developing a role over an extended period of time.
"The show itself goes through an infinite number of small, subtle changes throughout. Actors become comfortable, every knows their roles more, can anticipate moments more, the stage manager has a clearer grasp of what the full product is from start to finish," Kuntz said.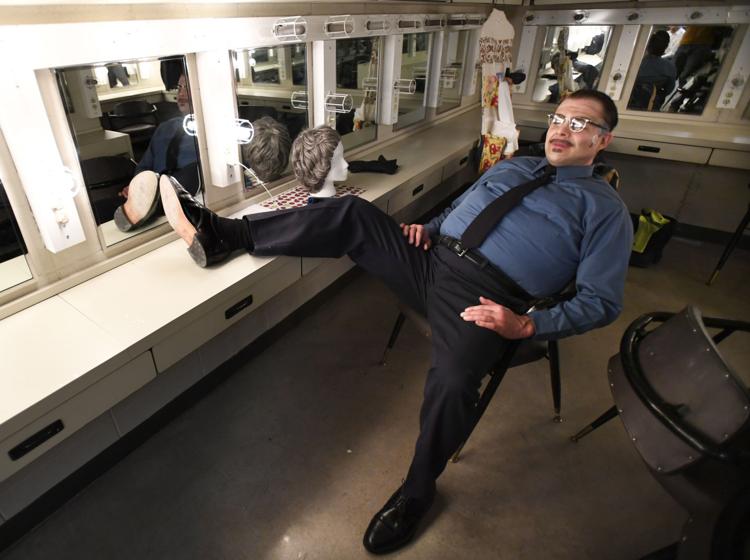 They have room to try new things while hewing to the original directorial vision.
Plus there's the adventure: They see swathes of America that they might not otherwise see.
They get days off at a time. Kuntz recalls breaks in New Orleans and Pittsburgh and catching a Pistons game. Kelly remembers getting brunch with her co-workers in a diner in Galveston once. Two people at a nearby table had seen "The Great Gatsby" the night before. They offered congratulations, and discreetly picked up the check on their way out.
When the tour's over, Shine said there's a little culture shock. The cast develops a dynamic that mirrors the show, and by the end they're speaking in a private code of inside jokes. They're filled with nothing but tour stories. But there is real rest for the first time in months.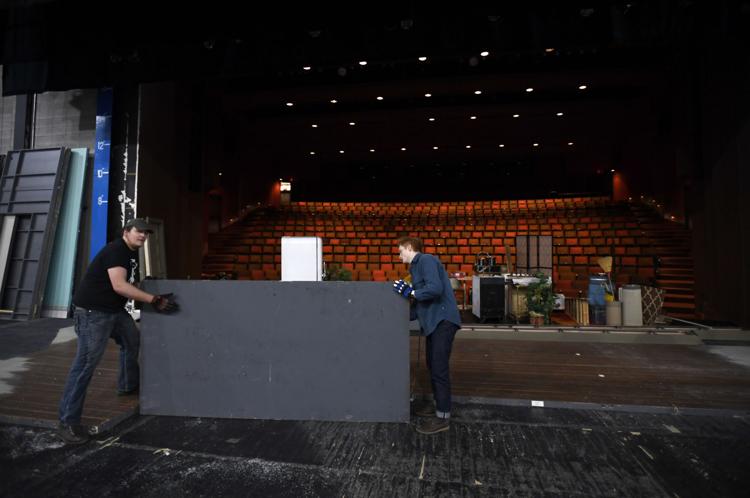 "That first sleep you get when you're done and don't have to wake up for a load-in the next morning or drive day, is unlike any other. It's the sweetest sleep," Shine said.