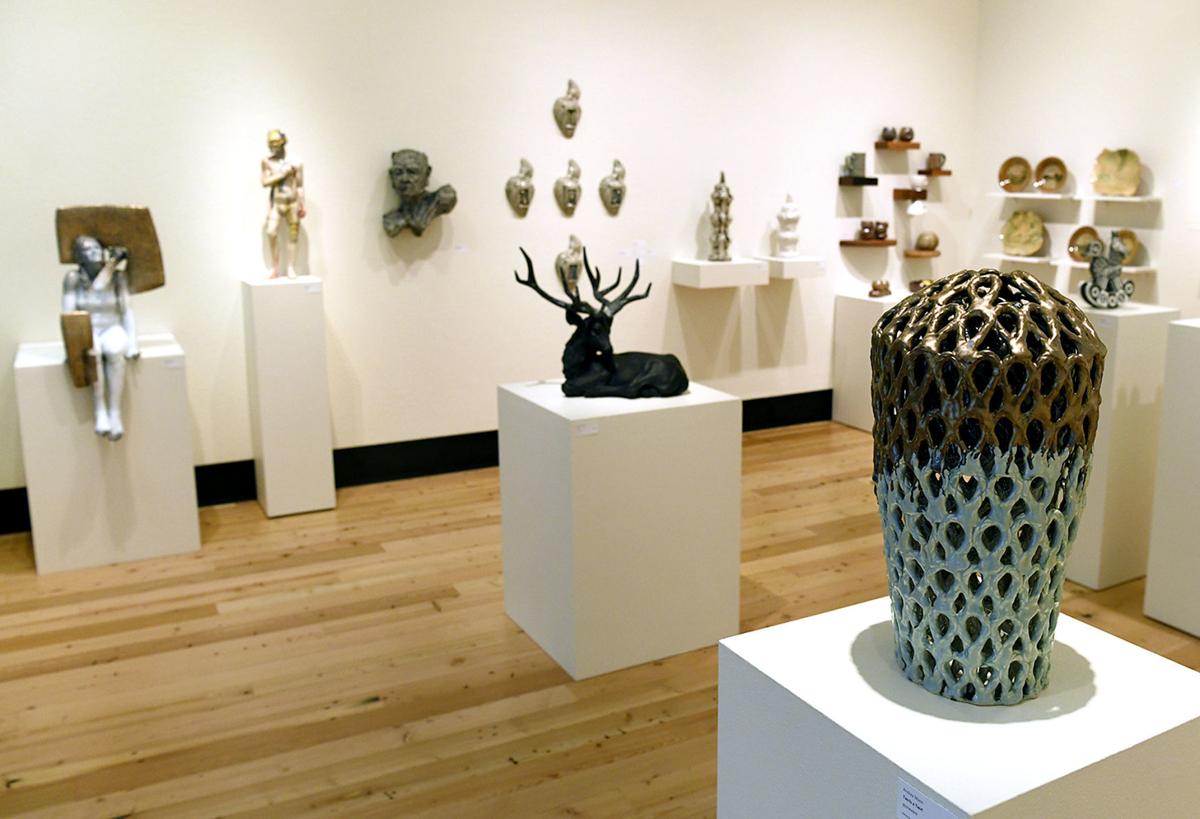 Who's open and who's doing what? Artists, musicians, and related organizations, businesses and nonprofits have all been adapting their offerings during the coronavirus. Some are offering online and pick-up options, and others are reopening under the new rules in place by county health departments. Here's a guide to some options. To be included, email entertainer@missoulian.com by Tuesday afternoon.
Missoula
Attack and Release Sound and Studio: See local bands live-stream concerts, or hear archival live shows, on sound and recording engineer Matt Olson's Attack and Release Sound and Studio Facebook page.
4 Ravens Gallery, 4ravensgallery.com: Open by appointments with limited people allowed in the gallery; personal shopping services available with curbside delivery. 
The Big Sky Drive musical duo presents a live concert on Thursdays at 8:30 p.m. Go to the Big Sky Drive page on Facebook.
Bob Wire's Stay-at-Home Special: The Missoula songwriter and humorist recorded a 40-minute video special with songs and stories that you can view on his "ednor49" YouTube channel.
The Book Exchange, booksmontana.com, 406-728-6342: Open 10 a.m.-5 p.m. Currently not accepting book returns. 
• Online sales gallery featuring work by resident artist Lane Chapman plus an array of items by represented artists for online purchase. 
• Potsketch 2020 online auction and virtual event. A fundraiser to help sustain the Clay Studio's facilities and programs. Potsketch features drawings generously donated from local, national, and international artists, and an assortment of incredible ceramic art works. Preview the auction items now. The bidding opens Thursday, May 14, and continues through May 23. All bidding will close Saturday, May 23, at 8 p.m. Bidding for all sketches begins at $50. Bidding may be done from any mobile device, tablet or computer. Registration will be open prior to the event. There is no fee to register. If you need assistance with registering, contact the studio.
 • Celebratory cocktail hour: Saturday, May 23, 5-6 p.m. Dress up and hold your own Zoom or Google Hangout cocktail event with friends prior to the live feed of the auction closing event.
 • Live virtual closing event: Saturday, May 23, 6 p.m. Link to be accessed from auction site through the Potsketch page.
• Educational resources. Check out the new "Clay Resources" and "Youth & Family Clay Resources" pages. The studio's artists-in-residence are developing some online course content.
• Classes. The studio assessing its classroom and coming up with solutions and new class structures. This will likely involve decreased class sizes, redesigning the classroom, and revised open studio use policies outside of class meeting times. There are no decisions made yet about summer adult classes, but hope to have some options in the works soon.
• Youth summer camps are still open for enrollment, but again, subject to change based on guidance and information that must be considered for the health and safety of the community.
• Clay resource page: theclaystudioofmissoula.org/clay-resources. A curated list of resources, both online and traditional media, that will enhance your research or inspirational quest through the world of ceramics.
Dana Gallery, danagallery.com: View featured artists, the gallery's current exhibition and all the artworks available. Now open Tuesday-Saturday, noon-5 p.m.
Ear Candy Music, 542-5029, earcandymusic.biz: Online ordering and delivery for vinyl, CDs and tapes.
Fact & Fiction Bookstore, 721-2881, factandfictionbooks.com: Online and phone orders available for mail and curbside pickup. Store open 10 a.m.-4 p.m. with limited number of customers allowed at one time. 
Frame of Mind, 1706 Brooks St., 406-549-8589, frameofmindmt.com: Now open Tuesday-Friday 10 a.m.-6 p.m. and Saturday 10 a.m.-2 p.m.. 
Gallery 709 in Montana Art and Framing, 709 Ronan St., 406-541-7100, montanaart.com: Virtual show of time-lapse watercolor painting videos by Don H. Mundt on Youtube and show of past works shown by video tours of the gallery to be found on Instagram for Don H Mundt or Facebook at Gallery 709 or Montana Art and Framing. Art available to preview online and on Facebook. Open by appointment, email info@montanaart.com.
• "Gather Round" is a DIY humanities toolkit. Each week Humanties Montana shares a quote or prompt for you to use at home — have a conversation with the people to whom you are closest. 
• Read Sara Baume's full essay "Home Waters" from the anthology "Hearth: Global Conversations on Community, Identity, and Place."
Missoula Children's Theatre, 728-1911, mctinc.org: Through May 30, the Missoula Children's Theatre is releasing materials for people to put on their own musical at home as part of their new Playdate program. Each Monday, MCT will provide a script, music tracks and guidance on building props and a set, choreography and costume design through live-streamed videos on social media. Families are encouraged to share photos and videos of their performance at the end of the week. To sign up for the program, visit mctinc.org.
Take advantage of the Missoula Art Museum's free — and fun — digital resources. The museum remains closed to the public in response to the spread of COVID-19, but MAM's commitment to sharing contemporary art and artists with the public continues.
• Learning platforms: Engage with current and past exhibitions using two distance-learning platforms. Museum as Megaphone features the most recent fall exhibitions at MAM, including "Rick Bartow: Things You Know But Cannot Explain" and "Lillian Pitt: Honoring My Ancestors." Resources include video tours of the museum, reproductions of the artwork, art-making projects, artist interviews, and more. The second platform, "Love Letters to the Collection," On Demand, asks participants to send a love letter to art. MAM's exhibition, "Love Letters to the Collection," is uniquely suited to virtual engagement, with each featured artwork having a "personal" e-mail address. New artworks from MAM's Contemporary American Indian Art Collection (CAIAC) are added to this exhibition each week by guest curators. Using the popular and free platform Teachable, Love Letters is accessible to audiences near and far through the popular and free website Teachable.
• Art-making projects at home: Download fun, art-making projects for families and children! Each worksheet is designed to help use simple art materials and common household items based on the works and techniques of current exhibiting artists. All projects have been tested and approved by MAM staff members and their children. New additions added weekly.
• Supporting teen artists: Teens are encouraged to continue creating and sharing their art while at home. Teen open studio weekly sessions continue over Zoom each Thursday afternoon. A social media campaign, #MAMhomestudio, keeps middle- and high-school-aged students artistically engaged while schools are closed. When MAM re-opens, the Teen Art Council will coordinate a collaborative exhibition featuring the artwork created by their peers during this unprecedented time.
The Missoula Fine Art Studio, 703-906-2967, missoulafineartstudio.com: The classically trained instructors at the Missoula Fine Art Studio are starting to post online tutorials.
Montana Area Music Association, mama4mt.org: The musicians group is featuring artists on its social media channels on Fridays and plans on compiling live streams for its newsletter. 
Murphy/Jubb Fine Art, kendahljanjubb.com: Now open at 10 a.m. with a limit of 5 in the gallery.
Painting with a Twist, paintingwithatwist.com/studio/missoula. Painting with a Twist has moved to "Twist at Home." Kits and written instructions for paintings along with Facebook Live classes for remote learning will be provided. People can register online; kits will be ready to be picked up from 1-3 p.m., Monday-Friday. Painters just honk, yell their registration, and their items will be put in their trunk. Kits contain table paper, canvas with a pre-sketch or stencil, chalk if there is a stencil, paint, paintbrushes, paper towels, water cup. Starting May 13 in-studio classes will resume with limited seating.
Radius Gallery, 541-7070, radiusgallery.com: Online shop available for its current exhibitions and represented artists, and they are open by appointment. 
Rockin' Rudy's, rockinrudys.com: Now open. Pick-up and mail orders still available. 
The Roxy Theater, theroxytheater.org: The community theater is temporarily closed, but new members can receive a three-month subscription to MUBI, a curated streaming service. Also view new independent films through "Roxy and Chill," and your rental fee goes to support the nonprofit.
Spark! Creativity at Home, sparkartlearning.org: Arts educational online resources and activities designed for any families to enjoy doing at home with minimal supplies. 
String Orchestra of the Rockies, sormt.org/ArmchairConcerts: The "Armchair Concerts" series features selected recordings from past SOR concerts.
Southgate Mall: Now open Monday-Saturday, 11 a.m.-7 p.m. and Sunday noon-6 p.m. 
Tapestry: Web Weavers, a guided movement Zoom class with Turning the Wheel for ages 16 and older, 5:30-7 p.m., Thursday, May 21. Led by Lizzi Juda and Lulu Delphine with live music by Jesse Manno. $15 suggested donation. To receive the Zoom link, please register at https://secure.lglforms.com/form_engine/s/95X9hbus7n97sar5R2EuFw or through Venmo @TTWMissoula. Please include your email address in the memo if payment made through Venmo.
• Paint-Your-Own-Pottery Curbside, Monday-Friday, 10 a.m.-6 p.m. Call 549-7555 or email dana@zootownarts.org to order and to schedule a pick-up time. Visit the website to look through available pottery inventory and add pieces to your cart. Complete your payment and submit your order. When the ZACC is notified of your order they will select and package your items, and call you when items are ready for pickup (and also obtain your glaze preferences). When you finish painting at home, return dry pottery in provided packaging and staff members will fire it for you.
• Last Best Print Fest 2020, The ZACC website, Facebook, Instagram, and 216 W. Main St, May 1-29. Last Best Print Fest is the ZACC's annual fundraiser for its community print shop. The event always includes a portfolio exchange and art opening for Montana and regional print-makers based on a theme, and an entire day of free demos in a wide variety of print-making styles. It also includes an engaging "bingo card" activity, where members of the community search for prints by the year's featured artist in local businesses and nonprofits. This year's LBPF will be a little different than years past, but all the major components will be there. As part of LBPF 2020 the ZACC Print Shop is hosting its ninth annual Portfolio Exchange with the theme of "Covers." Participating artists will supply an edition of 12 prints. Of the edition of 12, 10 of the prints will be redistributed to other participants in a random selection process. One print will be displayed in the LBPF Exhibition & Silent Auction on the ZACC website and the Greater Giving auction platform. Prints will also be displayed in the "Giant Front Windows Gallery" at 216 W. Main St. Artists will be able to pick up their collated portfolios on May 29, during the closing event, or when the ZACC is able to safely reopen (whichever comes first).
Bev Beck Glueckert is the featured printmaker. Glueckert lives and works in Missoula, and her work has been widely exhibited throughout Montana and the Northwest region, as well as nationally. She has been an art instructor and workshop facilitator for adults and children for 30 years. Bev has served as adjunct faculty in drawing and printmaking at the University of Montana and the University of Great Falls. Bev is a member of the SALTMINE artists group, and she holds a BA degree from the University of Idaho and a MFA degree in printmaking from the University of Montana.
LBPF Bingo returns for a social-distancing friendly romp through our LBPF sponsor's websites in search of Bev's work — and the answers to specific questions. Anyone can play. Every completed bingo card will be entered into a drawing to receive a Glueckert print and $100 in credit towards the LBPF sponsor of their choice! LBPF Bingo runs from May 1-29. At the end of the event, they'll draw a random bingo card out of a hat and announce the winner.
• Printing demos. Throughout the month of May, featured artist Glueckert and other local printmakers will host demonstrations of different print-making techniques on various ZACC social media channels, including YouTube. Be on the lookout for this great free art instruction.
• Pandemic Postcards. Local print-maker Christa Carlton is printing 150 postcards that ZACC staff will be sending out (in envelopes) to folks on our mailing list. The cards will be stamped and pre-addressed to the ZACC, and will provide space for people to express themselves artistically or through writing. Once completed, folks will send them back to us, and we'll compile them for a show in our Blackfoot Communications Gallery (once we are safely reopened), for a sort of pandemic retrospective. Bonus: it helps the US Postal Service.
• LBPF Closing Event. May 29, details TBA.
• Bike Month: Community Art Challenges. May is Bike Month, and the ZACC is partnering with Missoula in Motion to promote this pandemic-friendly and earth-friendly outdoor activity through the arts
• Pandemic Pals: Garden/Yard Sculpture Challenge. Missoulians are challenged to create sculptural buddies in their yards out of garden tools like rakes or shovels, and other things they have lying around. Pandemic Pals can be made throughout the month of May, and should be placed outside where they can be viewed from a safe distance by bikers and pedestrians. The ZACC staff has already made a few of our own, and will be sharing them on social media and its website before May 1. Missoulians who create Pandemic Pals should post on Facebook and Instagram with the hashtag #missoulapandemicpals. At the end of the month, a randomly drawn participant will receive a $100 ZACC gift card.
• Sidewalk Chalk Challenge. Throughout the month of May, Missoula neighborhoods are challenged to paint their sidewalks in all the colors of the rainbow to encourage bikers to ride by and see the colorful displays. The ZACC will roll out a map of neighborhoods with corresponding hashtags, so everyone can see what neighborhoods are really stepping up and share with Bike Month participants. The best neighborhood will get some serious bragging rights. The ZACC will also share a recipe for make-at-home chalk paint.
• Sidewalk Chalk Saturday! May 23, throughout Missoula. Hopefully Saturday, May 23, will be an absolutely gorgeous day, because we expect every single Missoulian to get out and draw on their sidewalks that day! Our peer pressure will be extreme, let's just put it that way.
Bitterroot
Art City, 407 Main St., Hamilton: Open 5-8 p.m. Friday, May 8, for Culture Crawl with the "Recycled Art Show." 
Art Focus, 215 Main St., Hamilton: Open 5-8 p.m. Friday, May 8, for Culture Crawl with its second annual "Art in Bloom" Show.
Artisans on Second, 175 S. Second St., Hamilton: Open 5-8 p.m. Friday, May 8, for Culture Crawl. Featuring laser-engraved wood carvings by Dennis Hicks of Light Wave Art. 
Bitterroot Public Library, Hamilton, 363-1670. The Bitterroot Public Library has begun its reopening process with Curbside Holds Pickups available now. Beginning May 4, the library will offer limited patron access. 
• Temporary operating hours are Monday-Thursday, 9:30 a.m.-7 p.m.  Friday 9:30 a.m.-5 p.m.
• Only 10 people, including staff, will be allowed in the library at one time (per Montana governor's guidelines).
• All visitors (including children) are required to have an accepted face covering, such as a scarf, bandanna or mask while in the library.
• The library will continue to provide curbside holds pickup services to those unable or unwilling to enter the library.
• Visits will be limited to less than 30 minutes per day per visitor to use a computer, browse items and checkout only. There will be no seating available except at a computer.
• Visitors are strongly encouraged to bring their library card with them into the library in order to use the self-checkout station
• No more than two computers will be available to the public initially (due to distancing requirements). Patrons are strongly encouraged to be able to navigate the computer themselves. Staff may be available to assist but at a safe distance.
• All visits and computer use will be first come, first served.
• Items returned to the library will be quarantined for 72 hours but will not accrue late fees.
• All items must be returned to the book drops only.
Chapter One Book Store, Hamilton, chapter1bookstore.com, 363-5220: Now open Monday-Friday, 9 a.m.-6 p.m. Saturday, 10 a.m.-5 p.m. Limit on used book trade-ins while we make room and time to clean properly. Curbside delivery and online orders still available.
Montana Bliss Artworks, 101 S. Seventh St., Hamilton: Open 5-8 p.m. Friday, May 8, for Culture Crawl Featuring original oil paintings by Laurie Jolly and Jerry Swartout playing hand drums.
North Valley Public Library, Stevensville, northvalleypubliclibrary.org: A library card (or digital-only card) provides access to digital audiobook and ebook collection through MontanaLibrary2Go. Library hours during phase one have been modified to the following: Monday, Thursday and Friday 10 a.m.-6 p.m., Tuesday and Wednesday 11 a.m.-7 p.m., Saturday and Sunday closed. Materials available by curbside pickup. Call to request materials or place holds online. Patrons may not come into the building to browse the collection. Wear a mask to curbside pickup or stand back 6 feet from the door. Thirty-minute computer sessions are available by appointment only if you have a mask.
Kalispell  
Hockday Museum of Art, Kalispell, hockadaymuseum.org: Free emergency art kits for kids sheltering in place are available for contact-free pickup Wednesdays and Fridays between 11 a.m. and 2 p.m. Look for them in a box outside the side entrance of the museum off the alley. They go fast, so come early. Each kits is unique and includes: a sketchbook, art-making instructions, Montana themed coloring pages designed by local artists, miscellaneous surprise materials, and basic supplies like colored pencils, crayons, and glue.
Stay up-to-date on what's happening
Receive the latest in local entertainment news in your inbox weekly!