In HBO's "Westworld," tourists head to an Old West theme park, populated by androids, where they can behave or misbehave as they like: playing "white hat" or "black hat" in the parlance of the show.
In "Yellowstone," Kevin Costner's new television series for the Paramount Network, most if not all of the main characters seem like black-hat types. Writer and director Taylor Sheridan transports into present-day Montana the tropes of revisionist Westerns, where everybody is implicated in some misdeeds on their paths, whether they're seeking power or merely survival.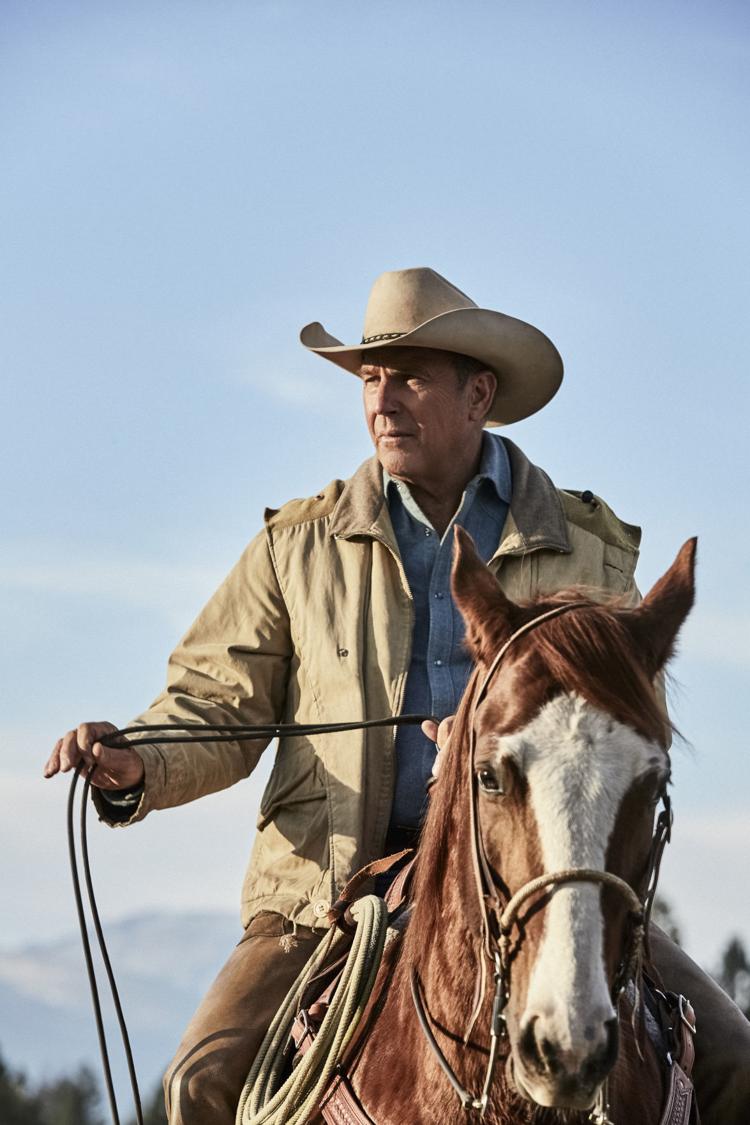 Based on the first three episodes, Montana functions as a Modern West theme park, where the characters are set loose to bedevil each other with their behavior (often histrionic) and trade dialogue (pithy, some worthy of a novel).
When it works, it's an engrossing, R-rated soap opera with its existential concerns clad in a Carhartt vest and set against scenery so appealing it's nearly distracting. They filmed in Montana and Utah and did a wonderful job capturing the beauty of the landscape that all this fighting is over.
When it stretches credulity, such as in a scene where characters ride their horses into a river and fly-fish from the saddle, it's funny in the wrong way. In other scenes, characters get drunk on whiskey and chase wolves away from a kill; or discover dinosaur bones in their backyards after improvising an explosive to remove a stump.
It's Montana in the same way that the classic show "Northern Exposure" was Alaska: an exotic setting most of the audience won't know, and so the creators can set their imagination and wild-card characters loose.
Costner seems to savor his role as John Dutton, owner of the "largest contiguous ranch" in the United States, passed down through the generations. In the present, this means Dutton faces a greedy developer on one side and on the other, the fictional Broken Rock Reservation and its ambitious new tribal chairman. It's a smart premise, allowing Sheridan to show the contradictions of Dutton's situation. He's a holdout resisting change when it comes to development. To the tribal chairman, Dutton and his family are the interlopers who conducted a land grab of their own.
Navigating this situation, Dutton at first appears to be a somewhat benevolent dictator, or perhaps a land-deeded royal presiding over his serfs and dispensing his verdicts with a gravelly and strategically deployed drawl.
And yet we find Dutton hasn't gotten where he is by always being fair or law-abiding. Nor is he a straight-up TV drama anti-hero, a Walter White or Tony Soprano in a cowboy hat. Costner is in excellent form here, exploiting viewers' familiarity with his stoic demeanor on a character who might not be completely trustworthy.
From his perch — filmed at the Chief Joseph Ranch in Darby — Dutton maneuvers these complications with the aid of his grown children. Lee (Dave Annable) thinks like a guy who runs a ranch instead of a livestock business, much to Dutton's dismay. Jamie (Wes Bentley) is the ranch's attorney, who dreams of political office, an overachiever who nevertheless seems to disappoint his father. Beth (Kelly Reilly) is the go-to fixer, now living in Salt Lake City, who's emotionally scarred by an incident in the family's past that she tries to remedy with alcohol, pills, sex and cigarettes. Casey (Luke Grimes), the youngest, is an Iraq war veteran and sharpshooter, living on Broken Rock with his wife Monica (Kelsey Asbille) and young son. His wife is a tribal member, meaning he's planted in the middle of a conflict he wants no part of.
While the gritty tone is fun, some choices will raise Montanans' eyebrows —like that scene where the Dutton brothers ride their horses into a river and begin casting from the saddle.
Passing river guides stare at the horse fishermen, stunned silent, as they should be.
After consulting with many lifelong residents, some of whom are experienced fly fishermen, no one could say whether they'd seen or heard of this equestrian variation on the sport. Yet neither could they deny that this is physically possible — if you'd like to terrify any fish in the vicinity. A co-worker said that once on the Blackfoot River, he saw a man who'd backed his pick-up truck into the water, set a lawn chair on the bed and fished with worms, so who knows?
It's not a spoiler to reveal that Dutton's main rival is Dan Jenkins, a nefarious real estate developer. Jenkins wants to build a 1,300-home subdivision near Dutton's land, setting up a showdown between a good ol' boy and a development-happy, out-of-state transplant.
Jenkins is portrayed by Danny Huston, most familiar as one of the German antagonists in "Wonder Woman."
It's hard to imagine an actor more perfectly suited to the role as he lowers his voice into evil-mastermind mode to deliver his sometimes-philosophical dialogue.
Some of Jenkins' lines are inadvertently hilarious, making him sound like a stream advocate's version of a comic book villain. In one conversation with investors, Jenkins reveals his plan to power his subdivision by building a mill. "In the state of Montana, no permit is required to build a power source for a mine or a mill," he assures them. They'll log the forest to build the houses, then power the neighborhood with the mill's plant.
Yet one compliance-minded nerd worries about the government reaction if they proceed.
"There are no restrictions on damming a river?" he asks, with understandable incredulity.
"Beavers do it all the time," Jenkins replies. "On our land, it's our river. This isn't California, gentlemen. This is Montana."
On the other side of Dutton's property, he must contend with Thomas Rainwater, the newly elected chairman of Broken Rock. As portrayed by Gil Birmingham, Rainwater is steely, ambitious, and doesn't hesitate to say that he's tired of dealing with white people doing whatever they want. He has dreams of taking back all the land that these two transplants are fighting over. Spend enough time around Jenkins and Dutton, and you'll begin to root for Rainwater. The scenes on Broken Rock, filmed on the Crow Reservation, are well done. Sheridan hired a consultant to ensure the portrayal was respectful and accurate.
In the pilot, Dutton attempts to resolve these issues in ways that will hover over the rest of the season. His means of resolution are confrontational to the extreme, and seem to follow the logic of a Western, or maybe something Al Swearengen would dream up while slugging whiskey and prolifically cursing in "Deadwood." Tragedies occur and people often behave in absurdly dramatic ways, yet they never dwell on the repercussions.
Instead, the show hurtles ahead to more high drama in the New Old West, where even the wolves run away when they see these people coming.
Stay up-to-date on what's happening
Receive the latest in local entertainment news in your inbox weekly!