Alexis Pike grew up in Twin Falls, Idaho, not far from where Evel Knievel, the legendary daredevil, gravely injured himself trying to jump the Snake River Canyon.
Decades later, Pike, a photography professor at Montana State University, set out to shoot a photo project about the anniversary of the jump and the annual Evel Knievel Days festival in his native Butte.
The result, a full-color photo book, "Color Me Lucky," that explores the nature of risk taking, and also changes in her own life, and female desire and sexuality. It's a personal story told through pictures of images of daredevils and crowds and memorabilia.
As she worked on the project, drastic changes in her personal life began to feel like "emotional stunts, and that became a metaphor for me with the project," she said. She "felt more like a daredevil," she said, as the challenges kept coming forward.
The title comes from a slogan painted on Knievel's helmet. The only text in book, at least until a closing artist statement, is a quote from the late Butte native: "where there is little risk, there is little reward."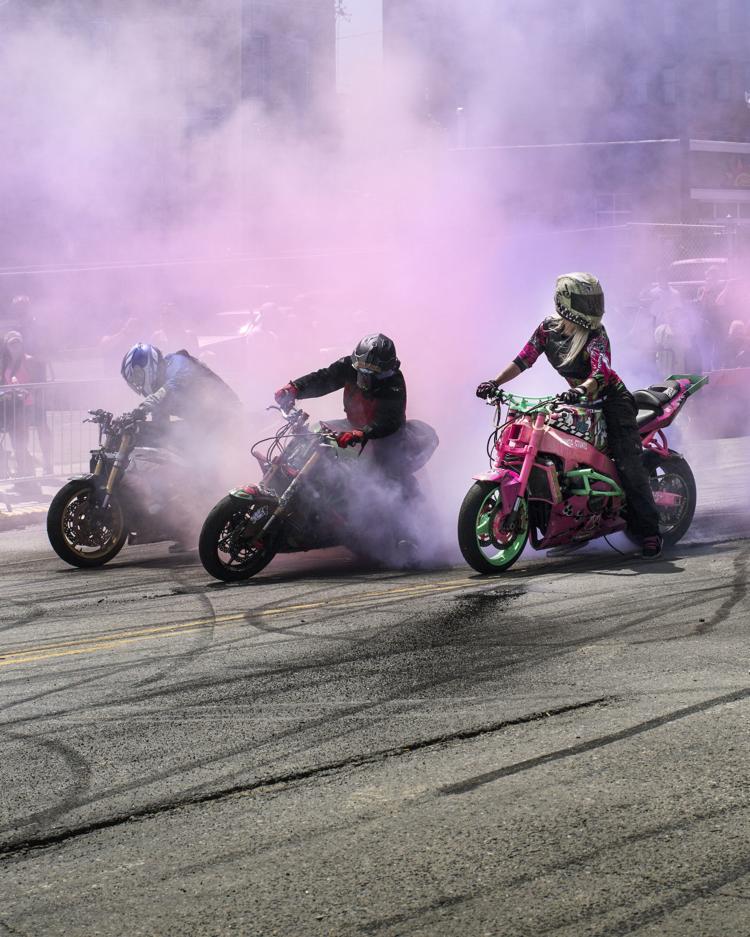 The photographs, sans captions, depict motorcycles, trucks and cars in mid-flight. There are more than a few crushed beer cans, one tucked into the back of a man's jeans. She weaved in images of women: motorcycle riders, stuntwomen, bystanders, classical statues from Caesar's Palace, and a arm-wresting contest out in the street. Beyond pictures from the festival, she traveled to Twin Falls, to snap BASE jumpers leaping off a bridge in the Snake River Canyon. She took pictures of Eddie Braun successfully attempting the stunt in 2016. She traveled to the Evel Knievel Museum in Topeka, Kansas, to take pictures of memorabilia.
Knievel appears in a mural, logos, toys, a still silhouette image, and his signature leathers are seen on a masked figure. Yet we never see his face — Pike even shot a photo of a cutout board with an image of Knievel in uniform with his face cut out. Festival-goers can poke their head through and take a picture. In the book, he's the timeless icon named Evel, not the man named Robert, who died in 2007.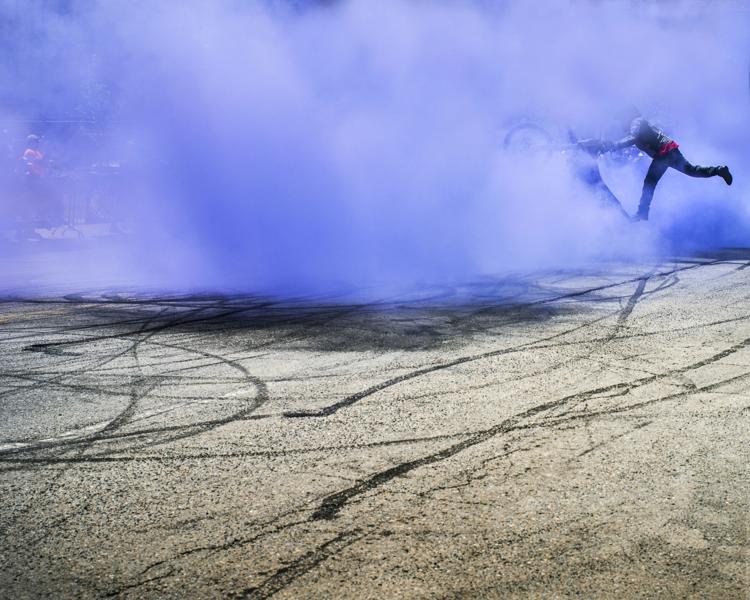 Formative years
Pike is an associate professor of photography at Montana State University. She's a sixth-generation Idahoan, who spent some of her formative years in Twin Falls, where Knievel's attempt to jump the canyon "was just part of the mythology" of the region. When she was young, he was a kind of "real-life super hero," particularly in an age when entertainment options were more limited. Knievel, a fixture on "Wide World of Sports," seemed "invincible, and as a kid, you looked up to that."
Despite asking for Knievel toys for Christmas, she never got any, she suspects because she was a girl. (She would buy them for herself later.) In her artist statement in the book, she describes how she hurt herself at age 6 bombing down a slope.
"At the bottom of the hill, with too much speed, I crashed, tumbled hard across the gravel, laid there unconscious — my prize was spending four days in the hospital with a fractured skull. Injury aside, I gained bragging rights."
By 2014, Pike, a professor at MSU since 2009, had spent much time on landscape-based photography projects. Her "Claimed: Landscape" series, for instance, contemplates the division between public and private land and disappearing access through pictures of landscapes murals on small-town buildings. It was very different from the over-stimulation of a daredevil fest.
"Most of the work I was doing was like, me, by myself. Quiet, not involving people, not having to cross boundaries. Like, 'don't trespass,' that kind of thing," she said.
She began thinking a project about the 40th anniversary of Knievel's Snake River jump — there were plans of an attempt to complete it — and it "sparked" the idea of a series on her childhood hero.
She headed to Evel Knievel Days in Butte that year to begin shooting in a very different environment.
She got to know some of the people who run the festival, and sneaked behind a barrier fence and waited for the "grand finale" car jump by Spanky Spangler.
She was, as she admits, "probably, dangerously close." In the photo, his yellow car flies through the air overhead, spraying a cloud of smoke and debris that Pike said she could feel as it scattered.
Once she saw the image, it felt like "a turning point." She knew she could shoot action stunts if she wanted. She switched from film to digital and bought a new lens.
She made connections with some of Knievel's family and collectors, who let her shoot Evel memorabilia. She met the late diehard fan Todd Swayze, who traveled to the event from Canada every year, and Brian Richardson, who would come over from England, and has a full-back tattoo of Evel's first name and a drawing of him riding a snake in a loop-de-loop shape on his bike. Evel Knievel Enterprises would bring in memorabilia, including Evel's leathers, and let some fans wear them.
You have free articles remaining.
In the midst of the project, Pike, now 49, began to take risks in her personal life.
Pike, who has a son of her own, took in her two nieces and a nephew from foster care. She said her brother and his wife struggled with alcohol and prescription drug abuse and lost their parental rights. Taking them in as a foster parent from Idaho to Montana was complicated. She would later begin the process to adopt them, resulting in a court fight with her brother that she eventually won.
"I went from one biological son to four kids, and I'm raising them on my own with a lot of emotional support of family and friends. I'm very fortunate they are such wonderful kids for having experienced trauma," she said.
At the same time, she also went through a review process to earn tenure at MSU, and a long-term relationship ended.
During the project's second year, she traveled to Las Vegas, where she shot photographs at Caesar's Palace, the site of some of Knievel's famous stunts. While there, she signed up to drive muscle cars — she wanted to know what sort of high that stunt professionals are chasing.
"What is that rush? So you know, here I was, driving muscle cars on the Las Vegas Speedway, on the bank turns and getting an adrenaline rush, and trying to decipher that same feeling that a daredevil probably gets, and sustains them in their career. There was a parallel between what was going on in my life personally and how that was playing out, and just the idea of the risks that we take every day, and then using the daredevil as the metaphor for that," she said.
The gambles began to feel worthwhile as she forged ahead, revisiting the festival for three years until it was canceled in 2018 due to lack of funding.
"I got tenure the same time I adopted the kids, and it was like everything was rolling in a really good way. The stunts were paying off," she said.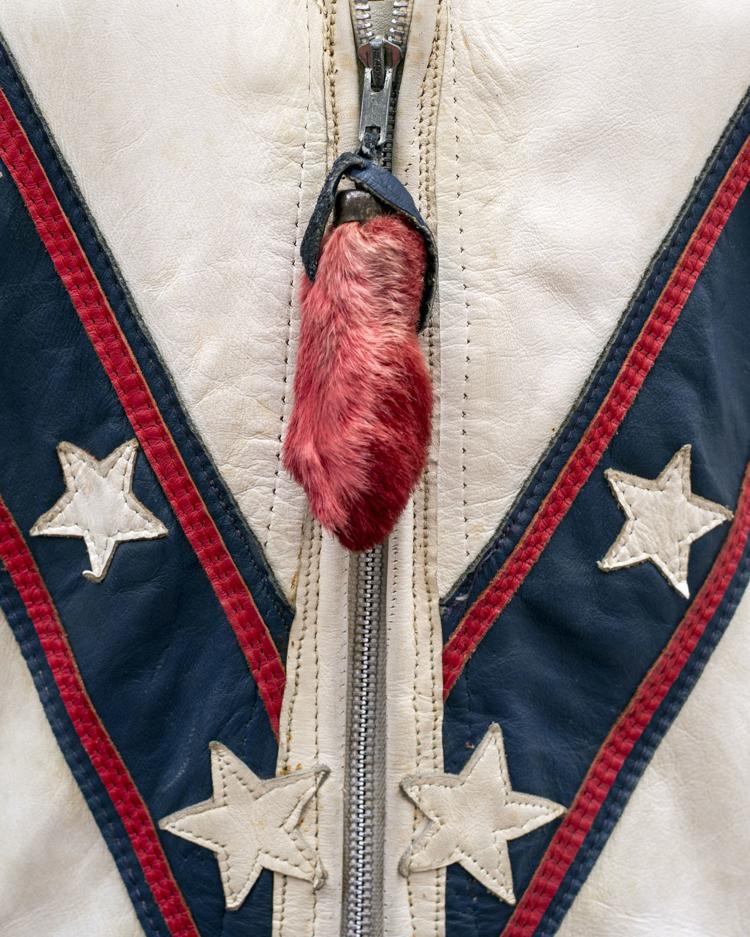 The photographs were featured on Wired.com in 2015, and Aint-Bad, a photography press, signed her up for a limited-edition book project. While Wired's post had a more journalistic angle about the festival, Ain't-Bad's offer was open-ended. She and a friend cut up her artist statement to get a fresh idea of what she was really trying to say.
He said, "that's what you're aiming for: desire, sexuality, knowing there's a train wreck that's about to happen," she said.
And so Pike edited down her pictures to ensure there's a narrative that address all the themes from a female perspective, she said.
The book is out now on via Aint-Bad in a 96-page limited edition of 200. She'd like to show the photos in Montana if she can. She's forging ahead on other projects. One, she said, will be retracing the Oregon Trail from start to finish. In the other, she's looking back at Liz Phair's 1993 record, "Exile in Guyville," and "how that album empowered me as a female and how it played itself out in my 20s and 40s," she said.
Images
Early in the book, a shot of three female motorcycle riders revving their engines in a cloud of purple-pink smoke. She sets two images on opposing pages and lets the juxtaposition speak for itself. At left, an "Evel" tattoo that covers Richardson's back. At right, a cropped image of a woman's torso, in Greek statute form. At left, a close-up shot of a semi that aimed for a world record jump. We see only the flattened tire and the anti-freeze spewing out onto the concrete. At right, a close-up of one of those halo-angel-babe decals on the back of a truck.
There's that first image of Spangler's car flying through the air, and many shots of motorcycle stunts. In one, a rider rips a wheelie stunt in a cloud of purple and blue smoke. Knievel himself looms throughout, in murals, wax figures, a scuffed helmet, collector's cards, toys, a can of Evel Ale. Images of Braun and other daredevils flying through the air mark the middle of the narrative. Toward the end, images of the aftermath take over: A daredevil called the Kamikaze Kid running through fire (in a fireproof suit) or blowing flames.
Seeing daredevil stunts as an adult was different than when she was kid, eager and willing to re-create them. Now, she prefers calculated risk. Looking at someone like the Kid, she wonders,