On Friday morning, the clouds above the Bitterroot River along Lower Miller Creek Road were a dreary gray, not an explosion of sun, sky, water and green. But Robert Moore didn't mind.
"This is amazing to me," the Idaho landscape painter said. He and his son, Robbie, had paused their work to set up a tent after the clouds began drizzling. Then Moore continued working on a new canvas, laid flat on the tailgate of his pickup truck.
He said the grayness was, in fact, cooperative: it simplifies the colors and the shapes of his scene. In comparison, a clear day can bring challenges to a plein air painter. Shadows and clouds that appear static are in slow but constant motion as an artist tries to interpret them.
Moore, who is well known for his impressionist landscapes with kinetic palette knife work and a gleaming palette, prefers painting outdoors whether it's light or dark, raining or snowing.
He said there's a "tremendous difference" between painting like this and staying in the studio and using photographs as source material.
"In some ways, it's like watching a basketball game on television as opposed to getting out on the court," he said.
A camera interprets too much of the scene for him. "It edits for me. It simplifies for me," he said. It takes the 10,000 values in a scene down to 100 that he then simplifies to around 10.
Without a camera, he has to "decipher the order out there and clearly put it on my canvas for someone to see.''
Moore has come to the Paint Out for at least a dozen years. It's a tradition the Dana Gallery started, inviting artists to fan out across western Montana for several days to produce new work that will be exhibited later.
Moore lives in Declo, a small town in south-central Idaho near Burley and not far from where he grew up on a farm on the Snake River. While he isn't a Montanan, his presence is felt in the art community.
The Dana has shown his work since 2005. Moore teaches, and many of his apprentices now show their work at the Dana and live in Missoula, including Caleb Meyer and Silas Thompson. They participated in the Paint Out, too. Outside of Montana, Moore sells his work in upscale markets like Jackson, Wyoming, and Santa Fe.
That Moore is well known for his use of color becomes more surprising when he discusses his color blindness. On a gray day, Moore was wearing tinted glasses that correct some colors, helping him discern intensities and some hues. Green, in particular, is a problem.
"When I see a rainbow, I see yellow and blue," he said.
This would seem to be an unsurmountable obstacle for a landscape painter, but Moore's entire style is based around the systems he created to compensate for it. He tries to simply and clearly render a scene with "dynamic shapes and beautiful, harmonious colors," he said.
There are some concrete tricks. He keeps the colors on his palette arranged in a particular order. "It's like a Monopoly board. I know where 'go' is, I know where the jail is," he said. On this day, he would periodically ask Robbie about which green he should use for a tree near the water.
His broader system, for when he's painting alone, is more complicated. He developed it through "years of frustration" and trial and error, even for a person who attended art school in California on a full scholarship.
Moore, a devout Christian who doesn't even speak negatively about bad weather, describes a large portion of his career as a "collection of errors." He would paint constantly, but only keep the pieces that worked. He'd examine them and try to figure out why, and replicate particular techniques.
He began using palette knives, for one. His sense of color was deficient enough that rendering tones and shapes with a brush was too difficult for someone who couldn't discern red and green.
With a palette knife, he can load one edge with multiple colors in the same value, or general lightness or darkness, and then render a shape. As an example, he pointed to a nearby rock. In general it's gray, but there were at least 20 different colors, from some brown dirt to black specks and green moss. If he carefully includes a range of some of those colors in his knife strokes and makes the right shape, a viewer's eye will read it correctly, even though Moore might not necessarily know what some of the colors are.
He compared it to playing a musical chord instead of rendering a melody in single notes. The selection of colors, with the right dominant hue, will create a sense of harmony and "overall truth," even if he knows they're exaggerated. If the relationships between the colors are correct, it's like transposing a piece of music into a different key.
He recalled one period of frustration in which he tried over and over to match the shade of green on a leaf he'd plucked from a tree, to no avail.
"What I didn't understand is that the leaf isn't just that one color," he said. By loading a range of harmonious colors, he could "let the eye do the mixing." Finally, he said, it felt like a leaf.
One of Moore's specialties are stands of aspen trees, where he has free rein to design with dark and light shapes.
"It's not matching tone for tone, hue for hue. It's transcribing that order that's already out here and putting it down," he said.
The way the light comes through the trees allows him to "push in any color" he likes. Between the large, hard-edged strokes of the palette knife and the shots of unexpected color, they verge on abstract expressionism. Dudley Dana, the owner of the Dana Gallery, said that push toward abstraction is one thing that fascinates him about Moore's work, "the way he's able to calm the eye" when you look at one of his pieces. He's also impressed with the variety Moore finds within those stands of aspen, which have a variety of color schemes and rhythms.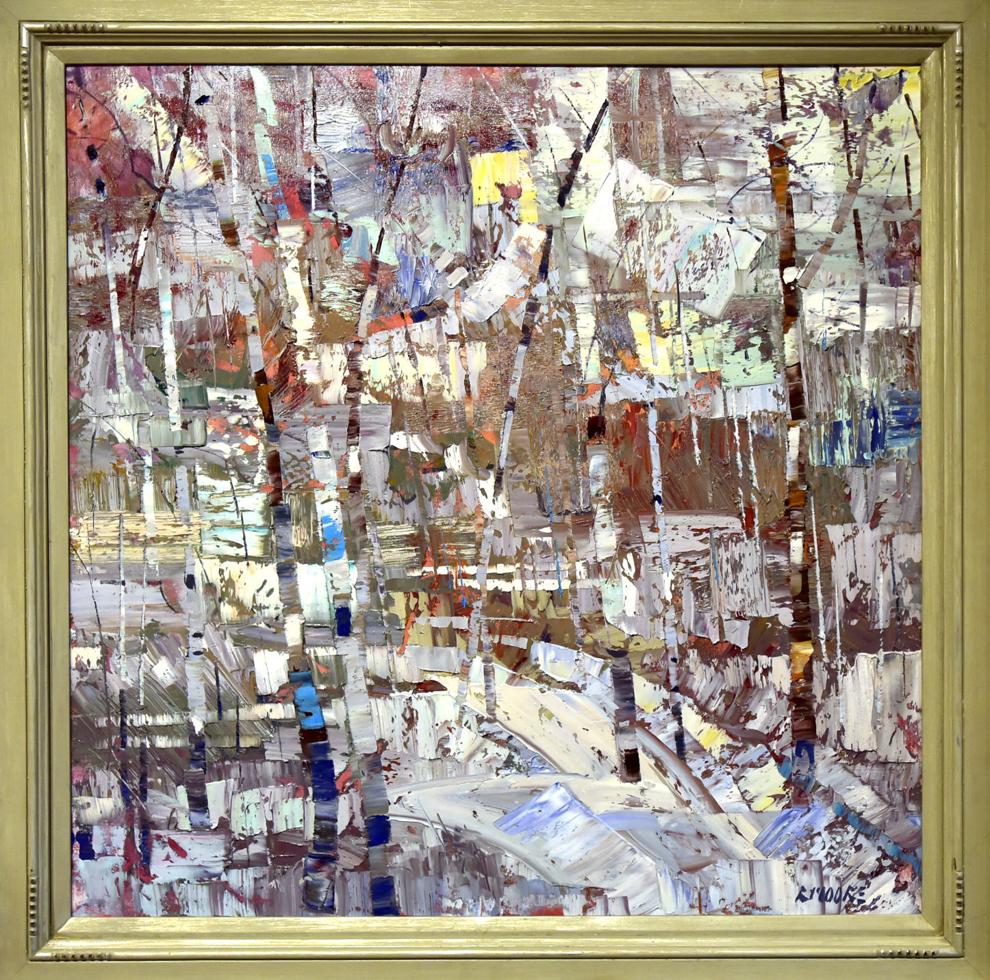 On Friday, Moore started off by blocking in his composition, using a brush in both hands, an ambidextrous technique he began using four decades ago, when he was in his early 20s. He had only a few months to complete work for one of his first shows, when he broke his left, and dominant, wrist playing basketball.
"My sister plays the organ at church, and she's got both hands doing separate things and both feet doing separate things. I think we're all gifted with that, it's just a matter of being forced, or encouraged that direction," he said.
He found his right hand was even better for some painting tasks. He loads one brush with warm colors, another with cool.
As Moore lay down his base composition, some drips of rain were visible on his canvas' skyline.
Robbie asked if the water would affect the texture. His father said it would, but it might be making a contribution.
He recalled painting once outside in the middle of winter in Jackson. He didn't have a tent shelter like he did on Friday, only his four-wheeler with a storage box on the back that he'd jury-rigged into an easel and palette holder. It was so cold that he'd placed propane heaters underneath the canvas "to keep the paint from turning into Tootsie Rolls."
Flakes of snow landed on the canvas as he worked. Water doesn't mix with oil paint, so after the moisture evaporated it left an overall texture that Moore described as "broken and harmonious."