"Do you see yourself as some kind of animal?" Alessandro Gallo asked.
Kelly Seitz, who'd just modeled for the Helena-Italian artist, said she loves birds, especially owls.
Gallo was in Missoula for a workshop demonstrating his ceramic sculpture techniques. Seitz had just posed for him, and he was wondering what kind of animal head would suit her.
Gallo's specialty is sculptures of humans with expressive, contemporary clothing and body language, topped with the heads of birds, lizards, mammals and the occasional insect. The type of creature, along with the clothing and sculpture title, together form a commentary, sometimes humorous and simultaneously serious, on how we see ourselves and the self-image we try to project to others.
In "Eagle Pose," a figure in yoga clothes balances on one foot. The head is a parakeet. The position isn't easy for people, and even more challenging when a hollow ceramic leg bears the weight. In "Turkey Vulture," a scavenger bird-humanoid hybrid with sleeve tattoos and a T-shirt decorated with a ram skull, worthy of a heavy metal band, roots through a black trash bag. The plastic folds are intricately sculpted clay, finished with acrylic, just like the clothing.
Gallo spent the last two months here for a short residency at the Clay Studio of Missoula, working on pieces for a show in the spring for a gallery in Seattle. Once he's wrapped up here, he's headed to the Northern Clay Center in Minneapolis for a McKnight Fellowship, and work on a traveling exhibition.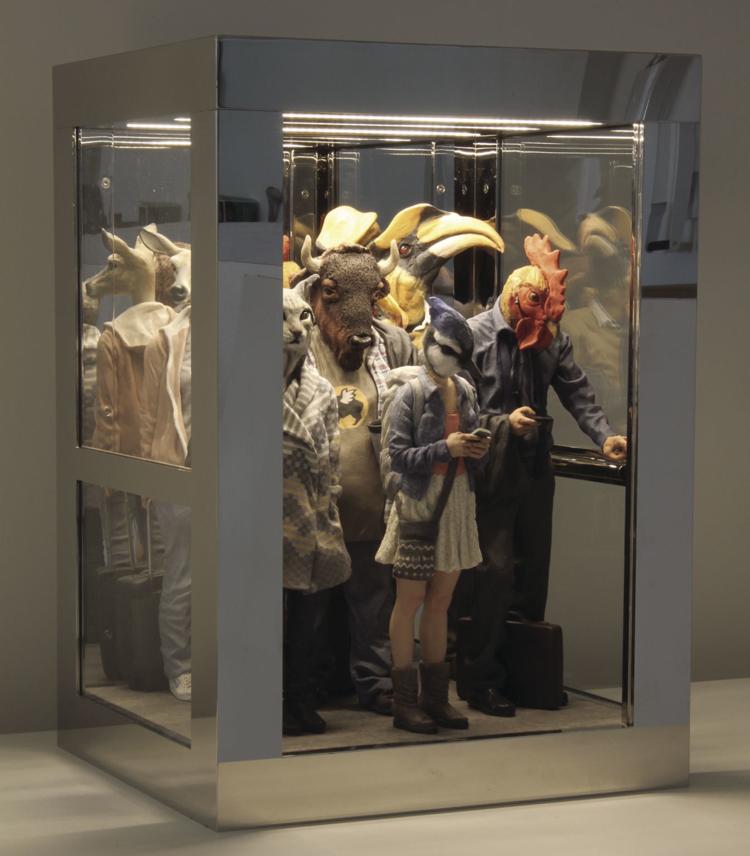 He's shown his work here in Montana at the Archie Bray Foundation for Ceramic Arts in Helena, the state's most well-known clay center. Outside of the Bray, it's more likely to be seen in New York, even though he's lived in Montana for the past four or five years.
The demonstration at the Clay Studio was designed to give local artists some insight into his work — why he makes it, and mores specifically, how.
The first step is the model. He's always shooting pictures of people he finds intriguing, sometimes before he's come up with a concept, and is always examining people around him.
"When I'm in a line, I don't get bored," he said. He wonders what people are out for, or what their story is. Why are they sitting like that? What kind of mood are they in? What kind of music do they listen to? he asks himself.
Animals develop physical traits that reflect their priorities that he can match to human psychological quirks. In "I Feel Good," a fellow with cargo pants, Crocs and a Superman shirt stands as though he's pleased with himself. His head is that of a toad.
The body language, posture, and clothing, all so important to the sculptures, all come from the models.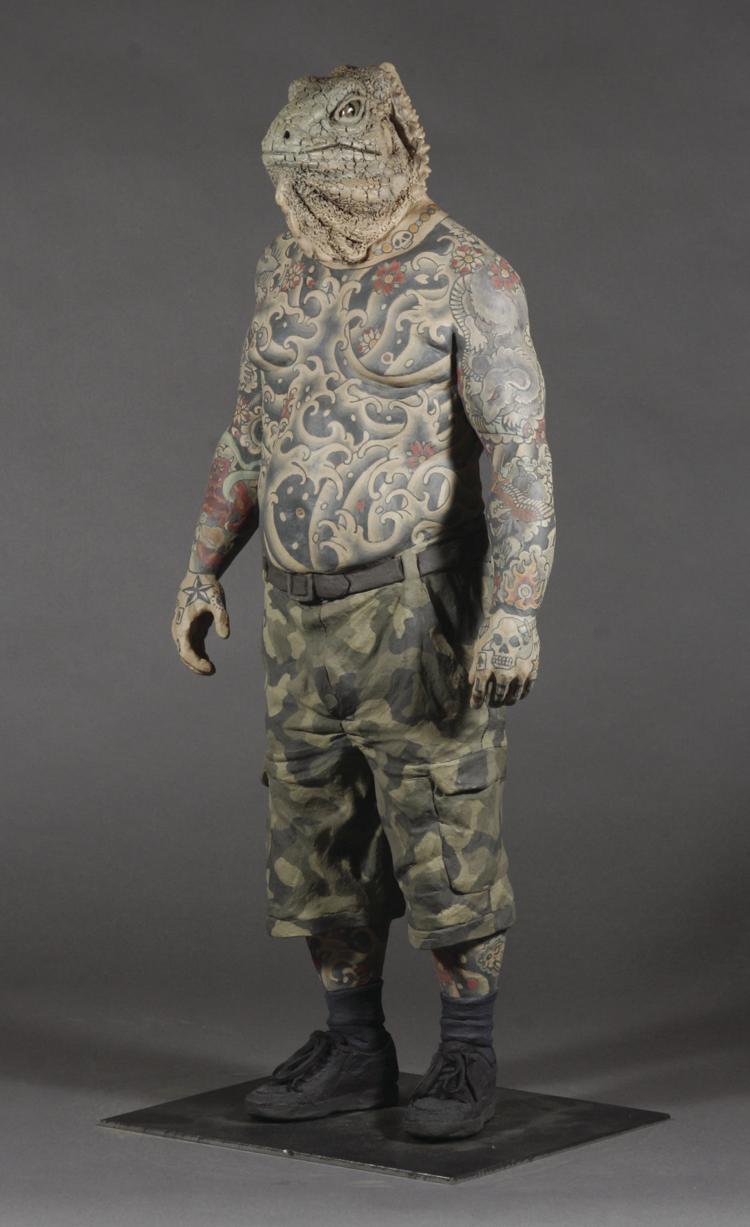 "I always work with them as opposed to directing them completely," he told the workshop. "If I ask all of you to sit on a chair, you would do it in a different way, and I think that is really meaningful."
Courtney Murphy, a Missoula ceramic artist, was a resident at the Archie Bray in Helena at the same time as Gallo. She said she could often tell who modeled for a sculpture based on the body posture, mannerisms and the "the way they hold themselves."
At the workshop, Gallo asked for a model, and Seitz was the lone but eager volunteer. She stood, arms akimbo and one leg leaning out, as Gallo took pictures of her from eight different angles, aiming the camera from about waist height. He also shot details to get the way her flannel shirt bunched at her elbows, and draped at her sides.
He uploaded the images to a laptop, where he showed how to alter the lighting to show more details. He works with his Macbook right next to the sculpture, where he can flip through images as he moves to different parts of the sculpture.
He started out with what he jokingly called "a gingerbread person" — two ropes of clay for the legs, and one for the torso.
His pieces, which are usually between 1 and 2 feet tall, are made quickly in the early phase. Once he has the forms in place, he cuts the sculpture into pieces, hollows them out, and reassembles them before continuing with detail work, firing and eventually, painting. The entire process can take two weeks to a month.
Working solid, he said, is an old technique, which he feels can ensure more cohesive proportions than working from individual pieces or building with coil — where the artist incrementally builds the sculpture by adding smaller pieces of clay, piece by piece.
He makes them using an armature support system — basically a small series of mounted pipes with a few support arms, one at crotch level and one at the back of the neck or head, so that he can sculpt them in upright position.
This is where he'd built the gingerbread version of Seitz. He worked on the front first, adding volume and adjusting, then the profile. He'd make small cuts to remind himself of aspects to finish later.
"It doesn't matter if it doesn't make sense in the beginning," he said. "You're giving yourself instructions on how to proceed, and you do it all the times."
Gallo grew up in Italy. He studied law for years before quitting and studying art in London, graduating from the Chelsea School of Art. Since he trained as a painter and still thinks like one, he described sculpting as "drawing from a thousand sides."
He began using photographs and digital editing to place animals on human bodies in photogenic settings: cities, or the Cliffs of Dover. One of the first was his alter ego, a donkey, standing at the kitchen sink, reading a letter with his head bowed. Another of his alter egos is the rooster — the English translation of his last name — which he uses in self-portraits — perhaps holding his son, or sprawling on a ceramic couch watching television.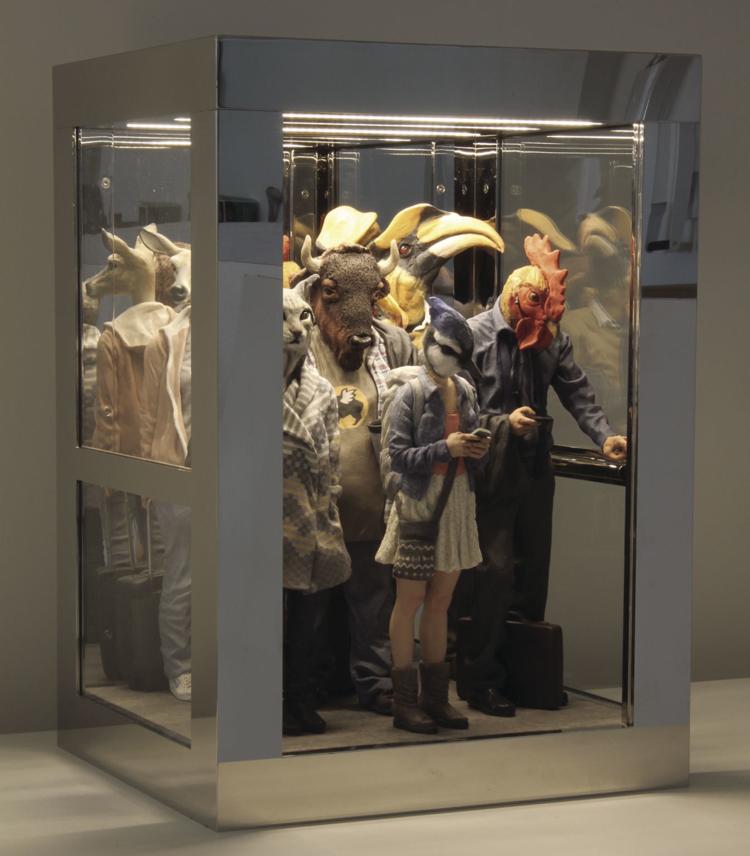 Eventually, he began moving from altered photographs to ceramics, a medium he never formally studied, back in 2006. The finished sculptures show off his background as a trained painter. During a residency in Japan, he became enamored of traditional tattoos that cover the chest, back and arms in a continuous design. He asked one such person to model for him and copied the tattoos in tiny clean brushstrokes.
He paints with acrylic rather than glaze, because it matches the type of work he wants to make. Glaze would pool some of those intricate folds. Acrylic isn't meant to be touched, but his sculptures aren't either. Often when he was asked questions, he'd reiterate that he follows the processes that work for him and what he wants to say.
"All technical aspects are just means. They're not the end. When they're the end in someone's work, I think that it shows, and that it shows negatively," he said.
People often ask him about size, and why he doesn't make them larger. He has, but working bigger meant more time worrying about technical problems instead of content.
Plus, he said, he comes from a country where there's a tradition of art in this size, such as small portraits or icons.
"They're meant for an individual. They're not preaching to a crowd. So I do love this size, that it creates a one-to-one connection," he said.
When he's made larger pieces, he's done so by combining sculptures. In "Elevator," a deer, bobcat, bison and three birds share a lift together, ignoring one another or looking at their phones. For "Metro," about 20 sit in a row riding the train. Once more, they mostly appear to be lonely, and placing them together "highlights their isolation," he said.
That piece was shown in 2011 at the Venice Bienalle, one of his proudest moments as an artist.
After a few hours, he'd roughed in the ceramic version of a sketch that depicted Seitz's posture, even some of the folds of her shirt. He decided on a duck for the head. This was a short demonstration, not a completed piece, but one attendee said it already had her attitude.
Gallo loves pop music — he's named sculptures after songs by the Beatles, Lou Reed and the Ramones —  and calls it "as high culture as it gets" for the way they can build a "universe" in a few minutes' time, and "construct great stories from very few elements," he said.