The leaves pop a bright yellow against the backdrop of a red brick building. Even more leaves fly through the air. In the center of the image, Thane Morin, a skateboarder, is mid-air, ollying down a set of steps.
When Harrison Gayton saw the way a leaf was positioned just so underneath Morin's board, he knew it was "a telltale sign that this is it for sure," and that was the best photo he was going to get.
Gayton, a 24-year-old Missoula skater and photographer, said that shooting this style of action-sports photo is a collaboration, from the idea and location to the trust between the two.
The subject is "going against all odds and could potentially injure himself," and the photographer needs to "have your stuff dialed in before he does — getting the proper images before he even lands, or gets close it."
"There's certainly a level of trust that has to be there for these people to do what they're doing. They have to trust that you're going to get the shot, and if they eat [expletive] or they land it, you're going to have the photo regardless, and you're going to come through with it," he said. More often than not, he's shooting friends, which "leaves the best images anyways."
For this photo, Morin had the idea, based on the changing color of the leaves. Gayton needed to come up with the right way to shoot and light it. In this case, there were two flashes in the front and one in the back, plus two friends on either side of the frame tossing leaves into the air.
The most important part of shooting skateboarding is fighting to "freeze the action properly," so that the skater is in focus, he said. For a picture of Raymond Hertz doing a grind on a concrete ledge, the lighting was dim enough that Gayton set up a flash — if he hadn't, Hertz would just be a silhouette.
In a good image, the skater pulls off the trick and the photographer gets the shot.
"That is the fun thing about it. You both feel so accomplished. You feel like you pulled something off. And you did. It's a collaborative effort to make these things happen," he said.
Gayton started skating when he was a teenager in Texas, and after his family moved to the Cayman Islands when he was 15, he could skate and learn to shoot at Black Pearl, a 62,000-square-foot skate park.
Professional skaters and photographers came through. He met even more after he moved to Oakland, as the Bay Area is an epicenter of skateboard culture. He wants to move back to California someday, and get a photo in Thrasher or TransWorld Skateboarding.
Kyle Camarillo, a professional videographer, mentored him and brought him along for a shoot with Jack Curtin, doing a trick on large concrete sphere. Other than some help like that, he's been self-taught.
That picture and three other Missoula ones are on view at Kulture Kava this month. (Gayton has more on his website.)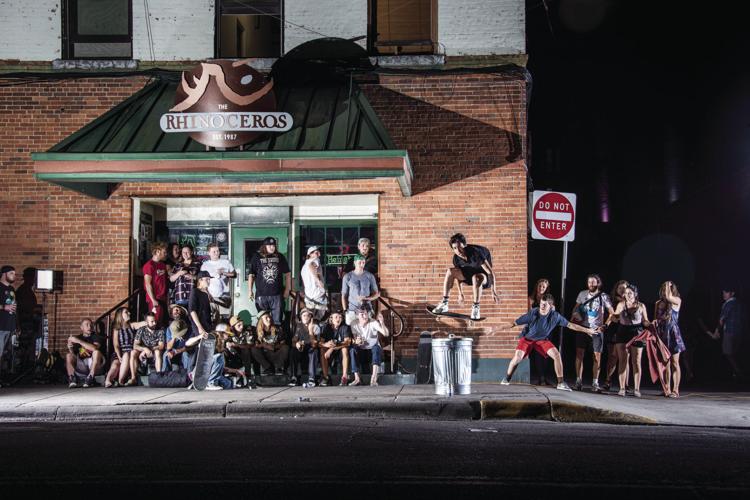 After four years in Oakland, he moved here somewhat on a whim and worked for Warm Springs for awhile, and now does freelance photo and video. Here in Missoula, he's one of a small handful of photographers and videographers, like veterans Andy Kemmis and Ben Croft.
He's shot at the parks — Montana has a lot of them — but he prefers shooting street skating, where there's more visual variety than a figure set against a concrete backdrop.
"Shooting in the streets is a lot harder because there's so many more distractions, you know pedestrians and all sorts of bogeys and stuff that can get in your way, so it's definitely a lot more challenging, but overall more rewarding because the images are so much richer, they really have a feeling more," he said.
You could safely say that about one of his pictures at Kulture, where a skater is looking directly at the camera while flying over a trash can. Behind him, a crowd is gathered on the stoop of the Rhino Bar. On the right-hand side, a friend is blocking a group of people who were going to wander right into the photo.
"The timing worked out perfectly," he said.