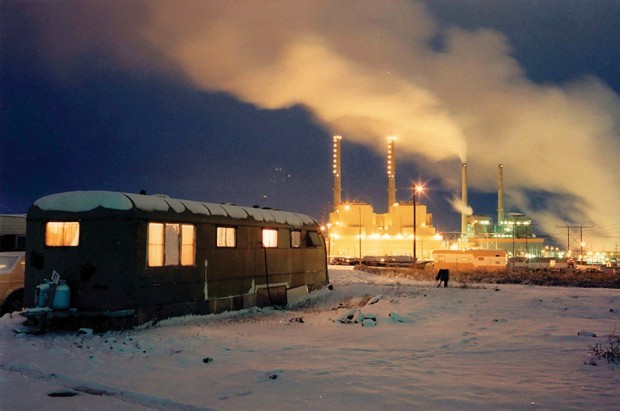 From his childhood in Connecticut, to his 18 1/2 years as a night watchman on Madison Avenue, to his decade as a photography teacher on the Flathead Indian Reservation, David Spear has had his camera with him.
And you never know what might catch his eye.
Could be the fans in the cheap seats of the upper decks of Yankee and Shea stadiums. Could be roadkill on a Montana highway.
Once something catches Spear's attention, he often spends years photographing the subject. He once published a monograph of the dead skunks, porcupines, squirrels and deer he'd found flattened on roadways over the years.
But don't be misled. One of his favorite projects was the dozen years he spent photographing his own father in the two places Spear new him best: at home, where he was Dad, and at church, where Dad was an Episcopalian minister.
Dad, dead animals, baseball fans in the upper decks? Anticipate an eclectic display of photography that opens Friday, when the Missoula Art Museum exhibits "Snippets from the Bright and from the Shade: The Camera Work of David J. Spear" for the next three-plus months.
Variety, in fact, is almost guaranteed.
Spear has spent much of his adult life teaching photography as well as doing it, and the work of some of his students - from both the Flathead Reservation, and New York City's East Harlem - will be part of the show as well.
Certainly one of the most influential times on Spear the photographer were those 18 1/2 years as a night watchman in Manhattan.
His employer, you see, was Cornell Capa's International Center of Photography.
"Cornell trusted photographers more than he trusted security services or devices, and so he always had a photographer live at ICP," Spear told the Missoulian last year.
Most of the photographers stayed on for about a year. Spear stayed as long as he could.
Besides the 12-by-18-foot room to live in and right to use the ICP kitchen, the job came with perks Spear treasured: access to ICP's voluminous archives, where he could study the styles of the world's greatest photographers. Access to the center's darkrooms and equipment.
And, it came with access to Capa, a Life magazine photographer famous for his photographic documentation of everything from poverty in Latin America to presidential elections in the United States, and the center's founder and director.
Spear, who also served as ICP's staff photographer, had his days free, and his run of the place after the doors were locked.
"I could shoot all day, and print all night," he said.
Spear stood one day at the corner of 96th Street and Madison Avenue.
In one direction, some of New York's wealthiest people lived across from Central Park.
In the other, some of its poorest lived in East Harlem.
"I thought, 'This is actually where ICP needs to go,' " Spear recalled, and he wasn't talking about Madison Avenue.
"One of the missions of ICP was to reach out into the community, to bring photography into the lives of people who might not otherwise have access to it," Spear said.
He developed an outreach program for ICP that eventually had him teaching photography in seven New York City high schools in impoverished neighborhoods. It was, he quickly discovered, a great way for him to connect to the kids, and for the kids to connect with their families and communities.
His students came back with photographs he said no one else would have.
"I compare it to National Geographic, how they send an outside photographer into a place and the images they come back with are so beautiful, they don't seem real," Spear said. "It's striking how the vision is different if someone from a community photographs that community."
Capa retired in 1994, and eventually ICP made plans to move its museum and photography classes into a fancier facility on the Avenue of the Americas.
The move would end the need for a night watchman. That's what brought him to Montana a decade ago - that, and the fact that his wife, Jill Erickson, is from Polson.
Spear wanted to continue teaching photography, and made his pitch to schools on the reservation. Two Eagle River, an alternative school in Pablo, took him up on it, and he's been teaching there, and at Salish Kootenai College, since.
So it's only natural that, in a show dedicated to Spear's work, there will be a show dedicated to the photography of his students.
"Youth, Vision and Voice: Student Work Guided by David Spear" will give viewers a sampling of the pictures kids in East Harlem and on the Flathead Reservation have captured under his tutelage.
The Spear exhibit will become the educational foundation for this year's Fifth Grade Art Experience. Over the next three months, more than 1,200 fifth-graders will visit the museum and complete an art project related to the exhibition.