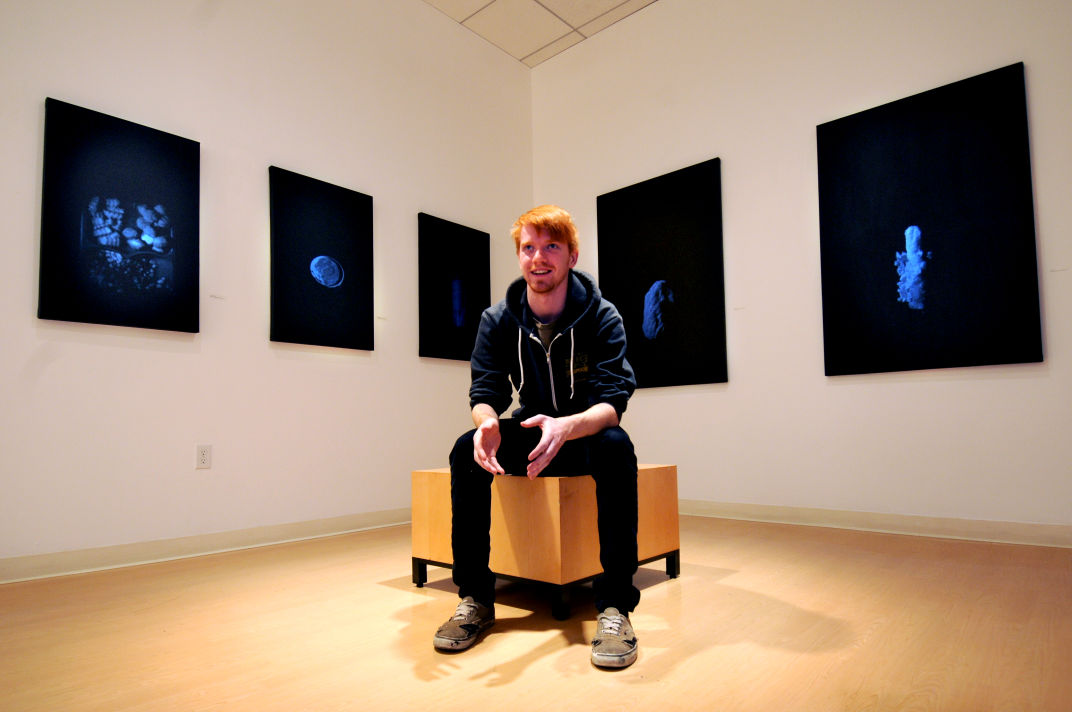 While Dave Tarullo's work asks questions about how we grapple with digital communication, another exhibition in the University Center Gallery touches on a subject that Americans also obsess over: food.
What comprises quality food? Is it food that's sophisticated, or healthy?
Michael Workman, who is pursuing bachelor's degrees in fine art and media arts at the University of Montana, melded his two majors for a series of nine stop-motion animations.
They're part of a series he calls "Unsophisticated Inclination," in which he sets up high brow-low brow contradictions.
He takes gas station fare he personally finds repugnant – malt liquor, pork rinds, Kids Cuisine meals, hot dogs – and creates old-school, jerky stop-motion animations.
A can of Vienna sausages opening.
An extended palm magically being filled with Cheese Whiz.
A pork rind, rotating "like a cake in the window at Macy's."
They're foods that can elicit a gut reaction in himself and others, but he wants to raise broader questions about the complexities of food in America – what's considered sophisticated, the costs of eating healthy, and the social and economic forces that drive some people to eat such food items.
"By saying that cheap gas station food doesn't have its place, or is of less worth, is missing a lot of the complexities of why that exists and how it exists in society." he said. "The people that need to utilize cheap food ... that's all they can afford."
To add further contradictions, he shot the animations on film with a 1970s Canon Canonet, deliberately using a high-art medium that signals sophistication.
"You could make it just as easily using digital, but with film you're making a statement on the quality," he said.
He scanned them into a computer and converted the shots into GIFs, which he describes as cheap "visual junk food." In the gallery, he projected them onto black canvases to create the feel of paintings versus the shiny screens of video monitors or iPads.
The composition of the images, which place one or two blue objects on a black canvas, is a riff on the style of photographer Ed Weston, Workman said.
A contemporary of Ansel Adams, Weston's most famous pictures are black-and-white close-ups of peppers and other vegetables, some framed to resemble female nudes.
Workman said he wanted to challenge the notion of taking a "low object" such as a vegetable and ennobling it through art; or even worse, objectifying women by staging the shots to resemble female forms.
It's another frame for his larger point about removing objects from their context and judging them.
Workman has been making stop-motion animation since he was a student at Hellgate High School – he likes the jerkiness of the movements, and the immediacy of short, looped images that can hold a viewer's attention.
Workman's interest in film also extends to documentary. He's associate programmer/
festival coordinator for the Big Sky Documentary Film Festival. He also works in sculpture and drawings, and served as the art director for Total Fest this last year.
Workman's art was paired with an installation by MFA student Dave Tarullo under the joint name "Unknowing."
The UC Gallery, a student-run nonprofit space, shows work by undergrads, graduate students, and artists from the city, state and region. This year, its open call yielded more promising entries than months to show it due to a few bookings by other programs.
The two student gallery coordinators, Abby Sweet and Samantha French, took the advice of their faculty advisers and paired artists thematically.
Gwen Landquist, the UC Gallery marketing/art program manager, said Workman and Tarullo's work provided a good juxtaposition of mediums and concepts relating to communication and how we judge quality.
Tarullo (see related story) focused on communication and digital technology using the classic, fine art medium of ceramics.
"Michael's work is all about technology and is delivered in a technical way to look like a classic painting," she said.