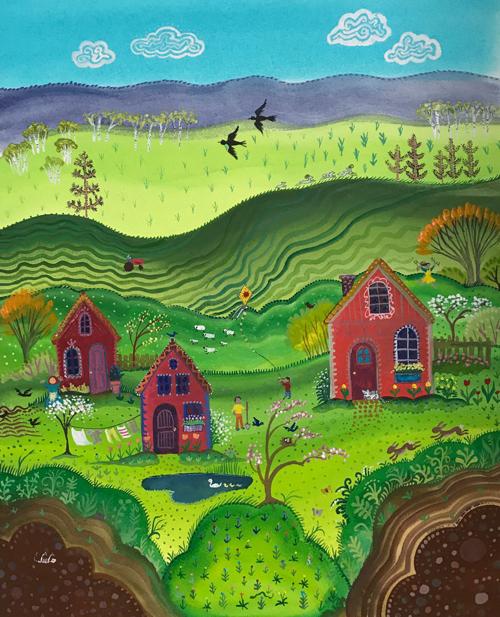 Here's a look at some arts events happening in the next week.
First Friday
January is often a quiet month for the art walk, and 2021 is no exception. There are a handful of galleries hosting shows, though. At Gallery 709 at Montana Art and Framing, local resident Barbara Morrison is showing charming and detailed paintings and felt sculptures influenced by the naive and folk art movements. The reception on First Friday runs from 5-8 p.m., with only six people allowed in the gallery at a time. Murphy Jubb Fine Art has new pieces by Kendahl Jan Jubb and its stable of artists as well. The relative quiet will lift later this month, when the Radius Gallery and Missoula Art Museum will begin rolling out their first exhibitions of the year. See this week's gallery listings for more information on what's ahead.
Ballet Beyond Borders
(Through Saturday Jan. 9)
The ninth-annual dance and diplomacy conference, originally planned for a change of venue from Missoula to Los Angeles, has been moved online entirely. However, you can expect much of the same programming — acclaimed dancers and choreographers from around the world sharing their art and experiences, whether through performances, talks or films.
To see the full schedule, go to rmbt.org/bbb. Events are free.
Missoula Children's Theatre's 'Robin Hood'
Missoula Children's Theatre is streaming a version of the classic tale "Robin Hood," through the weekend.
Local students began rehearsals just after Christmas at MCT, with a downsized cast.
To watch, go to mctinc.org. It costs $10 plus a service fee.
Untitled ZACC Sketch Comedy
The Social Distance Sessions brings you an "Untitled ZACC Sketch Comedy" show that may or may not have involved some last-minute writing and improvisation. The troupe is Jasmine Sherman, Evan Smith, Abby Gillespie, Jacob Godbey, Nevin Graves, and introducing Summer Romo.
The show runs from 7:30-9:30 p.m. It's free with a suggested donation through Givebutter (Venmo, credit/debit or PayPal) at https://givebutter.com/y1rSoL
Farther ahead
Bare Bait Dance
Missoula's contemporary modern company is returning with a show that was planned for last spring. In "CXQ Redux," you can watch three original works adapted for filmed performances and home viewing. The creators include Nicole Wolcott (a New Yorker who's moved to Montana), Mollie Wolf, a guest from L.A., and Kelly Bouma, former company co-director, of Missoula.
The works were filmed at the Westside Theater here in town. The show will stream through Vimeo. Go to barebaitdance.org for more information.