University of Montana students are using their photography classes to document the isolation and uncertainty of living through a pandemic. The results surprised professor Matt Hamon, who recently posted the images to social media and watched the "likes" and "shares" roll in.
"Their work addresses, whether specifically or ambiguously, the experience that we're all living through currently," Hamon said, adding while he didn't assign anything coronavirus-related in his three photography classes, most of his students took on the subject matter anyway.
"It's hard to escape the COVID situation," said Lukas Siverly, a sophomore in Hamon's Photo 1 class. "It was just all over all of our minds."
While the photos evoke feelings of isolation, longing and confusion, the students all had their own individual lens through which to see the situation, making for a diverse range of interpretations.
"There's this sort of melancholy sensibility in various images," Hamon said. "And I talk so much about metaphor and reading secondary and tertiary layers of meaning beyond what's simply there, but in so many of them, there seems to be this sense of kind of isolation or loneliness."
In Siverly's photo, a woman wearing a mask stares at her cell phone in a room engulfed by greenery and plants. A taxidermy caribou hangs on the wall, and in another corner, a stuffed bobcat emerges from the flora.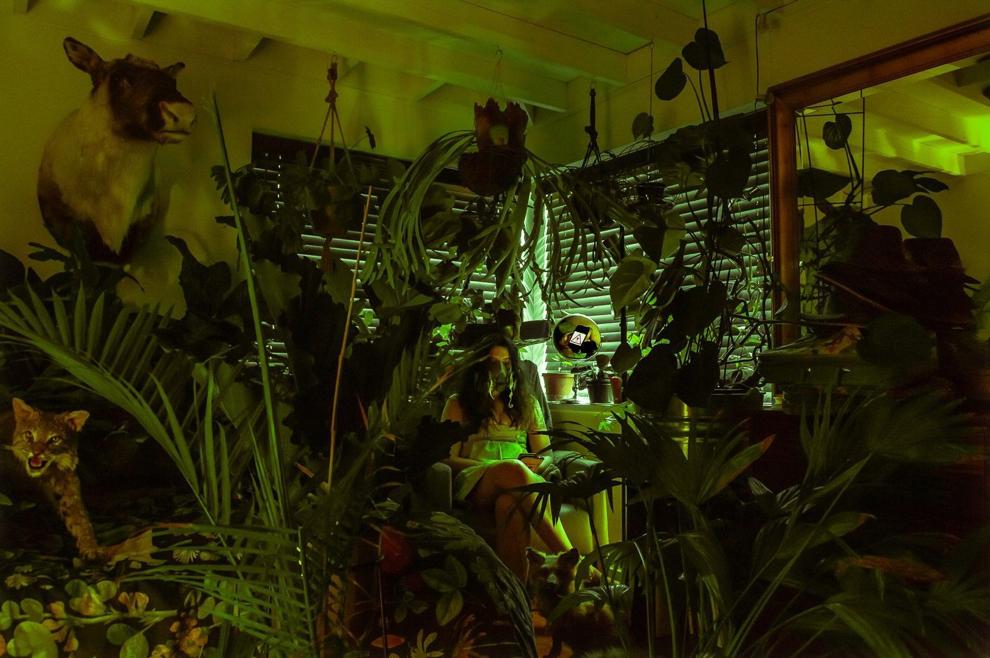 "I was conflicted with the amount of information or the type of information that's being told or shared by the government and different places in relation to the COVID-19 pandemic," Siverly said, adding he was playing with blurring the lines between life and death, the indoors and outdoors, and what feels safe and what we should fear.
Behind the woman, Siverly strategically placed a mirror so you can see what's on her phone screen: A skull and crossbones.
"Even though we have these desires of going outside, somehow we're still all consumed by this dreadful, hazardous situation, and we're all staring at screens to try and figure it out, but that's also where the confusion comes from," he said.
Themes of "spring fever" and the idea that nature is thriving now that humans are cooped up are also apparent in the image.
Colton Rothwell, a sophomore in Hamon's Art of Digital Photography class, took advantage of lighting in his image of a woman lying on the ground in what looks like a dark attic. A beam of natural light from the window illuminates her sullen expression as a plume of smoke snakes upward from incense burning in the background.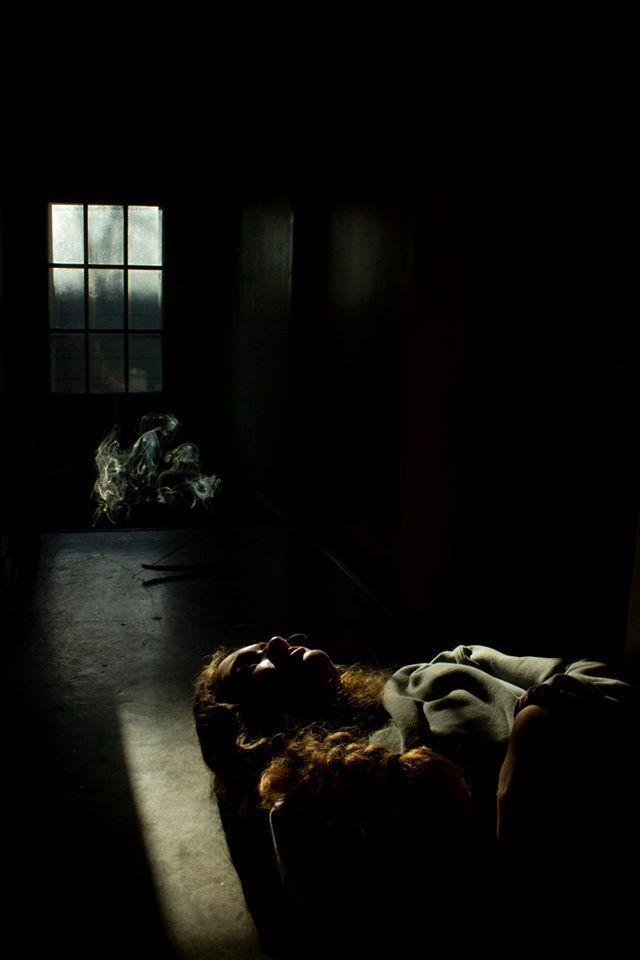 The photo is part of a series Rothwell started during the pandemic as a personal reflection.
"It kind of documents the impact the quarantine and social distancing had on myself and the household I'm living in and relationships in that house," he said, adding he lives with three college couples, and he's been observing the unique highs and lows that have come with that.
The mood of the photo is supposed to bring about feelings of longing for the past.
"The window is sort of a good metaphor for the outside world and how we can't necessarily see through it, and things are coming in, but not a lot is going out."
Claire Olivier took her concept outdoors, photographing herself in her backyard to capture an image that addresses feelings of escapism and running away. In it, a woman passes a basket full of clothes over a fence. Strewn about in the yard beside her are a couple of suitcases and blankets.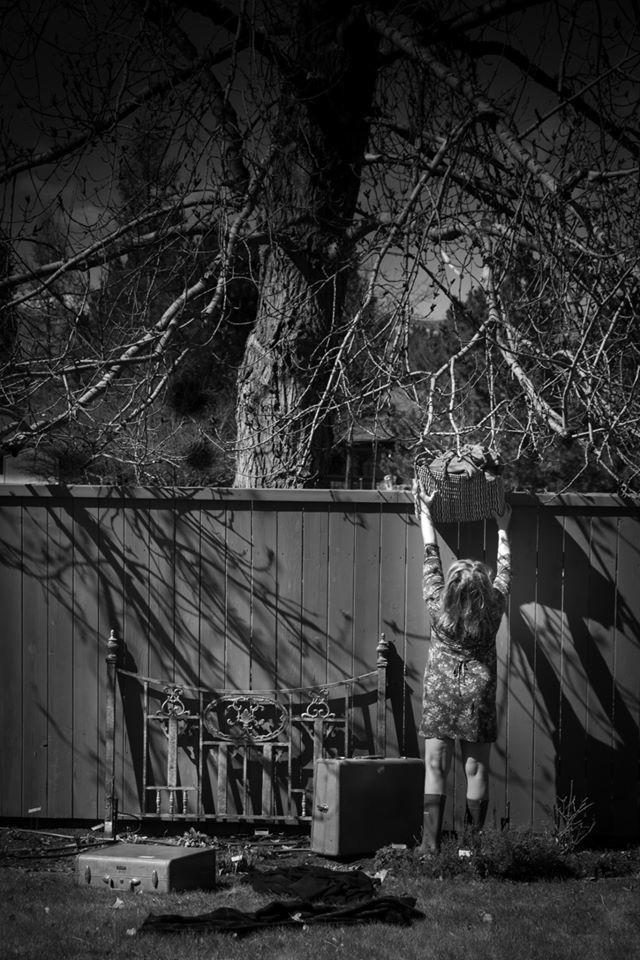 "There's this idea of a bedroom, but the bedroom is in the yard," said the non-traditional student from England. "It definitely has to do with the psychological need for flight, and in some ways it's a statement about feeling shut in and trying to get out, which I think a lot of people have felt over this period."
Olivier said she tried to create a mysterious and even a bit frightening atmosphere with the lighting.
"I took it in broad daylight because the shadows from the branches were so strong in the sunlight, but I knew I was going to make it look like moonlight," she said. "There's anxiety in it. In my mind, she's trying to escape."
While many of the photos were more ambiguously tied to COVID-19, some were quite obvious in their pandemic themes.
Another photo by Olivier features a bathroom scene with an abundance of toilet paper. There's a stuffed animal rat and a few teddy bears who seem to be having a tea party amidst their bounty.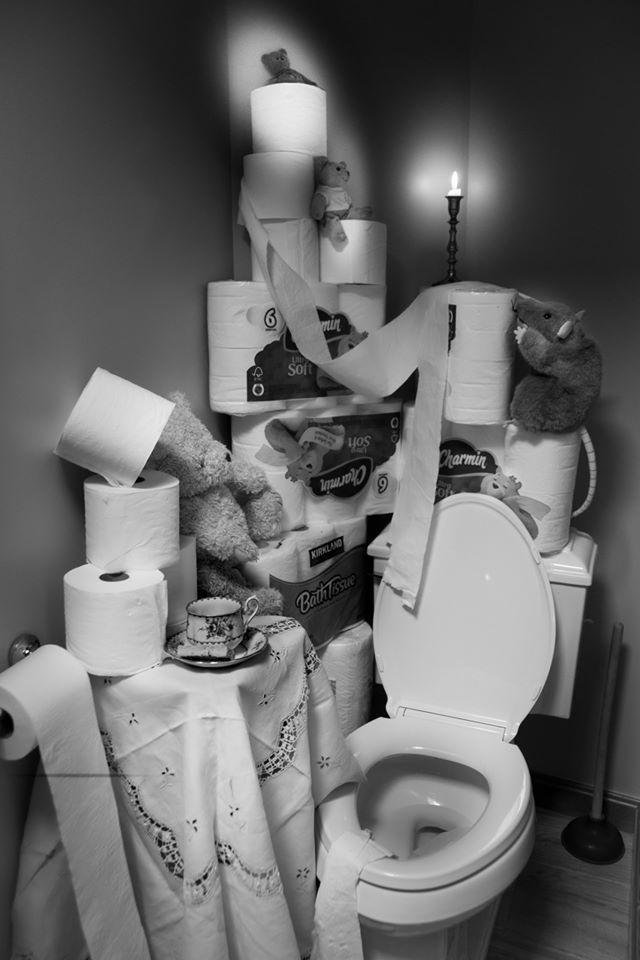 The native of England was inspired to create the photo after seeing the hoarding situation in the U.S. upon returning on what may have been one of the last flights from Australia to America before international travel was shut down.
"It was a very stressful time. We got back here, and I saw all the toilet paper hoarding. We couldn't find any," she said. "I wanted to allude to the sort of senselessness and mean-spiritedness of people that they would just go and hoard toilet paper and not save any for others."
She used the brand Charmin because she wanted to highlight the absurdity of the importance people place on having soft toilet paper. Plus, it was the only brand left when they finally were able to get some on their third trip to Costco.
In another clear depiction of life during the pandemic, Sam Kelley, also a non-traditional student, photographed Missoula senior Bransen Nelson on his 18th birthday.
The image shows Nelson sitting at a decorated table in front of a cake wearing a cone-shaped birthday hat. His only guest is a dog, and his only gift is a package of toilet paper wrapped in a bow.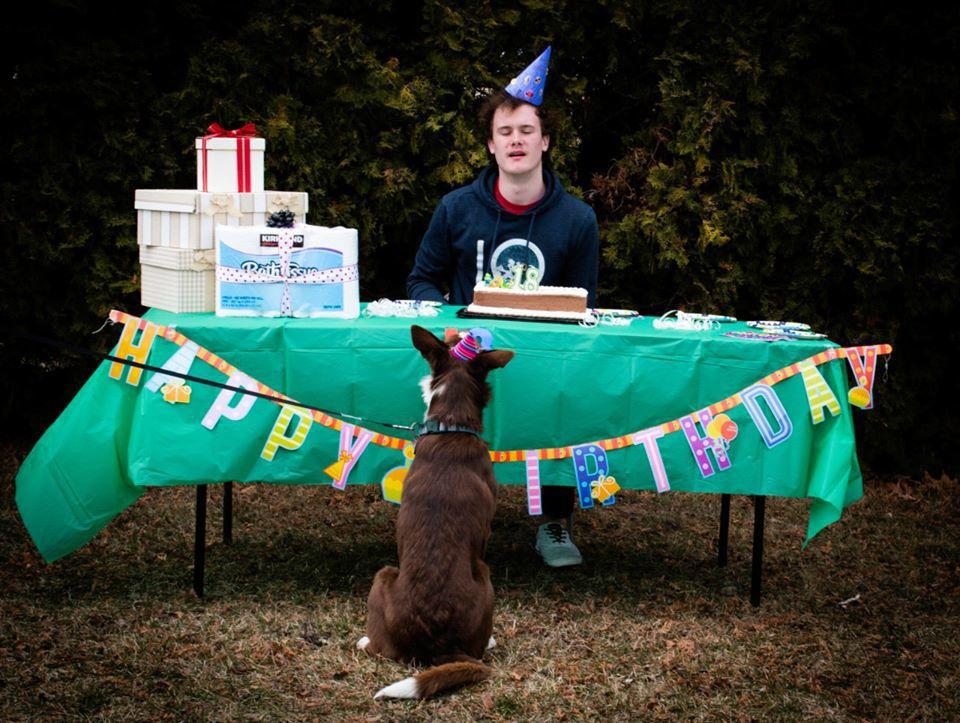 The image has a light, fun atmosphere, but the scene depicts a sad and depressing situation playing out for high school seniors across the country.
While the students were fulfilling class assignments with the photos they took, they also said the process was somewhat therapeutic in terms of analyzing their feelings about what's going on around them.
"The most therapeutic thing right now for me is making stuff," Siverly said. "Anything that engages your brain on a creative level like that is a good distraction."
Addressing the pandemic through photos was cathartic for Rothwell and helped alleviate some of the stress and emotion he's been feeling.
Siverly added he's recently been thinking about his pandemic work in the context of art history, noting that when a major global event like this occurs, artists are the ones who document it.
"That's what we pull out later on down the line. We look back at the art that was made during these terrible times," he said.
Hamon was happy to see such a positive response after sharing his students' photos, and while he was surprised so many tackled a tough subject, he was not surprised at how well they executed.
"One thing that I tell my students at the beginning of every semester and remind them often in critique is that the beautiful thing about the medium of photography is that the layperson or beginner can immediately be making work that is as poignant and significant and technically resolved as the best photography that's ever been made," he said. "I see this genius in them often."