The Zootown Arts Community Center is launching the public phase of its capital campaign on Thursday.
The nonprofit has raised almost $1.9 million of the $4.25 million goal that it hopes to reach by the end of the year as it proceeds with plans to move into its own building in downtown.
For the past 10 years, the center has leased a space on North First Street West. The limits on physical room for the growing nonprofit are a driving force behind the campaign: It has waiting lists for the private studios it rents to artists, the alternative music camps it runs for children and adults, and its community art classes.
The center's gallery, where it has monthly art shows of emerging and noncommercial art, also serves as its classroom and meeting space. Its downstairs music area is on double duty for the music classes and all-ages concerts in the evenings. The new building will allow it to stretch out its many activities into dedicated areas.
"I'm excited to see the possibilities for growth for each one of our programs when they're not just stacked on top of each other like that," said Executive Director Kia Liszak.
The ZACC purchased the historic Studebaker Building, a two-story structure on West Main Street that will increase its square footage from 8,500 to 17,000. When the center announced its plan earlier this year, the target was $3.25 million. After going through bids, the target went up to $4.25 million, citing rising construction costs.
The move will place the center right in downtown with better access for the public, whether getting there or moving around in an ADA-compliant building with an elevator.
"As we grow, we want to be more permanent and more sustainable. We really want to maintain an open and welcoming feel for all people,'' Liszak said. "The ZACC is about making art accessible for all people.
"We really want to maintain a welcoming space and be an anchor for downtown, where anyone can walk in off the street and find something there to engage themselves with creatively.''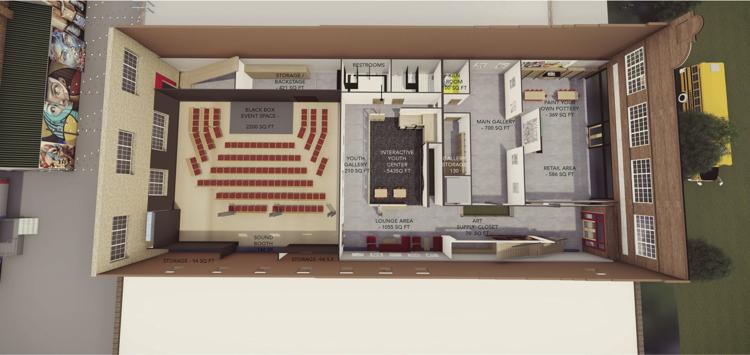 The ZACC began planning for a move three years ago, including a community-wide study. Board President Lauren Tyler Norby said there was "almost unanimous support" for a larger space that was more accessible.
Other Missoula nonprofits have launched capital campaigns of similar scope in recent years. Garden City Harvest ran a $2.8 million capital campaign. The Missoula Food Bank raised about $3 million for its new building from private donations. (It had supplementary funding from other sources.) The Missoula Art Museum raised more than $5 million a decade ago to expand its building.
The Logjam Foundation, the charitable arm of the Logjam Presents entertainment production company, donated $500,000 to help launch the ZACC's effort earlier this year, and owners Nick and Robin Checota are serving as campaign chairs for the project. On Dec. 4, their Top Hat Lounge will host a community outreach event.
On Dec. 21, musician-comedian-unicorn-entertainer Reggie Watts, who attended high school in Great Falls, will perform at The Wilma and donate part of the proceeds to the effort. Part-time Missoula resident Jeff Ament of Pearl Jam and his partner Pandora have also donated to the effort.
ZACC said the historic building, currently occupied by tech firm ATG, is in good shape. The planned renovations provide separate, dedicated areas for its programs.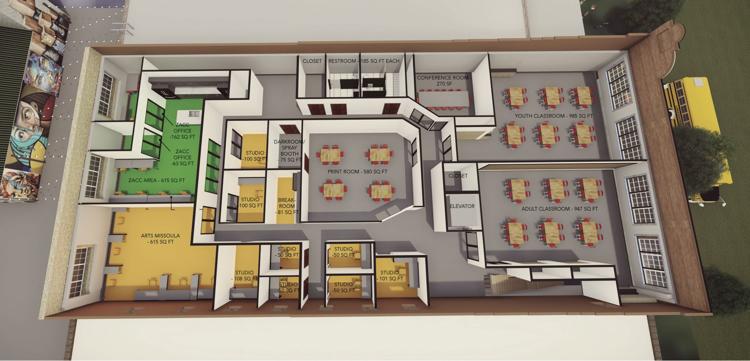 The main floor will hold a 700-square-foot art gallery, a smaller youth gallery and lounge area, a retail gallery where artists can sell their wares, a paint-your-own-pottery studio and a walk-in interactive art area, a feature they're adding by request from walk-ins, Liszak said.
In the rear of the main floor, they're planning a performing arts center with a "black-box theater" design. It can hold 160 people seated or 250 standing. They surveyed the local arts groups and heard a strong response about the need for a performance space downtown for live music, theater, dance, readings and more.
The current ZACC basement has been home to shows by nationally known musicians like Jonathan Richman and a long list of independent, up-and-coming rock bands that have sometimes struggled to find a place to play after venues like the Palace and Stage 112 at the Elk's exited the music business.
The ZACC will provide its own programming and will be open for rentals.
On the second floor, ZACC is planning for two classrooms, private artist studios, a conference room and offices for the staff and Arts Missoula, the nonprofit cultural agency.
The Studebaker's basement is currently concrete, but that's where the ZACC would like to renovate and build a music classroom, soundproof practice rooms and a community recording studio.
The art gallery, with its monthly showings, will likely have more presence downtown. Because the ZACC is located on the Northside, it held openings on the second Friday of the month. At the new building, it will switch to First Friday and expect that hundreds more people will come through.
Some of its openings already have had significant foot traffic. More than a thousand people turned out for the annual Missoula Monster Project, in which school kids and adult artists collaborate on whimsical drawings of creatures.
As a whole, ZACC hopes the building, with its myriad activities, can be a magnet for the arts community as the area continues to see development.
"I think as downtown grows, it's really important that we have these long-term community anchors that will keep Missoula unique, and a reflection of our community's values," Liszak said.
A Thursday get-together (see box) is designed to introduce the plan to the public. The center plans to move in by next summer, and hopes donations, regardless of size, help them toward the goal. ZACC is accepting three-year pledges as well.
"It's a grassroots organization that grows out of community support, and we fully believe that it will take the whole community to build this building, which is something that's so magical," Liszak said.