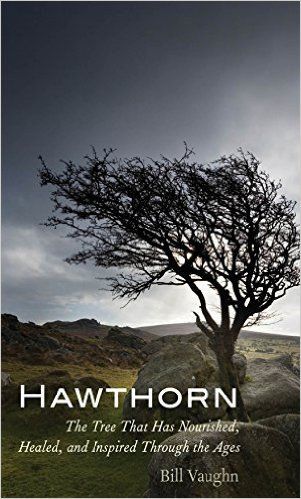 ​George Orwell​'s observation that "​to see what is in front of one's nose needs a constant struggle​," ​​​​​comes to mind at the beginning of "Hawthorn," by Bill Vaughn, a magazine writer with bylines in Outside magazine, Men's Journal, Salon and many other outlets.
He was attempting to cut down one of the infamously smelly trees, which he describes as "fortress"-like, on his property outside Missoula and emerged defeated and bloodied by its thorns. Realizing he knew little about the hawthorn, his initial research left him in awe.
"(A)fter immersing myself in the vast lore of this tree, I felt as though I'd walked into my garden and discovered the world," he writes.
The resulting book freely blends the personal anecdotes and deep historical research, as Vaughn explores the tree's history and ties to humanity across centuries and continents, in prose that can be affecting, authoritative and funny.
The book, rich with natural history information that's accessible to the lay reader, was selected as one of the honored titles for the Montana Book Awards earlier this year and reprinted in paperback last month by Yale University Press.
Without a protagonist, the book's momentum comes through a series of discoveries. From that encounter in his backyard, Vaughn visits Ireland, where his great-grandfather was born into peasant life. Knowing little of Thomas Moran's life, he investigates what it would've been like, touching on Irish Catholic traditions and more ancient superstitions, and blending in information about how the tree's unique ability to be cultivated into hedgerows proved useful in denying the poor access to what were once common lands.
From Ireland, Vaughn takes the reader to England and then continental Europe, where hedgerows were critical in the ground war in Normandy. He immerses the reader in the construction of hedges, complete with illustrations he produced himself - he's also a veteran designer of graphics and books.
From modern English efforts to protect their hedges for their agricultural and ecological benefits, he jumps to early uses in the United States of America, and then the much-earlier uses of Native Americans, many of which were medicinal. (In this section, the Crow and Blackfeet of Montana are paid special attention.)
From America, he brings the reader to ancient China, where a primitive form of alcohol was made from with hawthorn fruit. (This section diverts into an attempt to re-create the beer, a collaboration between a molecular archaeologist and Dogfish Head Brewery. Vaughn also makes his own hawthorn-flavored tea and vodka.)
It's digressive by nature, but the myriad tangents are almost always enlightening. He knows a good anecdote, sometimes an anecdote he generates himself.
During the section on the Celts, after he's learned that the hawthorn charcoal has been found at ancient smelting sites, he sets out to make a sword himself in the same fashion: building a primitive clay furnace on his property, melting metal and hammering out a blade.
That should give you an idea as well that Vaughn can be a very entertaining writer. After that initial attempt to cut down a hawthorn at his property leaves him wounded, he wonders if the tree is a "botanical carnivore whose seeds had escaped from a fiend's greenhouse and were blown here by the wind."
Some of the most engrossing writing comes in a section on Vaughn's own property, nicknamed Dark Acres. At length, he describes the part the tree plays on his land, wending his way through the ecosystem of myriad insects and birds the hawthorn supports.
The last section returns to locales from early in the book, including a look back at how his great-grandfather traveled from Ireland to the United States and eventually to Montana. It ties in nicely to the initial incident that spurred Vaughn to write the book. Also in that vein is another memorable scene as Vaughn comes to the end of his tale in which he describes the way he's decorated one of his hawthorns like a "rag tree," a Celtic tradition in which cloth is hung from the branches.
Like its subject, "Hawthorn" is sometimes challenging but ultimately rewarding. It's a book that will leave you with a better understanding of the world right in front of your nose.