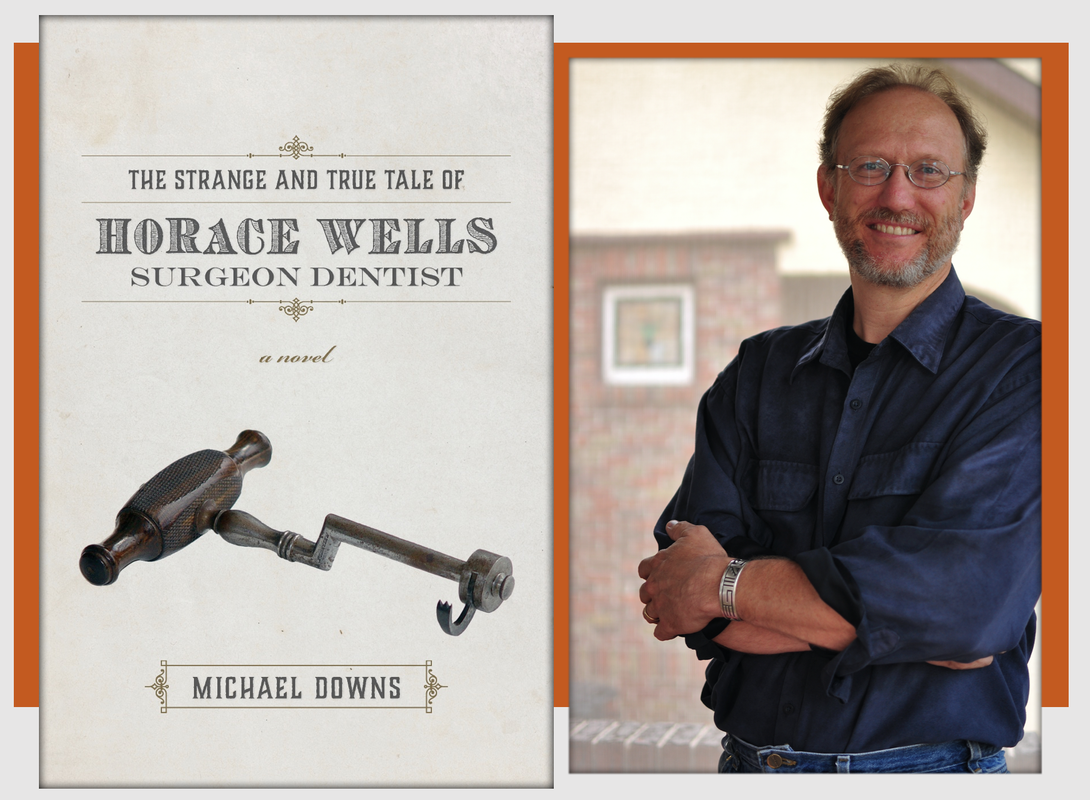 If the greatest efforts in the history of the Western world could be boiled down to the achievement of a few simple goals, it might be the quest to become rich, fat and happy.
A tiny percentage have achieved the former, and maybe a fraction more the latter. But that middle one most of us have managed, and certainly acquired a lot of comfort we take for granted along the way.
Take a trip to the dentist, for example. People whine about going; about the pain, about the discomfort, the inconvenience. What we suffer today, though, is nothing.
One glimpse at the cover of Baltimore author Michael Downs' new book should give one pause. "The Strange and True Tale of Horace Wells, Surgeon Dentist" displays a rendering of what is called a "toothkey," an archaic dental instrument whose purpose seemed to be the causing of pain to reduce pain.
At least that is how Downs's leading character, the dentist Horace Wells, reflects on his efforts in the aftermath of a gruesome tooth-pulling graphically described in the book's first chapter. It looks like an implement better suited to appear in some medieval torture chamber.
"Horace Wells" is a novel based on a man who actually existed. Wells was a Connecticut dentist working in the 1840s credited with discovering anesthesia, via nitrous oxide, or laughing gas.
The gas had been used previously in theatrical performances, but when Wells tried it himself he quickly imagined its more beneficial opportunity for employment. Of course things didn't go as planned, and this is no rags-to- riches tale.
While much of what Michael Downs shares with us is based on historical fact, there were many holes in Wells's life that the author employs his imagination to fill in. The narrative flows in such a way such that, like a mystery novel, too much detail will give away the thrill for the reader. And there are plenty headshaking, "he didn't just do that, did he?" moments along the way.
Wells is an odd, obsessive man, and Downs does an excellent job capturing his weirdness. There are plenty other characters involved in the story as well, with shifts of perspective that can cause a stumble here and there, but the narrative never goes off the rails, and what could easily become dense remains a relatively quick read.
As a work of historical fiction, the book works very well, capturing the gritty life lived in mid-19th century America. It was a different world then, though the very human ways we tend to brutalize and betray one another are easily recognizable today. It is a love story, ultimately, though only of a sort. There isn't an abundance of sweetness or happiness to be found between the covers. Nor should there be, given the nature of the story.
This is Michael Downs's third book, and the third set in his hometown of Hartford, Connecticut. A former journalist — which included a stint as a Missoulian reporter and then a journalism professor at the University of Montana — Downs is now an associate professor of English at Towson University in Maryland.