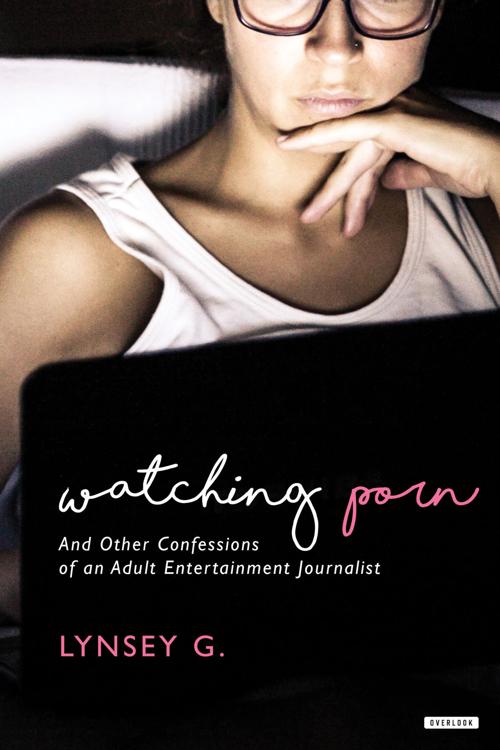 In 2009, McSweeney's Internet Tendency, the website for author Dave Eggers' boutique press, held a contest for a yearlong column on a personal topic.
Lynsey G.'s pitch likely raised eyebrows, and at one point her resulting column, "The Conflicted Existence of the Female Porn Writer," was the most-read feature on the site.
The English graduate, who uses a pen name, was living New York City a few years removed from college, and hadn't produced any writing of note. At a party, someone mentioned that a dirty magazine was looking for a porn critic. Slightly buzzed, she took up the offer and soon found herself reviewing hours-long DVDs of hardcore porn.
From early, joke-heavy reviews, she kept up the writing and eventually launched a magazine, whose title can't be printed here, and began exploring porn through issues that concerned her as a feminist.
Her writing eventually led to an offer for her memoir, out this month on Overlook Press, called "Watching Porn and Other Confessions of an Adult Entertainment Journalist."
Lynsey, who recently located to Missoula, describes it as an informational look at the pornography industry as it exists in the U.S. today "cleverly disguised as a memoir."
"You're looking at it, just with my experiences, some of which are funny, hopefully entertaining, and it can shine a light on some of these issues in a more limited, understandable way," she said.
The book is anything but exploitative, a mean feat. That said, there are porn stars. There are unprintable video titles with unprintable acts. There are voluminous porn puns, which are seemingly unavoidable when writing about the subject. There is an informational glossary and recommended viewing list in the back.
She includes a history of porn, tracing the way humans have used seemingly every technological advance toward explicit ends, be it a petroglyph or the burgeoning worldwide web.
It now accounts for a large share of internet traffic, which is part of the reason she found it an interesting subject.
"It's such a huge form of media that so many of us interact with literally almost every day, but very few people have any idea how it works," she said. "I think people need to talk about it more seriously and take it more seriously as a form of media that does impact the way that we see the world."
While she cautions that she's not an expert, the book can act as a window into issues like sex education (or lack thereof), mandatory testing for sexually transmitted infection and condom use, race and representation, obscenity and the law, all presented through anecdotes in her career.
The book traces her background in small rural hometown, where her upbringing was religious and sexually repressed. The discomfort and shame she felt around sex was compounded by a sexual assault.
She found an outlet in online porn. The industry, well-funded through DVD sales, was then under threat by the internet. Not only were its products being pirated through low-quality clips, but low-budget competitors, professional and amateur, were flooding the market.
Lynsey, who developed healthy relationships in college, still found herself drawn to porn and, in tandem, questions about it. That made a job reviewing porn appealing, even after she found full-time work elsewhere. In 10 years of writing about porn, it was her sole source of income for only three weeks at the beginning.
"I got a point where I needed to decide if the stuff I was watching was worth watching or not, for the money," she said. "I really needed to wrestle with my own demons and my own programming — all the shame and the fear that comes with anything having to do with sex in our culture, and in the end I decided it was."
After the early magazine work, Lynsey teamed with a former editor and her boyfriend for a planned web series, loosely biographical in nature. In the days before online crowdsourcing sites, it was more difficult for indie projects to raise money. To drum up interest, they created a mock-porn magazine, alas whose name is unprintable. Lynsey saw it as a vehicle to write about all the issues she'd been pondering. Eventually, the web series went to the sidelines and it became a real magazine.
They earned press passes to small porn conferences, and Lynsey was interviewing porn stars for her magazine.
"In my experience, this certainly doesn't go for all of them, most people who do porn are very outgoing, you know, they're real comfortable in their own skin a lot of the time," she said.
Female porn stars seemed responsive to the idea of a female interviewer.
"They spend so much of their time talking to guys who have a very clear intention when they're talking to them. And, there may have been times when I had the same intention, but as a female I think it's sort of easier for me to get in the front door," she said.
And it helped that she was interested in larger issues that they're not questioned on as frequently.
"People who work in porn are people, and they work really hard. You know? It is not easy to make a buck in porn these days, although I think everybody thinks differently. I have a lot of respect for them," she said. While accurate information about the revenue and size of the industry is difficult, the idea of a glamorous, well-paid porn star isn't accurate.
If it's discussed in the mainstream at all, people tend to use blanket stereotypes or speak of it as though it's a homogeneous industry instead of a decentralized economy with thousands of individuals.
"There's no certification course, there's no barrier to entry except proof of identity and age and a current STD test. That's literally it. So you get people from literally every possible background involved," she said.
That can include stereotypically sleazy producers, but also "awesome women who are making really thoughtful, beautiful content," she said. In the book, she discusses the rise of queer porn and other niches that previously weren't explored.
"There's so many people doing things for different reasons" that you can't discuss them in blanket terms, she said. The only thing that really ties performers together is "a high libido and a streak of exhibitionism."
Two of Lynsey's career milestones were reached with "Consent," a show she curated at Apexart. The not-for-profit invited her to create a show. Since she wasn't an artist, and they didn't want porn or porn-related art on display, she and collaborators made a series of four documentaries. They interviewed critics, performers, directors and consumers about their experiences with porn, and edited them into subject areas.
She submitted the work for a Feminist Porn Award, and won an honorable mention. The opening also netted her a contract to write a book, a dream of hers since she was 6 years old. (Granted, she was writing fantasy stories back then.)
Lynsey, now 34, said she had some reticence about the writing. Her parents are supportive of her in general but don't approve of the subject matter. She has a thoughtful audience courtesy of her time with McSweeneys'. The memoir, meanwhile, would open her up to broader criticism and perhaps pigeonholing. It was a long writing process — stretching five years due to outside circumstances — and she had a few moments when she was ready to back out.
She's now working on a graphic novel for a company, Oneshi Press, that she co-founded, and hopes it could be a bridge back to fiction writing. In the meantime, the book stirred interest in freelance writing based on her work. But she wonders if it will lead to pigeonholing.
"Now the trick is, if I do ever write this novel that I've had in my mind for years and years, will anyone care? Because now I'm the porn journalist lady? How can I mold these things?" she asked.