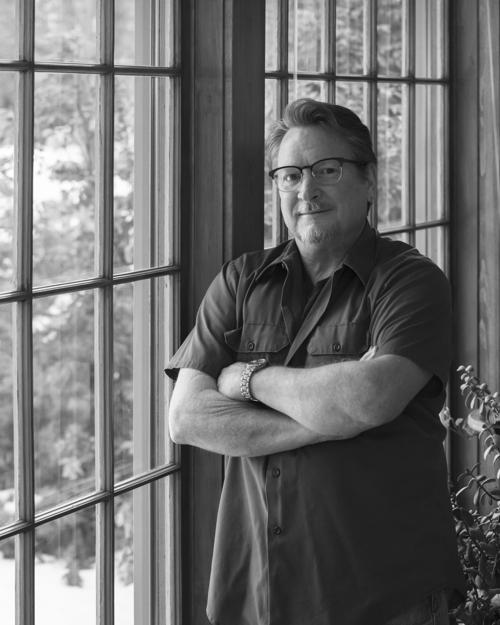 Ednor Therriault, the alter-ego of musician Bob Wire, is the author of book "Montana Curiosities," which profiled the "quirky characters, roadside oddities and offbeat fun" of the Big Sky state. His newest book, "Myths and Legends of Yellowstone: The True Stories Behind History's Mysteries," examines and debunks some of the park's tall tales, including its origin story, the many Native American tribes that frequented the area before and after it became the first national park and doing laundry in geysers (yes, really).  
Therriault spoke with the Missoulian about the book in advance of his reading at Fact & Fiction on April 11. This interview has been condensed and edited for space.
How did you end up getting into in these old tales and stories from Yellowstone?
I pitched a book on Yellowstone — the working title was "Fear and Loathing in Yellowstone Park" — and it was a little bit of an insider's guide and kind of the dirty underbelly of Yellowstone that I had witnessed over the last few years. But my editor came back and said, "Well, I don't know if they'd even sell that type of book in the park, which would be your biggest market. But, let me hit you with this: How would you feel about writing myths and legends of Yellowstone? It's a series, and we're ready for the Yellowstone installment."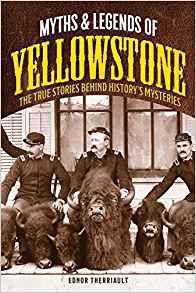 When it comes down to the myths and legends you cover in the book, were those things you already knew about?
Once I started to do the research, I found out, there aren't a lot of these kinds of stories that are easy to source. There are a few that were kind of well known, like the myth of the park's inception, which is this campfire conversation that supposedly went on. … Lee Whittlesey, who was the park historian, wrote a whole book about that conversation. He and his co-writer thoroughly debunked it. But the park likes that story and likes to hold onto it, even though it's with a wink and a smile and probably not true, but such a cool story that it keeps getting passed around.
So I looked into that and just gave my own spin on that story. I've been to this site where the campfire took place and stomped around there a little bit and took a few photos. It's nice to be close enough to Yellowstone to go there and spend a few days just soaking in all these sites that I cover in the book, and just try and get the vibe while I'm there of what people must have thought 150 years ago, when they stood here and thought, "This place is so crazy we should make a park out of it."
That chapter particularly made me wonder if you got a sense of why some of these myths — even ones that have been debunked already — are so enduring.
Well, I think that one in particular, I quoted one park official as saying, "If this story isn't true, we would have to invent one just like it, because it's so perfect."
And I think that's the thing — it makes the park look like it was the inspiration of this magnanimous gesture by a bunch of altruistic explorers, when really I think the opposite was true. All of these guys from the late 19th century were out looking to exploit the West, and exploit the resources and take over the land and there was a little bit of, we want to protect this Yellowstone area because it does have a sacred feel and it has been sacred to Native American tribes for thousands and thousands of years. That was ignored and overrun by this westward expansion in general.
That's the typical story, I think: "We're the first white people here, which means we're the first people here." That attitude's pretty prevalent.
It's fascinating how much the attitudes around the park have changed, and how quickly some change. In the bear chapter about Snaggletooth and bear feeding, it's wild how as soon as the park started to change those rules in the early '70s, it shifted.
That was probably the quickest change that you can think of; that's a good example. It was almost, relatively, overnight. Because this had gone on, feeding the bears, from your car or watching them feed from just a few feet away at some dump, this had gone on for a hundred years.
It wasn't even so much the safety of the visitors so much as it was the health of the bears I think. In the early '70s we started to wise up as a culture and, feeding bears handfuls of HoneyComb cereal from your car might not be the best thing.
What struck me was the bleachers set up around garbage dumping sites for visitors. I'd never heard of that before.
The park had to cop to the fact that they really played into this phenomenon as well, by doing that and having rangers stationed at these feeding stations on horseback and encouraging people to use this as just another form of entertainment, watching these 800-pound grizzlies converge on a garbage pile every night.
To me, that's such a great — I'm a musician, too, and I look at that as how the music industry is right now. To go off on a completely different tangent.
How did you approach the Bigfoot chapter? How does your approach change when there's not exactly a true story to debunk, but instead a myth that shifts depending on your belief?
That was a problem with that chapter, even though that was almost the first thing that popped into my head when I saw this title "Myths and Legends." It is a myth — until somebody brings in a corpse, I'm not inclined to put a lot of firm belief in that.
I've done a little bit of hanging about with Bigfoot culture people, and when they're off by themselves at a Bigfoot conference, they open up and they relax. People are not really forthcoming about it if they've had an encounter with a Sasquatch because of that stigma.
If you think about who's going to be most likely to see a Bigfoot or a Sasquatch, it's going to be a park ranger, who covers every square foot of that place for decades at a time. But they're not talking because they don't want to lose their job, they don't want to be laughed at.
But there's one guy who I write about, his name is Bob Jackson, once he retired, he suddenly opened up with all his Bigfoot stories and was like, "Oh, yeah, it happens all the time out there, but none of the rangers will talk about it."
And there was one ranger I talked to, who, I got the feeling he was just dying to tell me about it: "They do say that Bigfoot live in the exact same environment or habitat as the black bear … and there's probably black bears that they're seeing. But if you're looking for the most secluded part of the park where a black bear might live, it would be in the Bechler meadows/Bechler river area, down in the southeast part of the park. Not that there's any Bigfoot down there."
OK, I'm getting your unspoken thing here.
I totally painted myself in a corner with that chapter, because the contract called for one photo for each chapter. And I'm going along fine, getting archival photos and taking some myself and then I get to the Bigfoot chapter.
Was there a particular chapter that stood out to you?
The one that comes to mind is the Obsidian Cliffs, because I had driven by there dozens of times and had never realized what it was.
It's a big, I don't know how tall it is, cliff probably 150 feet high that has a massive vein of obsidian right in the middle of it. When the sun's out you can see it shining.
Looking at that, I discovered that this was the biggest deposit of obsidian in this part of North America, so tribal members have been coming there for thousands of years to source the obsidian, the raw material, and take it off to a different location to work it into tools and arrowheads.
One of the most interesting aspects of that is that there were dozens of tribes who knew about this cliff and sourced this obsidian. I could not confirm this — they're pretty tight-lipped about their own cultural history especially with some random white guy — but apparently when all the tribes were, this was like a DMZ, it was a non-warring site where everybody could take turns accessing the rock and be assured there would be no conflict.
Any final thoughts on the book?
It's funny, there's a lot of overlap — in Yellowstone, it seems to concentrate a lot of the issues that are going on throughout the state of Montana. It all really boils down to cowboys and Indians. The Indians would love to have herds of bison back on the reservation. Cowboys don't want bison outside the park 'cause their cattle would get infected.
It's the same conflict over and over, and Yellowstone contains a lot of those same animals, those same issues.
To me, as much as I dig Glacier Park … Yellowstone just has such a depth of diversity. It's got something for everybody — the geology, the wildlife, the history. All of that stuff is just an endless source of fascination for me and I feel like I'm rediscovering the park in the later part of my life.
And it's always a new experience.