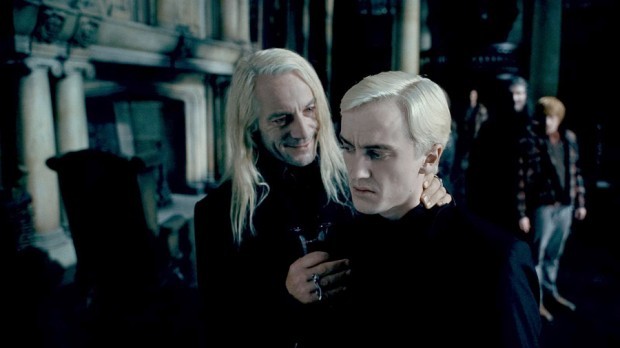 For every hero, there must be a foil, a villain of such proportion that defeating him seems impossible right up to the moment the impossible happens, an all-powerful emperor for Luke Skywalker to bring down. For The Chosen One in the "Harry Potter" books and movies, that villain is Lord Voldemort.
But in such sagas there are also stepping-stone foes, "donors" as the Russian scholar Vladimir Propp ("Morphology of the Folktale") called them, a Darth Vader who tests the hero's mettle early and often, and then maybe second-guesses himself. In the case of Harry Potter, that foe might be his teacher Severus Snape. Or it could be his school nemesis Draco Malfoy.
Tom Felton has played Draco, son of Lucius (Jason Isaacs in the films), the Hogwarts bully, Slytherin slimeball and always in Harry's way during each phase of the young wizard's quest.
We reached Felton, 23, a native of Surrey, England, an enthusiastic musician and established child actor ("The Borrowers") before "Harry Potter" came along, in London.
What's been the most fun about Draco's journey?
The last year or two, the last part of that journey, has been a joy. It's so nice to have established a character who grows from childish bully to snottish teen, and then have the chance to explore, in the last films, why he's like that. Hopefully, after all the years of hate for poor Draco, he'll get a bit of empathy, now.
He's questioning his relationship with his father. He's petrified. Lord Voldemort has crashed his house, and believe you me, he does NOT make a pleasant houseguest. All that makes him question who he is and why he is the way he is.
There's an urgency to the performances in "Deathly Hallows: Part 1."
Oh, we've been passionate about these films from the start. But we're giving it all we've got in these final ones, to make sure we go out with a bang. We savored every moment, too, because it's coming to an end.
What's been the best fringe benefit of being in the "Potter" films?
The great thing I think we've all derived from these films is making a lot of people happy. I was at the premiere realizing how fantastic it is to be able to make a child's day just by signing a piece of paper. We've brought something children love to life. That's our great reward.
So with the last "Harry Potter" film in the can, what do you have planned for the future?
I'm launching an independent record label to put some of my stuff (search "Feltbeats" on YouTube). And I just finished "Rise of the Apes," a "Planet of the Apes" prequel, and I was down in New Orleans doing a part in this independent film about golf, "From the Rough." Did another one with Ashley Greene called "The Apparition."
You've been growing up on set, for a decade, with the cream of British acting. Who have you learned the most from?
They're all inspiring and if you watch them, you can't help but learn something. Jason Isaacs has been very helpful for me as a young actor. Helena Bonham Carter (Bellatrix Lestrange) makes you better just being in the room. Ralph Fiennes (Voldemort) is a master of his craft, even in all that makeup. And I can't forget Daniel (Radcliffe, Harry Potter himself). Acting opposite him has been wonderful because he treats the job so seriously, it makes you treat things just as seriously.
Stay up-to-date on what's happening
Receive the latest in local entertainment news in your inbox weekly!