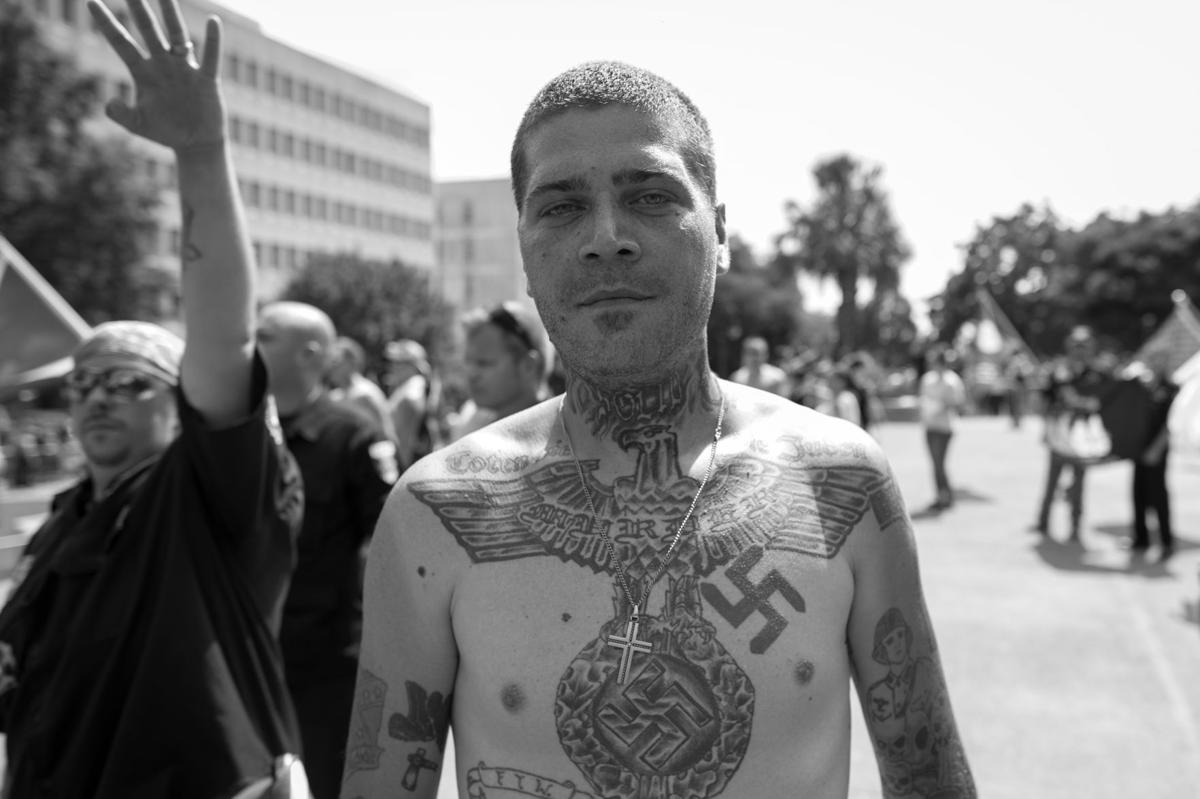 In an empty, dimly lit school gym in Whitefish, Montana, neo-Nazi Richard Spencer discussed the "superior white race" with former neo-Nazi Christian Picciolini. The white nationalist known for becoming a leader of the alt-right movement and Picciolini, who left the same radical ideology behind to found a support group for former members, went back and forth, trying to understand each other's point of view.
The scene is from the 2019 documentary "Healing From Hate: Battle for the Soul of a Nation," which screens on Saturday, Feb. 15, and Monday, Feb. 17, at the Big Sky Documentary Film Festival (see box for details).
New York City-based director Peter Hutchison ironically called the unexpected meeting between the two men a "happy accident" in filmmaking. 
A camera crew was following Picciolini around Montana as he held events to speak about "Life After Hate," a support organization he started in 2010 that helps de-radicalize neo-Nazis and white nationalists in the United States.
"It was just by chance that Richard turned up to Christian's event that night," Hutchison said in a recent phone interview.
The film profiles former skinheads and neo-Nazis, exploring the root causes of why men join these radical groups and looking at what we can do as a society to create a more tolerant world.
In addition to Picciolini and among others, the film features Tom McAleer, who's book "The Cure for Hate: A Former White Supremacist's Journey from Violent Extremism to Radical Compassion" was recently published, and Frank Meeink, the inspiration behind the 1998 movie "American History X."
The documentary uses historical images to trace skinhead and neo-Nazi groups back to slavery and mixes interviews with news footage from more recent events like the fatal 2017 white supremacist rally in Charlottesville, Virginia, and scenes from other white nationalist rallies to paint a picture of an America that is still reeling with hate.
Hutchison has long been interested in exploring the bigger issues around masculinity and the male identity, producing "Angry White Men: American Masculinity in the Age of Trump" in 2018. He was introduced to members of "Life After Hate" and thought the men who had left these extremist groups, referred to as "formers," had an interesting lens through which to examine the issue.
"What drives recruitment? What drives young men's desires and needs to get involved with and belong with these sorts of movements?" he asked. "What you ultimately learn is very rarely does it have to do with ideology."
Interviewing several "formers" throughout, the documentary sheds light on the men's shared reasons for joining these groups, most coming from broken homes, having experienced abandonment, abuse and childhood trauma.
In the film, the men talk about feeling small and ignored as adolescents, saying joining the groups and adopting an ideology that told them they were better than others made them feel powerful and like they were a part of something.
"Once you understand that piece, hopefully it allows a portion of empathy in terms of understanding why it's so hard to leave," he said, adding these men become so embedded, they often have to leave behind jobs, girlfriends or even wives to get out.
"When you first leave a group and you're looking for a support network … you're talking about men who are scared and vulnerable. They've had everything they've known stripped away from them."
Many of the "formers" bear the permanent marks of their time in these radical groups in the form of swastika tattoos, and part of the film looks at their struggle to be accepted back into mainstream society.
"What a lot of them talk about is this period of time in the 'wilderness,' where even when they're trying to be better people and reverse this life of hatred, it's been really difficult because people aren't willing to give them the benefit of the doubt."
That's even more true in the last decade, as neo-Nazi and white supremacist groups have come out of the woodwork and the country seems the most divided its been in recent memory.
"When you look at divisiveness and the way politics have sort of tribally shaken out over the last 10 years, there's a massive rural-urban divide," Hutchison said, adding that chasm has grown deeper since the election of Donald Trump. He hopes his film can encourage people to come together.
"If we can rise above that, take the high road, if we can look at one another through a lens of empathy and understanding, we've got a shot," Hutchison said.
In addition to Spencer, the film includes clips and interviews with figures like politician and former Ku Klux Klan grand wizard David Duke and white supremacist Jared Taylor, which Hutchison said was important from a freedom of speech perspective, but also to better understand what the formers were exposed to while involved.
"You can't just shove these ideas down," he said, adding if we ignore them as a society, they're more likely to flourish.
Making the film and getting to know the men who have left these groups has given him a more hopeful outlook.
"My experience of spending time with these formers who are helping others get out of hate groups has been one of the most inspirational, hope-giving experiences I've ever had the privilege of participating in," he said. "These guys that are featured in the film, they've gone through a lot in order to find their way back."