More than a hundred movies will screen over the next 10 days as the 16th annual Big Sky Documentary Film Festival descends on downtown Missoula.
According to the organizers, that includes 47 world premieres, i.e., many movies that haven't yet been screened for critics.
In this week's section, we have reviews and highlights of some of the films. Watch for more in next week's arts section.
To find out more, head to the festival website, where the movies are broken up into thematic strands, such as "activism and justice" or "sports and adventure."
The movies listed for competitions are good bets, too, since the best documentaries draw you into a subject that you didn't think you'd be interested in.
The movies will be screened at The Wilma, the Elks Lodge and the MCT Center for the Performing Arts. Go to bigskyfilmfest.org for ticket information.
Free opener, soft opener
The "soft open" is on Friday, Feb. 15, with "Out of Omaha," which tracks African-American twins growing up in middle America over the course of eight years. It's at 7 p.m., at the Elks Lodge.
The official opening night is Saturday, Feb. 16, at The Wilma with "Ski Bum: The Warren Miller Story."
Miller, who died just over a year ago at age 93, was a World War II veteran who began filming ski trips around the West all the way back in the early 40s, eventually growing a catalog of more than 500 movies, according to an Associated Press obituary.
The screening is free, so show up early if you want a seat. "Ski Bum" will play again on Thursday, Feb. 21, at 8:30 p.m., at the Wilma.
Retrospectives
Each year, the festival gives an overview of a mid-career filmmaker.
This year, they picked siblings Michael and Jeff Zimbalist, siblings whose work has been featured in the ESPN "30 for 30" series. (See interview). Their films will play in the first half of the festival.
The closing weekend will bring an overview of the work of Travis Wilkerson. His political and experimental approach has touched on topics like gun violence and racism. His 2002 film, "An Injury to One," focuses on the labor movement in Butte and the murder of Frank Little, an Industrial Workers of the World organizer.
He'll also present his newest film, "Did You Wonder Who Fired the Gun?", in a live-documentary format.
Reviews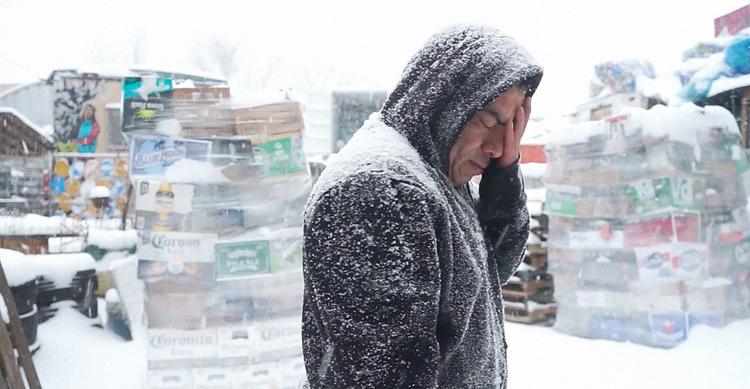 Thursday, Feb. 21, 6:15 p.m., MCT Center for the Performing Arts.
Directed by Àlex Lora and Adán Aliaga. 83 min.
"El Cuarto Reino," a portrait of day-to-day life at a recycling redemption center, takes the idea of "show, don't tell" to an extreme in surprising and beautiful ways, capturing candid moments that allude to larger issues for its workers.
The center, located in Brooklyn, is a nonprofit named Sure We Can. It was founded by Ana De Luco, a nun, and Eugene Gadsden, so that the city's thousands of canners — people who collect bottles and cans to recycle them and redeem them for cash — have a place to bring their wares.
The title translates to "The Fourth Kingdom," pulled from an old promotional film touting the wonder of plastics. The narrator's optimistic tone clashes with the shots of the piles of bags of cans and bottles, but not with the purpose of the center.
The film lacks a narrative. It's more of an observational film essay. The cinematography, of massive piles of bags of bottles and cans, has an unexpected allure given the subject matter. It's not unlike photographers such as Andreas Gurksy or Edward Burtynsky, who make beautiful images that depict the bewildering scale of humans' effects on the environment.
Ana and the community of workers and canners, like René, a recovering alcoholic who lives on site, could make an engrossing story with longer interviews. Or the nonprofit itself, or the world of canners. It could be a narrative about the history of the center, or staggering numbers about the amount of waste produced every day.
Instead, Àlex Lora and Adán Aliaga instead chose to make a cinema verite movie in the extreme, with no narration, talking heads, direct interviews, or much historical context. They show the workers sorting, hanging out and having coffee and talking. One worker mentions that he once went off for a walk of thousands of miles, which eventually led him to the United States. Eugene talks about living outside on the streets for years at a time. (Loneliness, he says, is the worst disease.) There's little in the way of life stories shared, just day to day life.
The center also has a composting site and a garden. René nurses a kitten with a bottle. He sets it down and the camera lingers on the bottle, now swarmed by flies. Other diversions include a Casio keyboard that provides one of the few instances of music. One of workers finds a camera lens that becomes a diversion/hobby project, as they try to find ways to use it to project video from their cellphones onto the wall. René also has fun using a translator app to communicate in Chinese with some of the canners.
Issues loom in the background — addiction, poverty, homelessness, immigration, climate change, sustainability — or momentarily surface in conversation, but are never broached directly by the filmmakers.
Instead, quiet moments and the underlying sense of purpose and community that the nonprofits like these can provide is conveyed almost entirely through cinematography. It never says any of that, though, which makes it all the more remarkable.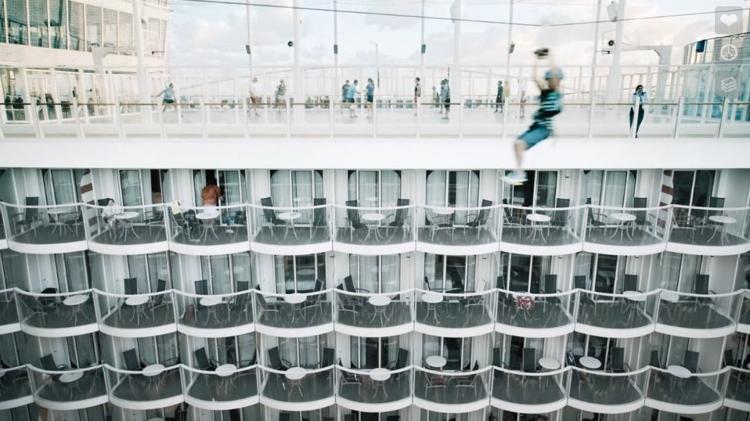 Saturday, Feb. 16, at 6:30 p.m., Elks Lodge
Tuesday, Feb. 19, at 4 p.m., MCT Center for the Performing Arts
Directed by Corina Schwingruber, 10 min.
There's no place to get away on a cruise ship.
The most alone anyone is during the short run of "All Inclusive" is a pair of children, chasing each other around a deck at dusk. Even an older man enjoying a sun-soaked nap on the pool deck is surrounded by just-vacated chairs, wet towels strewn around him, half-empty drinks left on tables.
This film will hit everyone differently, partially depending on whether the viewer has been on a cruise before — this one has not — but also depending on how comfortable one is with constant crowds.
The cruise ship is equal parts lively and lame, massive and unbearably claustrophobic. It feels like there's nowhere to go that's quiet.
The zipline passes right over rooms' balconies, while the dining hall, decked out in white table settings and glittering chandeliers, is as loud as a middle school cafeteria.
Everything appears to happen in a group, conjuring science fiction analogues where not to participate is a higher sin.
Schwingruber's passive camera highlights the creepy luxury, the fake entertainment, the groupthink involved in a sailor-themed father-daughter dance.
It's a collectivist society at sea, where everyone paid to have the same vacation as thousands of others. The young couple gets romantic pictures taken in front of a sunset, the next night it will be another couple. Is this where they get the stock images for frames you buy at Target?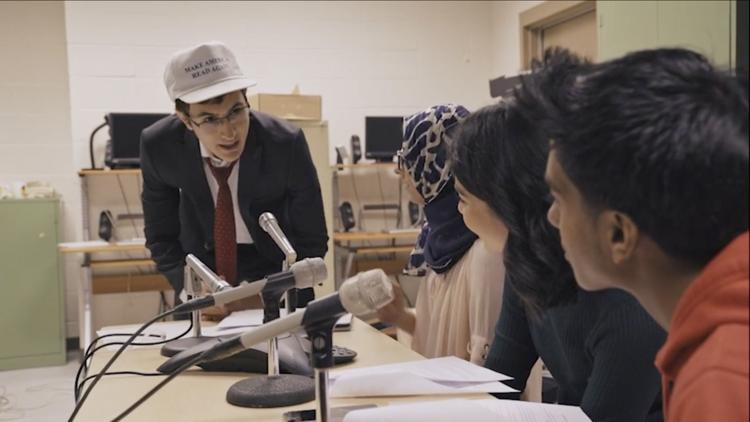 Thursday, Feb. 21, 6 p.m., the Wilma
Directed by Alexandra Stergiou, Lexi Henigman, 75 min.
The 2016 presidential election was unusual for most everyone involved, so imagine how odd it might be to re-enact it in real time. As a teenager.
Since 1996, Townsend Harris High School, a public school in Queens, has conducted an election simulation. Students portray the candidates, holding rallies, debates and raising funds, mimicking their real-life counterparts' platforms and backgrounds.
In "The Candidates," filmmakers track the 2016 simulation, which began seven weeks before Election Day. The educational exercise, designed to teach them about politics and civics, gets a little weird.
Misbah, whose parents are immigrants from Pakistan, is selected to play Hillary Clinton. Misbah is smart and polite and works hard to prepare her speeches so she can deliver them with Clinton's confidence and policy specifics.
Daniel, meanwhile, has a difficult and odder task in portraying Donald Trump. The son of immigrants from the Soviet Union, Daniel is a conservative surrounded by liberal peers at a diverse high school. At first, he hopes that the mock election will give him the opportunity to present Republican beliefs to his peers in earnest.
Alas, Trump doesn't make it easy for Daniel, who quickly decides that he can't win on policy and finds that chants and disruptions of old-fashioned election norms work best — rushing into Misbah's radio interview and taking over, for instance. (The high school has its own three-person news team.)
At one point, which is both insightful and depressing coming from a teenager who may as well be speaking about the national race and not his simulated version, he admits that people have told him it's the most entertaining mock election yet, and confesses that it's not supposed to be fun to watch.
Since this is a high school mock election, they are allowed to have some fun. They make goofy rap videos, for instance.
Once the "Access Hollywood" tape is leaked, the simulation gets trickier. A teacher pulls Daniel aside to talk about how exactly they're supposed to address, or not address this, in the context of an educational mock election for minors. Daniel says he doesn't bring up the alleged assaults himself; but other people bring it up all the time. Later, the teacher observes that on any given day, Daniel might come to school with more Trump news that he can't talk about than that he can.
The experience gets emotional for other reasons, too. Raya, who's portraying third-party candidate Jill Stein, wants to see Clinton elected as the first woman president in U.S history.
Come Election Day, the students hold a vote of their own. The results, much like the real outcome of the national election, are a surprise that makes you wonder how presidential elections will turn out once these kids are voting age.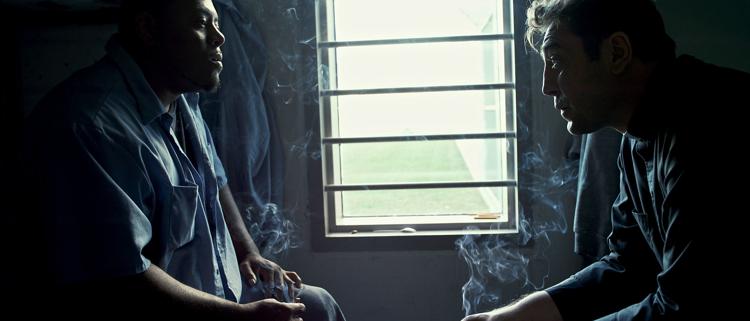 You have free articles remaining.
Tuesday, Feb. 19, 8:45 p.m., Elks Lodge
Directed by Eugene Richards. 42 min.
"Thy Kingdom Come" is impossible to talk about without explaining what it is, since it's never truly explained on camera. The premise is so unusual that 10 seconds in, and you'll want to pause it and start Googling to figure out what exactly is going on.
A quick synopsis won't seem unusual for a documentary. A crew visits a small town in Oklahoma. They talk to ordinary residents, in hospitals, trailer parks and jails, about their troubles, and the people seem eager to have an ear. Some struggle with health, others with poverty, others with health, others with overcoming trauma and their past. Their candid confessions are heartbreaking, shot in long takes at unusual camera angles, which is the another hint that something's off.
And here ahead lie the spoilers.
The person they're talking with, besides the filmmakers, is Oscar-winning actor Javier Bardem, who is dressed up as and pretending to be a priest.
This conceit is never explained directly in the film. At the beginning, Bardem says "Is the priest a real priest? No, but it's as if they've been waiting for him."
According to an interview Bardem did with the Hollywood Reporter, the footage was shot as part of director Terrence Malick's film, "To the Wonder," a movie that is not a documentary.
Malick, known for his gorgeous frames with cockeyed angles and impressionistic editing, sent Bardem and photojournalist Eugene Richards to Oklahoma, where they shot footage of his priest character from "To the Wonder" visiting with local residents. Richards told the New Yorker that all the subjects were told that this was a fiction project. Some people knew who Bardem was, some did not. Richards added that "absolutely no one cared, in the end, who he was, except that he was there to listen."
Malick is notorious for hiring A-list actors, shooting scenes, and then cutting them from the movie entirely. After he chose to leave Bardem and Richards' footage out of his final cut, they petitioned him to let them use it separately.
So what are we left with? Bardem is a great actor with a deep voice that's comforting when accompanied by a priest's collar. Often, he's only hovering in the edge of the frame, listening or gently setting his hand on the speaker's knee. Richards is careful to frame his subject in their environment, or take a long pause to turn his camera into the corners of their spaces and see what it might say about them. In one especially Malick-like sequence, Bardem wheels an elderly man out of a retirement home and they lay on the grass together.
He tells a prisoner that he's not here "to scold or judge," only to listen. The stories we hear are apparently real and sometimes harrowing. He asks a sick man whether he thinks God has forgiven him for being a member of the Ku Klux Klan.
He hears stories from others about past sexual assaults, or the death of a child, that are painful to watch in their confessional intimacy.
All this emotional material is beautifully filmed. After all, it was intended for a Malick movie, and the free-associative editing style will be familiar from "To the Wonder" and "The Tree of Life."
At one point, Bardem asks the prisoner where he should extinguish his cigarette. He replies that Bardem should "put it on the floor and stomp it out. That's what they did to me."
Nor are there many signs that they know who Bardem is. Only the prisoner hints at this. After Bardem exits his cell, he laughs and says, "a priest." He laughs again and the movie ends.
Perhaps a confession, once given, even to a fake priest, is worth honoring by releasing into the world.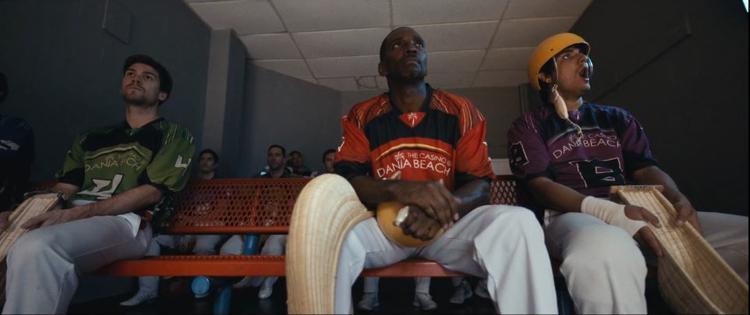 Monday, Feb. 18, at 6:30 p.m., Elks Lodge
Directed by Daniel Soares, 18 min.
"Forgotten" explores the dull, ever-present pain of your work being a performance, entertainment, yet no one cares enough to show up to watch. This is how it is with the sport of jai alai, once upon a time among the most popular sports in Florida attracting the jetset crew, movie stars and presidents, who would attend the fast-paced, exotic event to gamble and be seen.
The protagonist, Leon "Tevin" Shepard, is promoting his final match, after 26 years in the sport. Shepard has the unfortunate distinction of leaving a promising baseball career to join the sport in the early '90s, just as it was coming off a four-year strike that crippled it forever.
Now, he tells his younger teammates about the glory days while they dress in the decrepit locker room, after games played in front of maybe 10 people, all who have money on the game and yell obscenities at the players like they're worse than racing dogs.
Soares' camera often frames Shepard alone in the corner of the shot, or tracks him walking all the way across the empty screen. Not much subtlety there, but Soares has other tricks, like how he frames the slobbish older guys watching the jai alai matches — from below, exaggerating their guts and dirty shirts.
The film is light on footage of jai alai's glory days, as well as shots of the game actually being played — that's clearly not as important to Soares as tracking Shepard's reactions.
But given how much passion these players must have, to spend decades playing a game no one follows (Shepard admits it would have died long ago if it wasn't one of the few legal gambling sports in Florida), it would have been nice to see some of this beautiful game they play. But, alas that's the problem. It doesn't exist.
Saturday, Feb. 16, at 9:45 p.m., MCT Center for the Performing Arts
Directed by Jonathan Sutak, 87 min.
The Milli Vanilli scandal rocked pop music in the late '80s, when it was revealed the duo didn't sing on their own hits. Quietly, all of Europe looked over and shrugged. Standard operating procedure.
That's the story of Den Harrow (pronounced in an Italian accent "denaro," money), a mid- to late-'80s European pop star who sold more than Michael Jackson or Madonna for a time.
He sang on one of his songs, just one, after years of studio singers provided the vocals to a string of massive Italodisco hits like "Bad Boy," "Future Brain" and "Don't Break My Heart."
The voice behind those hits, American-born Tom Hooker, decided in the 2010s that he'd had enough. He wanted credit for the songs, for the voice. He wanted Den Harrow (real name Stefano Zandri), who was still lip-syncing across Europe, to thank him.
So, he posted a video to YouTube claiming his role in writing and singing the songs. He posted on Facebook, drawing the ire of hardcore Den Harrow fans. He got a spot on an '80s revival tour, playing acoustic guitar versions of his decades-old songs.
But Zandri didn't care. To him, Hooker had the good life — he got more money in their contract, he didn't have to deal with the fame and he had a wife and five children and lived in a mansion in Las Vegas. Zandri has to keep up his lifestyle playing '80s nights at European clubs to aging disco fans, trying to keep their youth alive.
It's a curious battle — one Sutak does well to explore through the eyes of Den Harrow superfans — which is the true singer? The one who is in all the videos and performed at massive European music festivals? Or the one who technically sang and wrote the songs?
Fans split, though all acknowledge Den Harrow didn't sing. But it doesn't matter to some, their nostalgia and fandom are tied inextricably to the handsome, blonde Zandri, whose dance moves and funky jewelry defined their youth (the '80s Italian fashion in this film is a true highlight).
Others are excited, getting Den Harrow records singed by Hooker after his shows.
But what Sutak really does best is expose the true people behind a petty, decades-old dispute.
Hooker obviously gave the filmmakers more time and access, and as such, appears to be the "hero" for the first part of the story. But every time the film cut from his wild-eyed explanations of "sabatoge" and "conspiracy" of how the record company refuses to give him credit, to Zandri's sad, slow explanations of their "gentleman's agreement" that Hooker is violating (to no one's advantage), it becomes clear that this is a fable, of the grass always being greener on the other side.
"Quiet Storm: The Ron Artest Story"
Sunday, Feb. 17, at 3:45 p.m., MCT Center for the Performing Arts
Directed by Johnny Sweet, 116 min.
But there's always been people struggling in the sport — as Ron Artest Sr. says in "Quiet Storm," everyone struggles with mental health, just on different levels.
Well, as many people know, his son, Ron Artest (now Metta World Peace), had the most public battle with bipolar, depression and anger issues in the league's history.
"Quiet Storm" traces Artest's life from growing up in the famous Queensbridge housing projects to his all-star AAU team. Throughout, his struggles with controlling his erratic mood swings are an issue.
Coaches say they'd never encountered someone with such problems, but also never anyone with as much competitive hunger. Artest didn't show up for his draft workout with the New York Knicks, saying he was too hungover to go — "and I could play intoxicated," he assures the viewer.
But when he's drafted by the Chicago Bulls, he's instantly the most intense member of the NBA, playing the only game he knows — where hard fouls and guns drawn over losses were the norm.
Artest didn't talk with his teammates and his teammates didn't talk to him. As long as they won, it was OK. And his time on the Indiana Pacers saw them as perennial playoff contenders, with Artest's anger generally under control.
But the moment when it all went wrong became the most infamous day in sports history, maybe outside of Cleveland's Ten-Cent beer night.
The Malice at the Palace, a brawl between players and fans in the Detroit Pistons arena, saw Artest in the stands after a fan threw his drink at him. Other Pacers followed, defending their teammate, throwing punches.
The documentary casts a fairly positive light on Artest, leaning toward interviews with players, who defend him against the unruly fans. Later, after he wins a championship with the Los Angeles Lakers, the same talking heads are amazed he thanks his psychiatrist on live TV after the game.
It's not all roses — the documentary flies past a domestic assault incident between Artest and his wife and it doesn't attempt to draw any throughlines to the current mental health conversation.
Basically, the lesson is that Artest was misunderstood. That's not a bad start when it comes to reanalyzing behavior through a mental health lens. But it is just a start.