The Roxy Theater is expanding next door with an intimate fourth screening room.
The Roxy Annex, which can host movies and events, will be located in the former Edward Jones financial firm offices, next to the main theater on the Hip Strip. The cost for renovations is about $60,000 and they have $15,000 to $20,000 left to raise.
"It's not expanding our capacity, it's actually reaching our capacity," said Mike Steinberg, executive director of the nonprofit community cinema, on Thursday.
They've already started gutting the space for the annex, which they are renting on a long-term basis, and they hope to open by March. 
The Roxy screens first-run movies, along with special one-time-only classics or documentaries. They also rent their theaters to third parties for special events (i.e. birthday parties) or to groups who want a special public or private screening.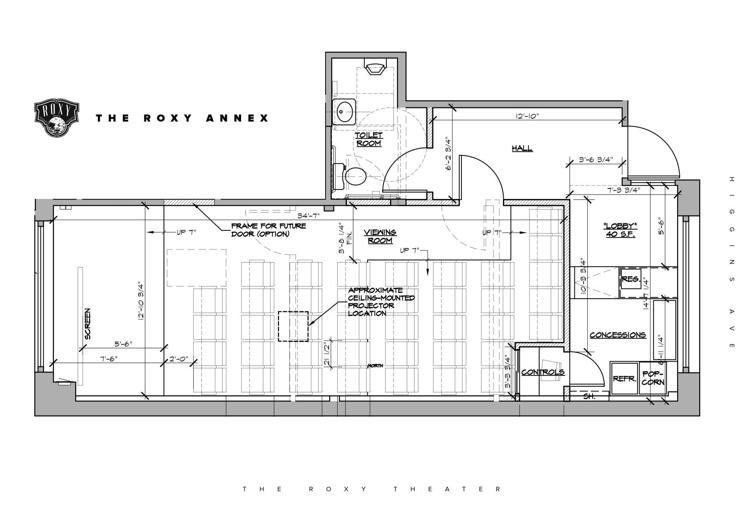 With their current space, there are instances many times a week in which they might have to drop a first-run screening to accommodate a rental. From November to March, they have to limit the number of rentals on the weekends overall.
"The goal is that the annex would be this space where we could move that first-run title, or we can move that rental event or special event," he said. In some cases, new releases like "Little Women" are selling out, and they don't want to have to move them to a smaller theater.
"This way we still get to do both," said Tammy Bodlovic, development director. "We get the best of both worlds." Also, they they needed to secure the space when it became available, as their expansion options are limited.
"It was just was a sign that it was time to expand and add that fourth screen and increase our overall capacity, not our programming capacity, but our overall capacity and keep people coming to the Roxy," she said.
The annex will hold about 30 seats and will be outfitted with a digital projector. Ticketing will remain at the main office or theroxytheater.org, but the annex will have its own concession stand and bathroom.
The theater, originally built in 1937, re-opened as a nonprofit community cinema in 2013, screening new-release independent movies and one-off documentaries, curated series, specialty events, and more.
In the fiscal year that ended June 30, overall attendance was 75,671 for films and special events, with a total of 439 movies screened. Their membership increased by almost 50 percent.
Steinberg said the accepted wisdom that people are abandoning theaters for streaming services isn't true.
"It's absolutely true that a lot of multiplex screens and a lot of independent theaters have closed in the last 20 years. There's no question of that. But there's also this very vibrant trend for arthouse and community-focused nonprofit cinemas," he said.
Their goal is to offer an "experience you can't get at home" or duplicate in a larger multiplex. 
"Half of our business is promoting the habit of movie-going," Steinberg said.
They try to build a movie-fan culture, with curated titles you probably won't see elsewhere, and serve local craft beer and organic popcorn.
The annex will also be handy for some of its big, in-house events, like the International Wildlife Film Festival and the Montana Film Festival.
The IWFF, an annual event founded in 1977, is returning in April. Director Carrie Richer said the annex could be used for offbeat offerings like one-minute movies, shown on a loop in a lounge-like environment, or an interactive "choose your own adventure" style documentary, or for panels like "fireside chats" with filmmakers or other speakers. 
That's what the stage is for — they can retract the screen if they want to host improv or comedy nights in an intimate room. In the back, there's an apartment that they might rent out to a local arts organization.
Stay up-to-date on what's happening
Receive the latest in local entertainment news in your inbox weekly!