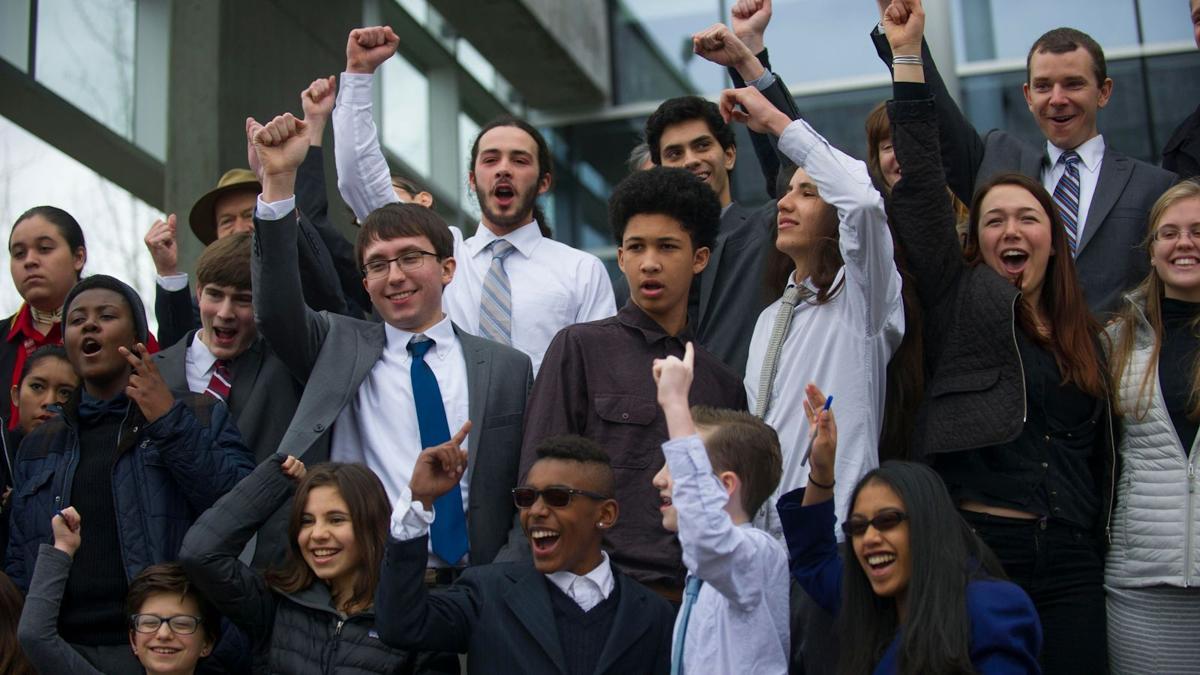 Here are the highlights of the Big Sky Documentary Film Festival for Wednesday.
Films
All 50 short films are available to view throughout the 10-day festival. There are 13 blocks of short films, each of which can be accessed by one single-screening ticket or one bundle/pass use. The following feature films open for viewing Wednesday:
"Youth v Gov" — The 2021 BSDFF Centerpiece Screening. Twenty-one courageous youth lead a groundbreaking lawsuit against the U.S. government, asserting it has willfully acted over six decades to create our climate crisis, thus endangering their constitutional rights to life, liberty and property. If these young people are successful, they'll not only make history, they'll change the future. Montana premiere.
Live Q&A with Christi Cooper (director), Julia Olson and Kelsey Juliana (subjects), and Rachel Gregg (moderator/BSDFF); 7 p.m.
"The Passing On" — With the decline of Black-owned funeral parlors on the horizon, renowned embalmer James Bryant puts his faith in a new generation to continue his legacy at the Lewis Funeral Home in San Antonio, Texas. But his young intern, Clarence Pierre, a promising mortuary student, is conflicted about his commitment due to the judgment and rejection he faces as a queer, Christian man. Northwest premiere.
Live Q&A with Nathan Clarke (director), Lana Garland and Tyler Trumbo (producers); Friday, Feb. 26 at 8 p.m.
"The Crab Season" — From March to November, Christophe Leboucher hikes to the foot of the cliffs of Etretat at ebb tide. With his neon plastic case and bamboo stick, he goes fishing "by hand," an activity that he has been practicing here since childhood. He knows where the crabs and lobsters nest and does not hesitate to rush into narrow crevices lined with algae, to crawl in channels submerged in sea water or to disappear in rocky cavities full of sharp flint. Christophe is profoundly visually impaired. His relationship to the landscape and the elements, and his approach to fishing, is notably different from those who approach the environment first with their eyes. North American premiere.
"Queen Lear" — Sixteen years ago, peasant women from the mountains of southern Turkey formed a theater group, which later became the subject of the documentary "The Play." The women acted out their own life stories in the village, and this experience changed their lives. Now, they take to the road with an adaptation of Shakespeare's "King Lear," traveling on dusty and dangerous roads to remote villages in the mountains of Turkey that hardly have drinking water, let alone stages or theaters, but magic is created in the hands of these spirited women. Northwest premiere.
Prerecorded Q&A with Pelin Esmer (director) and Sarah Briggs (moderator).
Spotlight – Shorts Block 9: Family Matters
"Águiles (Eagles)" — Along the scorching southern border in Arizona, only an estimated one out of every five missing migrants is ever found. This is the story of one group of searchers, the Águilas del Desierto. Comprised largely of immigrant Latinos, once a month these volunteers — construction workers, gardeners and domestic laborers by day — set out to recover the missing, reported to them by loved ones often thousands of miles away. World premiere, Mini Competition. (14 min); "The Bears on Pine Ridge" — As the Pine Ridge Indian Reservation declares a state of emergency following a devastating youth suicide crisis, a respected Lakota grandmother leads the tribe's prevention efforts while mentoring a young group of survivors to help bring hope and awareness to the reservation. World premiere. Big Sky Award Competition. (39 min) Content and trigger warning: The content and discussion in this film will include topics that may be emotionally and intellectually challenging to people suffering from ideations and PTSD surrounding self-injurious behavior and/or thoughts of suicide. This film is intended for mature audiences. Viewer discretion is advised; "Alimamy: A Father's Burden" — Alimamy wants the best for his children. But as a farmer in a small rural village community in Sierra Leone, he faces a daily struggle just to meet his family's basic needs. Despite his limited resources he embarks on an adventurous journey to help his kids get an education. Will he succeed? Northwest premiere. (40 min).
Live Q&A with (from "Águilas (Eagles)") Kristy Guevara-Flanagan and Maite Zubiaurre, co-directors, Nico Sandi, editor; (from "The Bears on Pine Ridge") Noel Bass, director/producer/editor, Sonny Skyhawk, executive producer, Yvonne "Tiny" DeCory and Eileen Janis, subjects; 8 p.m.
The 18th annual Big Sky Documentary Film Festival is an all-virtual affair. Our online platform is super user-friendly. It allows viewers to browse film selections, pre-order and watch films on their phones, tablets, computers or TV screens. Details on how to sign up and purchase single-screening tickets, 5-film bundles, and festival passes can be found at bigskyfilmfest.org.
NOTE: Feature films generally have a four-day window in which they can be viewed. When a viewer unlocks a film or a shorts block, they have 48 hours to begin watching. Once viewing has begun, there is a 24-hour window in which to finish watching. Nearly all films have a virtual Q&A with the filmmakers — included in the price of the ticket — and a number of those Q&As will be live, so viewers can participate.
Nick Davis is the media director for the Big Sky Documentary Film Festival.