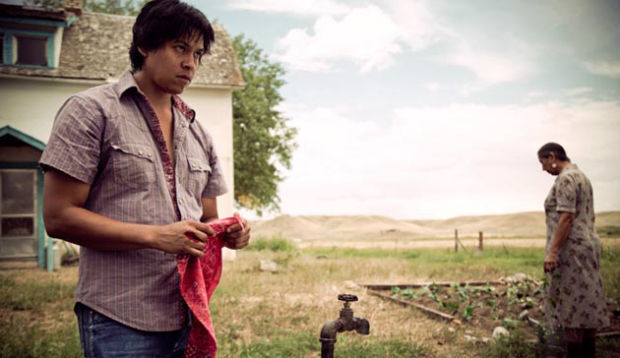 Passing out in a ditch should signify rock bottom, but Virgil First Raise, an alcoholic Blackfeet man in the mid-1950s, isn't quite there yet.
After awakening in the dirt with his ever-present flask, he learns that his pretty wife has left him and returned to town with an heirloom rifle, likely to "sell it for a drink."
Virgil is more harried over his father's gun – and his heritage in general – than his wife. His search sets "Winter in the Blood" in motion, although the film doesn't follow the narrative contours of a Hollywood movie. Directors Andrew and Alex Smith counted Blackfeet writer James Welch as a family friend, and haven't made any attempt to smooth out the ambiguities and dream sequences of his 1974 novel.
If anything, they've done the reverse. With a Kickstarter campaign and years' worth of patience, they were able to cast Chaske Spencer as Virgil, and Spencer relishes the opportunity to sink into a character this dark after starring as Sam Uley in the "Twilight" trilogy. With mussed hair, hollow eyes and a near-permanent scowl, neither he nor the Smiths try to make Virgil likeable, only to make his troubles feel universal.
The darkness haunting him is incrementally revealed in flashbacks, hinting at a happier childhood on the farm with his brother, Moses, and his sometimes loving, but alcoholic father (Richard Ray Whitman).
Here the Smith brothers make the most of the scenery, which they shot on the Hi-Line. The boys, well-played by child actors Alex Escarcega and Yancey Hawley, are seen riding horses with a lovely pastoral accompaniment from the Heartless Bastards, an Austin, Texas-based band who wrote the score.
These scenes of an idyllic childhood bond, and the reason it abruptly ended, form the slowest and most rewarding arc on Virgil's halting march toward redemption.
Intercut with those flashbacks are Virgil's trips – more properly called a descent or maybe a dream – into town, which freely mix liquor, adventure and fantasy. He pours himself into all manner of revelry: alcohol, sex, fighting and a bit of intrigue with Airplane Man (David Morse), who enlists Virgil in a scheme to smuggle illicit goods of some kind across the Canadian border.
Some scenes take on the feel of a strange detective story starring a gumshoe who's lost the script – a repeated shot of Virgil waking up half undressed in some fairly tattered underwear almost becomes a running gag.
The unorthodox chronology of these plot developments proves to be the least compromising aspect of the film. Viewers familiar with the Coen brothers' "Barton Fink" won't blanche at the mixture of drama, noir, quirky humor and did-it-or-didn't-it happen moments. Others can console themselves by knowing that it's not a puzzle in the first place.
If his ventures into town are blurry, the scenes with his family at home are the clear heart of the film. Veteran character actor Gary Farmer brings his usual understatement as Virgil's mother's significant other, and Saginaw Grant maintains a poker face as a reclusive man with a long-dormant secret. Like Virgil himself, the movie finds its deepest revelations far from the poorly lit barrooms.
Eventually, the developments troubling Virgil – an accident involving his brother Moses; finding his father frozen to death in a ditch with a bottle of wine; and the mixed heritage that makes him a frequent target for insult – weave together into an unforced resolution. The film is often challenging – it aims firmly for the 1970s art house – but its portrait of an alcoholic's scrambled consciousness and life on the reservation is worth watching.