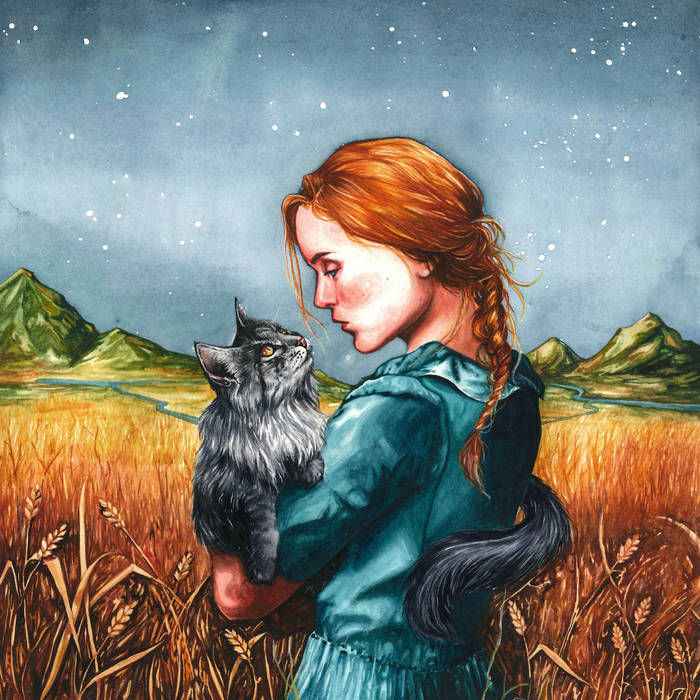 Britt Arnesen is sitting on a tractor covered in Christmas lights, on the side of the road near New Meadows, Idaho.
The Missoula musician, guitarist and bassist in Pinegrass, Britchy and Acousticals is pulled over on a road trip to discuss her new solo album "Dream in Blue."
The album is played on Arnesen's 1891 Martin parlor size guitar that's in near-mint condition. It was passed to Arnesen by a friend. She balks at the idea of ownership, saying she is the "custodian" of a "priceless piece of history."
Arnesen played the guitar for nearly a year before recording "Dream in Blue" early in 2018, and got to know it like a friend. She learned its quirks, its preferences and it informed her music in surprising ways.
Several songs had to be rewritten to fit the guitar – a capo was out of the question, so melodies were transposed and shifted. Her lyrical scope narrowed to "timeless" themes – not referencing anything that could date the album to a certain point past the late 20th century.
"To take a whole class of images and exclude them," Arnesen said, "it was a little limiting, but also there was a freedom in the limitation."
Most of the lyrics are centered on love, between young lovers, between family and between friends. The upbeat "Calamity Jane" is accompanied by regretful lyrics of a woman whose life never quite broke right.
The album closer, a 90-second instrumental rumination on a theme from Antonin Dvorak's Symphony No. 9, works in perfectly.
Dvorak's "From the New World" symphony was supposedly influenced by American folk music, and the Largo theme, stripped back down to an 1890s acoustic guitar, sounds perfectly natural.
"It's actually kind of a perfect guitar song," Arnesen said. "A lot of things about music don't really change."
This album is the first Arnesen's recorded without a bandmate or two since her first. Recording was "nice, in the peace and quiet."
The album was recorded with ambient microphones while Arnesen played and sang at the same time, adding bass and some backing vocals later.
The simple setup captured the intimacy and quality of the guitar – on the instrumental "L'Aubergine" you can hear the wood creak and groan. Arnesen purposefully left the audio as raw as possible.
"Anything that you do to it is going to diminish the quality of the sounds," she said. "Even though (the guitar) seems quiet, it's pretty loud and resonant."
She found success tuning the Martin in its original key — with the A note at 432hz, instead of the now-standard 440hz.
The standard tuning of A was set at 435hz until 1939 — meaning all instruments and tuners were set to the pitch. Then the pitch was changed to 440hz, spawning debate over which is better.
Some people believe 432hz is more in tune with natural vibrations, since it puts Middle C at 256hz, a multiple of eight. Eight hz is the Earth's resonant frequency (supposedly).
There's whole websites devoted to the life-changing aspects of 432hz music, that say things like: "Tune yourself to the heartbeat of our planet" and "listening to music tuned to the 'disharmonic' 440Hz frequency does harm by causing stress, negative behaviors and unstable emotions." (The theory dives into some even weirder territory involving Joseph Goebbels and the Illuminati).
Arnesen – who's "not really prone to conspiracy theories" – first heard about 432hz in early 2018, just as she was about to start recording with the Martin. She was intrigued by the idea, although there wasn't much science to be found to back it up.
"I wanted to know if there was any truth," Arnesen said. So she tried it out with her band Pinegrass and was impressed.
"I did find it easier to sing and I did feel like the instrument held tune better in that key."
So she recorded the whole of "Dream in Blue" using the lower pitch and found it relaxed her, gave her voice a nicer timbre and felt better on the guitar as well.
But Arnesen's not convinced the 432hz theory is much more than maybe a "closer approximation" of a natural pitch. She was unimpressed with the conspiracy theory research she did.
"They're kind of counting on the Fibonacci sequence to save the day and forgetting that the hertz is arbitrary."
In any case, Arnesen giggled at the idea someone might try to play along to the album and be confused why their guitar sounds so slightly off key.
Near equal with the guitar's importance to the end result on "Dream in Blue," was the album cover, a woman holding a cat in a field of wheat, painted by Bayla Arietta.
The commissioned work was finished before Arnesen started recording, so she put it up in the studio to look at while she worked.
Between the painting, the guitar and the lyrical style, Arnesen created a concept album out of unusual inspirations.  
"It brought out things in my art I didn't expect," Arnesen said. "I think it's my best work.