Ghost Carrot Records' Music and Arts Festival falls in October for one very important reason.
"I love Halloween and being able to combine my favorite holiday with music," said Joshua Bacha, organizer of the festival and Ghost Carrot founder.
The second annual festival was created as a broader twin to Bacha's spring Psych Fest, with a purposefully eclectic lineup of musical genres and visual artists that puts locals in the forefront.
Of the 21 musical acts booked for the three-night festival, eight are local, and Bacha scheduled them to open and close each night of music. All 17 visual artists (and one performance art group) are from Missoula as well.
"It validates what they're doing," Bacha said, of pairing local groups with touring bands. "It's really cool to meet these people."
A la Camp Daze, all the sets are the same length, clocking in around 35 minutes, with a short 10-15 minute break between each band.
That break gives festivalgoers time to peruse visual artists' displays, which will be set up around the perimeter of the Union Ballrooom, which hosts all three nights of the festival.
That's a change of scene since last year's fest at the ZACC, and Bacha admitted that the out-of-the-way location and lack of drinking options were a detriment to the festival. A lot of it ended up being "bands watching each other," he said.
At the ballroom, the event can stay all ages, but allow drinks purchased from the Union Bar downstairs, and is more conducive to an all-night hangout.
"The hope is that people stay there to see all the bands and we made it more convenient for people to do that," Bacha said.
None of the out-of-town bands are repeat bookings, something Bacha's conscious of (he'd like to do one year on, one year off for groups at the fest), aside from Panther Car of Bozeman and Mise of Astoria Oregon, who played an experimental set last year.
"It keeps it as diverse as we can, booking a bunch of new bands," he said.
Billed as a lo-fi country act, this one-man group from Portland moved to Missoula recently to make a go of it in a mountain town.
Anyone with aversions to fake Southern accents and white Resistol hats can rest easy though. Elmer's Fountain (also the name of a roadside attraction in Mullan, Idaho, billed as "Idaho's secret fountain of youth") is more country-tinged than anything else.
Expect hard-edged singer-songwriter, with some neat countrified guitar licks and plenty of piano that recalls old-school bar bands in the heyday of singers like Leon Russell and Blaze Foley.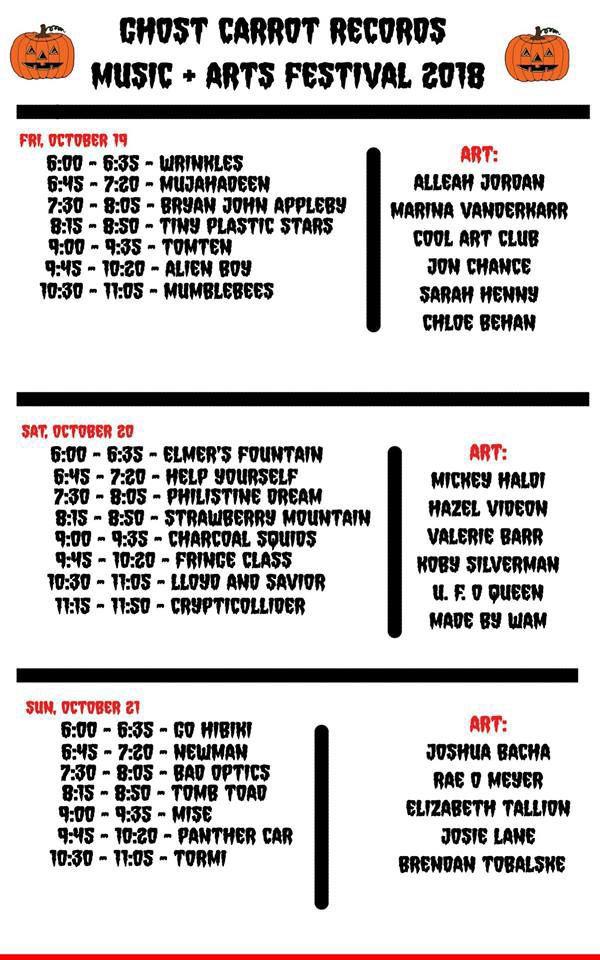 This Seattle baroque pop group is wildly different than much anything else you're going to hear at Ghost Carrot — while they're in the same mold of DIY Bandcamp groups that populate the roster, their sound wanders off into a whole 'nother direction. A little more polished and more exact than other DIY peers, Tomten's full, melodic sound is a welcome change of pace.
Tomten can be a bit all-over-the place, however, lining up '60s baroque pop right next to '80s synth ballads in a way that feels like two bands on shuffle rather than one group experimenting with sounds.
But, as Seattle station KEXP notes, the group makes it work by "cementing each wondrous track in gorgeous melodies with equally blissful musical arrangements."
Ghost Carrot is no one-note festival, to be sure, but Tomten are one to check out as a real different sort of sound for the festival (and for Missoula — when's the last time you heard the words "baroque pop" used to describe a band?)
One of the more out-there groups in this year's lineup is Missoula's own Tormi, an art-jazz-rock combo with drums, bass, trumpet and multi-instrumentalist (and lead singer) Molly Buchanan holding down the fort playing guitar, synthesizers and saxophone.
The group has a four-track EP on Bandcamp, and the songs are wonderfully weird in a way that is highly unique — credit Jenni Long's off-kilter trumpet and Buchanan's spacy synth stabs, which make album opener "Dossier" sound like it's a film noir theme on downers.
The group has range: "Spin Drift" passes for a sort of surf-rock tune with jazz trumpet in the place of the usual saxophone solo, while "In the Hills" pulls out a fuzz pedal to enliven the proceedings.
You don't need traditional song structures (or time signatures) to get down with Long and Buchanan's twin trumpet/saxophone leads, ethereal vocals and a great rhythm section.
This two-man hard rock group bills themselves as "poverty rock" on Bandcamp (side note: those tags are a delight. I think bands can pretty much put in whatever they want? There's not a lot of other bands with that "poverty rock" tag. Another GCR fest band, Portland punks Mujahedeen, tag their records with two variants on "fake jazz.") and I guess it's because they could only afford two band members?
The group is that now-classic combo of guitar and drums, with the guitar bottoming out in the low end — a la Death From Above 1979 — to carry double duty as rhythm and lead.
Lloyd and Saviour's newest release, "The Black Out Album," came out in September, and features some nice garage renditions of headbanging hard rock.
Opener "Black Out" is propelled on heavy riffs and changes of pace, seeming longer than its two-minute runtime, while "Smokin' in the Dugout" is pure trashy DIY punk made up of (more than likely) boring nights.
"I'm going to the liquor store/don't wanna be sober in the morning" is the first lyric on the album and that's the kind of mosh-friendly vibe you're gonna get with Boise, Idaho-based Lloyd and Saviour.
The sole performance art act at the GCR festival closes out Friday night. The group is made up of local artist Noelle Huser "and friends," according to Bacha. It will include dancing, probably.
"I don't know," Bacha laughed. "I'm excited, so ... "