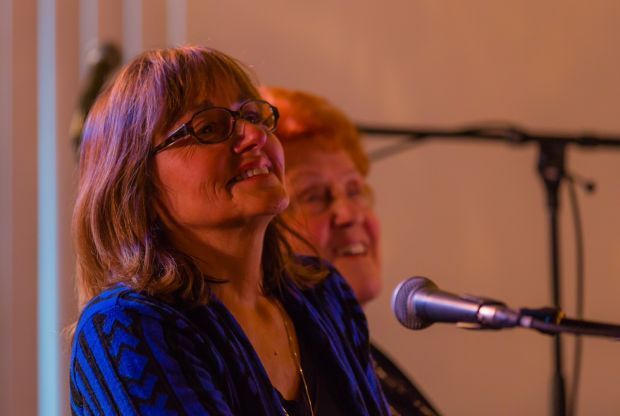 Missoula's jazz fans no longer have to fit all their festival-going into a single week.
This year, the University of Montana's Buddy DeFranco Jazz Festival was moved to March to accommodate schedules of the many participating state and regional high school groups.
Jazzoula, which showcases the city's own musicians, used to precede the big festival as an unofficial wind-up to the big DeFranco concerts.
After the date change on campus, organizers opted to hold Jazzoula at its usual time in late April.
The change is a win-win for audiences, said Bruce Micklus, who founded the festival 11 years ago along with the Missoula Jazz and Blues Society.
The former Monday-Saturday combo could be a long haul for the musicians and fans involved.
"That's a heck of a load for jazz fans, especially considering the demographic that seems to be responsive to jazz," he said.
Logistical changes aside, the lineup includes the usual who's-who of the Missoula jazz community.
Pianist Jodi Marshall, vocalist Eden Atwood, reedman Chuck Florence, vocalist Kimberlee Carlson and Ron Meissner Jazz Quartet are all in the lineup.
Former Missoula resident Bob Packwood will perform a selection of solo piano tunes.
This year's Jazz and Blues Society Hall of Fame Award goes to Melody Anderson.
"Her award is much deserved," Micklus said, citing her decades of work in the community as a vocalist and vocal teacher.
At the festival each Tuesday, she's featured a number of her student vocalists for Missoula's Youngest Divas.
In addition to the veteran musicians from the community, younger musicians from the University of Montana jazz program will perform: The Monk Lives combo; Soulja Boyds, fronted by two tenor saxophones with guitar, bass and drums, will play jazz standards plus some modern jazz charts and an original tune; Boydz to Men, a trombone, tenor sax and trumpet front line.
The latter two groups are the Lance Boyd combos from the University of Montana, named after the former longtime director of the UM jazz program.
The concerts will all take place in the community hall of St. Anthony's Church on Tremont Street. As per tradition, they'll decorate the hall to create a comfortable night-club setting open to all ages.
Rhanda Johnson and Easy Livin'
Boydz to Men featuring Nathan Crawford and Barbara Shinaver
Josh Farmer with Caleb VanGelder and Steve Kalling
Missoula's Youngest Divas
Jodi Marshall with Bill Haffey
Canta Brasil (Magda Chaney, Pedro Marques, Jeff Stickney, Dexter Payne, David Horgan, Beth Lo, Bob Ledbetter
Captain Wilson Conspiracy
Chuck Florence with Jim Driscoll and Pete Hand
Kimberlee Carlson and Ron Meissner Jazz Quartet
Jazz for Fun with Stephane Gariepy
Hornin In, the UM Jazz Intruders
Melody Anderson, receiving the Missoula Blues and Jazz Society 2015 Hall of Fame Award
Airmail Special with Chuck Florence, David Horgan, Pete Hand, Jeff Stickney and Dexter Payne
Check Jazzoula on Facebook for possible updates to the lineups.
Stay up-to-date on what's happening
Receive the latest in local entertainment news in your inbox weekly!