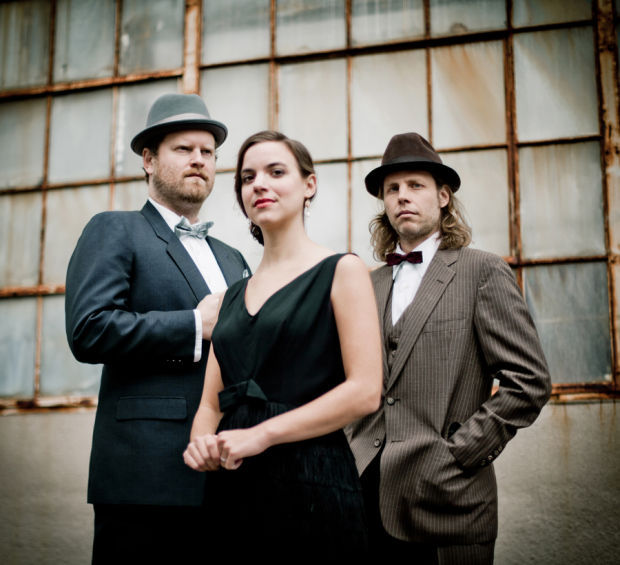 The Alialujah Choir began as a music-for-music's-sake folk trio: No deadlines to meet, no ornate production to distract from the harmony vocals.
"It didn't have to have any sort of ambition to it. We didn't have any record label to deliver it to," said group member Adam Shearer, a Kalispell native. "It was really just about getting together and making music that we liked."
It was a high-concept video, however, that spurred a full album release and garnered national attention for the group based in Portland, Ore., two years after its inception as a no-pressure side project.
The pronunciation emphasizes the "Alia-lujah," as the trio was formed for Alia Farah, a member of Shearer's band Weinland.
"She started singing with Weinland right at the very beginning, but she couldn't tour," Shearer said. Farah is a music teacher, and couldn't risk that work by hitting the road. "She became a studio portion of the band," he said.
Rounding out the choir is Adam Selzer, a longtime member of M. Ward's band and co-owner of the Type Foundry recording studio, whose clientele includes the Breeders, the Decemberists, Dirty Projectors, REM, Spoon and numerous others.
The three "had this rapport after working together in that environment," Shearer said. They thought, "we should have a little side project, just for the sake of getting together and recording."
The self-titled debut album was recorded over the course of two years, typically in December.
All three contribute vocals and songwriting, and they even frustrate soundmen by telling them to mic all the vocals at the same volume.
"It's a three-way group, we go to great lengths to make sure there's no leader and no lead singer," Shearer said.
The trio's leisurely approach was sped up after a film crew traveled with Weinland to South by Southwest last year, and began creating a concept for an Alialujah Choir video inspired by some
Director Daniel Fickle and production designer Mark Smith spent six months creating the video for "A House, A Home," which has been accepted to about 40 film festivals, Shearer said. The song also features strings from the Portland Cello Project, which has collaborated with Shearer almost since its beginning, said artistic director Doug Jenkins.
To sketch out the video without offering spoilers, the plot follows a young artist as he is drawn beyond the cramped walls of his tiny room and soon discovers a woman hidden behind the wall. To say any more would ruin it, but it's worth watching to the end.
"That video got a lot of attention – it got placed in a popular TV show on the Syfy channel," Shearer said. When the licensing people for "Being Human" requested permission to use the song, they sent a brief on the series to Shearer.
"I legitimately laughed at it," Shearer said. It described the show as something like "a werewolf, a vampire and a ghost are all living in a house together trying to have a normal life," he said.
It sounds like us, he said.
A chance to perform on "The Late Show with David Letterman" was scuttled because the three didn't have any public relations machinery intact. After all the positive reception, they're working on a more official, national release and the attendant prepartion for any other offers like that.
Shearer grew up in Kalispell, and through his high school years he played in a band called Utter.
"We did a lot of shows up and around Kalispell and Whitefish and Bigfork and random little spots in between," Shearer said.
After graduating in 1997, he picked up stakes for Portland to pursue music.
His band Weinland grew out of an unreleased film project about a summer he and a college friend spent in Missoula. Shearer began writing songs for it under the moniker of John Weinland, after his first and middle names. After a self-released project, the "John" was dropped.
In September, Weinland released "Los Processaur," which gleaned positive reviews from Paste magazine and the Portland media.
Shearer is excited to play back in Missoula, where he has a brother, sister, nieces and nephews, and it's "10 times as thrilling" that it's a sold-out performance.
"I have family there, I have roots there. I'm excited to come home," he said.
"Just from the group perspective, all we really want to do is get people excited about music and the potential of what you can do with a very small amount of production," he said.
It's about the "sincerity of your intentions, and that alone can be enough to create good work."