Walk in the front door, clump across the mid-century wooden floors, meet the dog, turn the corner down the stairs through a bright kitchen and there you are: in Levitation Recording & Tapes, one of a handful of Missoula-area home studios kitted out with acoustic panels, vintage décor, guitars, drums, keyboards, microphones and a wall of vinyl records in the shotgun-style room. Much better, some would agree, than a home theater.
Jacob Chadwell, the tall, long-haired father of two who works summers collecting data for the U.S. Forest Service out of Stevensville, smiles and offers a seat at a stool in front of a rack of keyboards, both new and vintage. Oh, but first better dial down the music piping out of the record player.
"The last house that we were in, I built a studio in that," Chadwell said. That was after childhood experiments recording on boomboxes, with two-track tape recorders and gradually, more sophisticated equipment as he started recording his own bands and musician friends.
Once he moved into his Southgate Triangle home two years ago, Chadwell built a full-on professional-grade studio, where he's recorded and released albums by several local bands, including psych mainstays Tiny Plastic Stars and rockers Easter Island. 
"This is kind of, like, the catalyst," he said. "Just having a space that you feel comfortable inviting people into."
The space includes a bevy of instruments and equipment, including many '60s and '70s-era pieces that Chadwell refurbished himself like a 1973 Roland SH-1000 synthesizer or a collection of Casio keyboards. A Roland Space Echo RE-201 frequently draws attention in the mixing room as well.
"This is all up for grabs when they come. All the synthesizers and the drums," Chadwell said. "I just try to keep nice stuff."
The collection of equipment and instruments is constantly being updated and recycled as Chadwell finds new pieces or finishes fixing up used equipment. He estimated the studio represented 15 years of accumulation.
"I'm constantly buying stuff and selling it to upgrade to the next thing," he said. "There's a good chance the gear that was in here at the beginning (of a session) won't be in here at the end."
He's largely self-taught on the technical aspects of mixing and recording, learning by doing from recording friends on simple equipment, to miking up drumsets to catch each tap on every piece of the kit.
"It just progressed," Chadwell shrugged. "Then this is what ends up happening." He pointed to his 24-track mixing board. "You get obsessed."
Chadwell's reputation grew quickly after he set up the current iteration of Levitation Studios around two years ago. Now, he says for every band or musician that books studio time, he has to turn down four or five.
As a one-man team, he simply doesn't have time, especially with a family and work pulling him away all summer.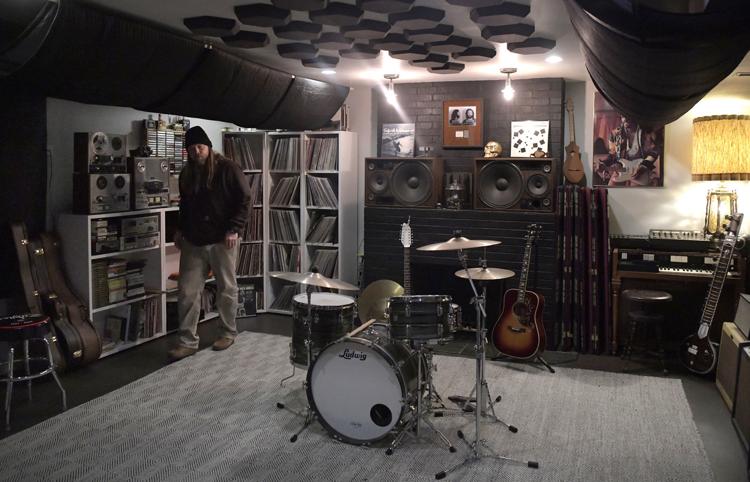 His laid-back approach to recording sells a lot of artists on working with him — Chadwell said he gives bands a studio tour, hands them a beer and they sift through his record collection and listen to music to get a feel for each other.
Joshua Bacha, of Charcoal Squids, Tomb Toad and formerly of Tiny Plastic Stars, said recording in Levitation was his first real studio experience. He first worked with Levitation when Chadwell mastered and released Charcoal Squids' self-titled album in 2017.
"We just kind of hit it off," Bacha said.
That first Charcoal Squids album was released on cassette, which Chadwell offers to all bands as a low-overhead physical format they can sell themselves.
"In the past, I've always done my own recordings, but I wanted to try something else," Bacha said. "Learning to just back off and let Jacob do what he's good at. … I learn so much asking questions."
Reese Hoeg, of Easter Island, said his group decided to record with Chadwell last year after bandmate Neal Hibala befriended him and developed a rapport.
He described the studio atmosphere as "relaxed," even though Easter Island worked at a frenetic pace, laying down six tracks in their first day.
And, though Hoeg already knew he wanted a CD release (along with digital), Chadwell's ability to make cassettes intrigued him and the band decided to do a limited 50-tape run of their EP, "out of curiosity." 
This is the nothing-to-lose attitude Chadwell has about making cassettes. They're cheap, you can throw a free download code inside and people are always intrigued when they see a stack of tapes on a band's merch table, much more willing to throw down $7 for one over $20 for a vinyl record.
Chadwell buys tapes from a wholesaler and bands print and design labels. He can copy up to 50 cassettes in studio, but outsources the work if bands want a larger run.
His in-studio approach gives bands more creative freedom to choose multiple colors, for the cassette and label, and allows them to print smaller runs at a lower cost than if they went through a wholesaler themselves.
The tapes cost about $3.50 or so to make and Chadwell sells them to the band at that price. He recommends they put them on the merch table for around $7.
Sometimes Chadwell will take a handful of tapes down to Ear Candy Music, who are happy to stock local artists, he said. It also bolsters their small tape collection, which includes the occasional Pitchfork-hip artist like BadBadNotGood or Princess Nokia.
Chadwell takes pride in the under-one-roof possibility for groups like Charcoal Squids, who will have recorded, mixed, mastered and released their upcoming album all through Levitation.
"There's never pressure, if you record here, to put out a cassette," Chadwell said.
But he noted the first Tiny Plastic Stars record, which had 100 cassette copies printed. Those sold somewhat slowly — over a year or so — but to his knowledge, all were sold either at shows, at Ear Candy or straight from him. That all-local person-to-person connection is special.
"Sure enough, people buy them and they're stoked on 'em," he said. "I know a lot of people that buy them and don't even have a cassette player. They're just cool and retro."
Cassette sales grew 35 percent in 2017 and an additional 23 percent in 2018, according to Billboard, for a total of 219,000 tapes sold last year nationwide. Some big-name cassette releases were nostalgia releases, like Britney Spears' " … Baby One More Time," but Twenty One Pilots' new album (whatever you think of them) sold well on yellow cassette.
Chadwell notices the nostalgia factor at Missoula shows, where attendees in their late 30s and older are amazed to see the format of their childhood on the merch table, unaware that a hip college kid bought their old Walkman at Goodwill last year.
"It might be a fad, I don't know, who cares?" Chadwell said. "The important thing to us is being able to put something in our client's hands that they can turn around and sell."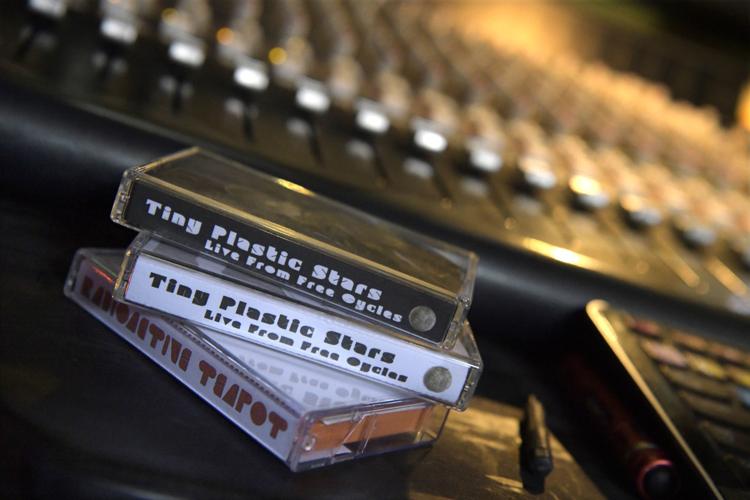 At this point, Chadwell has maybe a half-dozen projects in the hopper, stalled anywhere between just recorded and finished, but waiting on album art.
He's spending his spring finishing up mixing and mastering several sessions he recorded over the last year so his docket is cleared for the summer. Then, in the fall, it's back to work, with bands familiar and new. He'll likely have built up a long list of potential clients by then through word-of-mouth that spreads quickly through Missoula's music scene.
Chadwell will try to attend a couple of live shows of a new client, then give them the studio tour, then book time to lay down tracks.
He's flexible to record how they like — whether it's live, or instrument-by-instrument using a click track. Chadwell will mic every single drum and cymbal if you want, too, though if left to his own devices he leans old school, using more ambient microphones.
But no John Bonham echo, unfortunately, due to the low ceiling height. It's the one "Achilles heel" of the basement studio, Chadwell said. (He does get creative with the space — a January Facebook post showed Edgar Allan Kubrick recording trumpet in the stairwell).
Then, he offers at least three mixed versions of each track, emailed back and forth until the right sound is found.
"One of the hardest parts about the whole job is to figure out what's going on in their head and getting it to come through the speakers," Chadwell said.
The old car-speaker test is tried-and-true, he noted. But if things still aren't clicking, he'll invite the musician to come sit at the mixing console, point out which knob does what, and let them twist dials until they're satisfied.
"If they're happy with it, I'm happy with it."