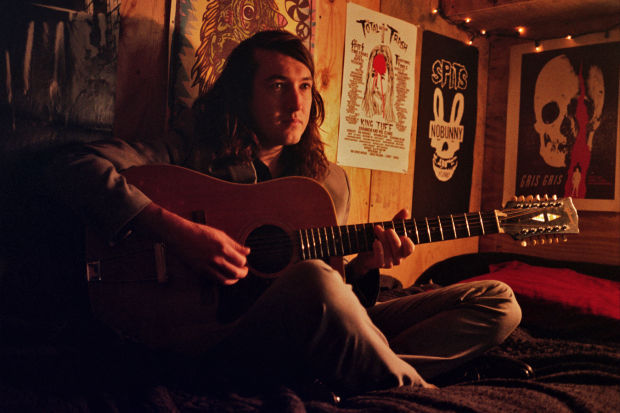 For his second solo album, "MCII," Mikal Cronin scrubbed some of the grime off his garage pop. Or rather, he decided not to add it in the first place.
The San Francisco-based 27-year-old's previous record had catchy vocal harmonies cloaked in reverb and guitar fuzz, driven by a discomfort with the sound of his voice.
"I get really, really self-conscious about my vocals," he said in a phone interview. "So in the past I've always buried 'em under reverb and echo and then just, like, take the level down."
The unaffected sound, prominent throughout the record, was a rewarding challenge in the end.
"I'm glad I did, it's just a scary thing for me to do," he said.
The dry recording style was more appropriate to the kinds of songs on "MCII," he said. It has a fair number of power-pop songs, but he also branches out with an alt-country tune ("Change"), an acoustic breakup tale ("Don't Let Me Go"), and even a string-backed ballad ("Piano Mantra"). Granted, even that subdued album closer also includes a heavily distorted guitar break.
His first release for the renowned independent label Merge was recorded at San Francisco's Bauer Mansion, which also has produced numerous releases by Thee Oh Sees, Ty Segall and others.
It boasts a few cameos, including Segall's noisy guitar leads on several tracks and string parts performed by K. Dylan Edrich, but Cronin himself played most of the instruments – guitar, bass, drums and piano.
A fan of home recording and overdubbing, he said it's always been his mode of operation.
"There are two reasons, mostly. One, because it's kind of fun. I like challenging myself to play everything, but mostly I guess because it's easier for me to control exactly what I want every part to sound like," he said.
He has clear ideas for each piece of the song, and it's faster than teaching another musician, Cronin said.
The sound mixing, however, was left to a professional: Jesse Nichols at the legendary Fantasy Studios. The outfit's client list includes everyone from the White Stripes to Neil Young and jazz artists such as Bill Frisell and Hank Jones.
It made a huge difference between the rough mixes and the final album.
"It just cleared everything up and made it pop. Sound fidelity-wise it turned out better than I could've expected," Cronin said.
Cronin graduated from college several years ago with a degree in music. The build-your-own degree program exposed him to theory, composition, performance, world music and a "whole slew of stuff," he said.
He listens to music more analytically now, he said, but schooling didn't change the way he writes.
"I kind of just go with my gut first and foremost, like instinctively and don't think about it in terms of theoretical anything," he said. "But at the same time, just having experience arranging for different instruments and hearing what they can do and being able to write out string parts on sheet music – that all came from having a little bit of a formal training." he said.
He's thinking about how he can expand the sound and explore different arrangements in the future.
"I would really love to write for a live string quartet instead of just having my friend go and multi-track one string part at a time. I'm interested in writing for horn sections and stuff like that and seeing what other instrumentation I can get in there when it's appropriate," he said.
All this talk of arrangements and composition applies only to the recording studio, however. On his tour, Cronin is bringing a basic rock lineup – two guitars, bass and drums. It's a big difference between the record and the live shows, driven somewhat by necessity.
"There's not really a way without a giant professional band to completely translate
100 percent what's on the record. I don't think that's necessarily important, either," he said.
"It's not where I'm at right now. Now, it's just kind of interpreting the songs – my friends and bandmates trying to figure out how to turn songs on the record into an exciting live show," he said.
As for those quieter songs, Cronin said the live setup isn't appropriate yet.
"That's something I'd be really interested in doing if I had the right group of people and the right kinds of instrumentation to pull that off, but right now live, it's more like a rock band for sure," he said.