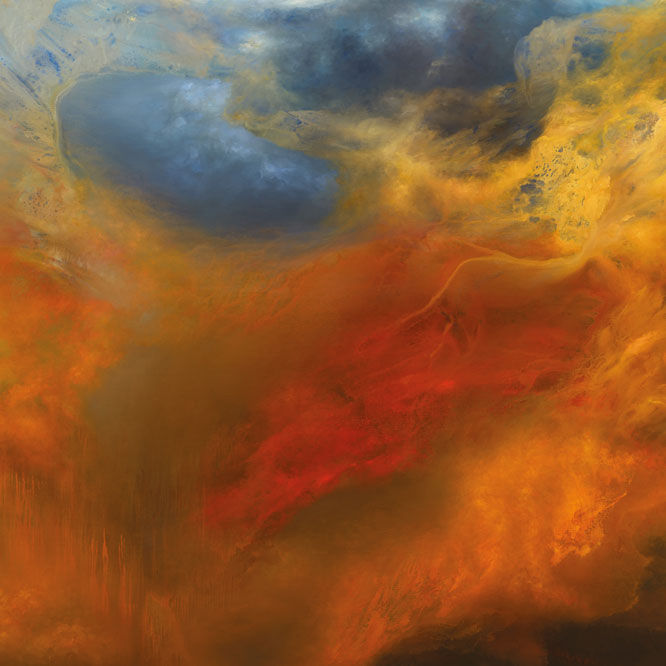 You can hear some of Montana in the high-decibel drone of "Life Metal," the new album by metal band Sunn O))).
Tim Midyett, of the late indie-rock band Silkworm, plays bass and baritone guitar on the tracks, which were recorded at Electrical Audio, the studio run by fellow Hellgate High School graduate Steve Albini.
Sunn sounds like someone liked the part at the beginning of a Black Sabbath song, where unaccompanied guitar makes a crashing entry, and decided to make that the basis for an expansive new sound.
"It's fairly challenging music to play because the riffs are so long," Midyett said in a phone interview, "and time is kind of indeterminate. It's kind of predicated on whatever happens on a given note, however long you're going to be hanging out on it, so it was challenging for me at first."
The idea of crushing riffs played for extended periods of time, as in 20 minutes long, might sound inaccessible, but the record was named "best new music" by Pitchfork and premiered on NPR's First Listen series, where it was described as "joyous" in its own way, which might become clear after you adjust to the density.
"If you're a musician or you have a certain appreciation of experimental art or whatever," Midyett said, then you'll recognize "there's a depth of character to it."
Midyett grew up in Missoula and played in a local art-rock band called Ein Heit. His next group, Silkworm, headed to Seattle and then Chicago, where they recorded a succession of albums with engineer Steve Albini, whose credits include classics like Nirvana's "In Utero" and the Pixies' "Surfer Rosa." Albini's own guitar work with Big Black and Shellac added to his reputation for experimental, abrasive rock.
Midyett has known the main forces behind Sunn since his time in Seattle in the 1990s, and they invited him to record on "Life Metal."
In an email, guitarist Stephen O'Malley said, "Tim's presence not only brought a great sense of spirit," but they also both play Travis Bean aluminum neck guitars, a first in the band's history. He said Midyett's the first person he knew who had one of the guitars, which are no longer made.
The band is named after the manufacturer of their favorite model of amplifier, and the ones used by drone pioneers Earth. The "O)))" is a reference on the amp's logo, and isn't pronounced. The album title, meanwhile, is an in-joke — the term "life metal" was frequently used as a derogatory term in the metal community, and the band members began to make jokes about it.
"If you had to go do your laundry and pick up your robe at the dry cleaners or whatever, that would be doing 'life metal,'" Midyett said.
The band does feel that the name reflects the music on this album, which is "very uplifting" and "expansive" once you've acquainted yourself with the sound, Midyett said.
"Sometimes the playing is aggressive, but the overall experience I think is rather welcoming and enveloping. And I think it encourages reflection and meditation, and a kind of calm state of being in time," he said.
That plays out in different ways live. For instance, O'Malley and fellow guitarist Greg Anderson cue the rest of the band live, when the fog and lights and robes can be an impediment.
"If you're going to hang out on some part of a piece for awhile, that'll be indicated in some subtle way by somebody and then you'll kind of go with the flow and see what's going to happen. A lot of times you can tell by careful listening, when the change is about to happen," Midyett said.
They recorded at Albini's Electrical Audio studio, all to analog tape with very few overdubs. Even string player Hildur Guðnadóttir was in the room for her parts, such as a long, modern classical section on the album-closer, "Novæ."
Midyett said that Albini's often stereotyped as a "noisy rock band" engineer, but "some of the most beautiful records he's made are records that are heavy on acoustic instruments."
For this session, it meant "an awful lot of sound" to capture on tape. "He has decades of experience of doing it, and I think he's only gotten better over time," he said.
In an email, O'Malley said, he thinks "Steve's accomplishments on behalf of the recording are self evident in the fidelity and capture of the reality of what the band sounds like at that moment in time. Remarkable isn't the right word, but minimalism, realism and cinematography are all metaphorical terms I have been using lately when discussing this recording."
In an email, Albini said his task "was to somehow make the listening experience at home evoke the sensation of hearing the music in person."
"Beginning each piece, Stephen and Greg would trace out the outline of the structure and then fine-tune the sound of each of their rigs. With a band like this, where so few sounds are present at any one time, each of the sounds needs a voice that can suffer scrutiny, and these two are meticulous about sculpting the density and texture of each chord. They can hear the difference between 2 o'clock and 2.30 on the dial of one of their pedals, and they should be able to hear that same difference in the studio once it's been recorded," he wrote.
During the sessions, O'Malley and Anderson might run their guitars through six to eight amps, some set up in different rooms.
"Any one of those amps might not sound particularly perfect on its own," Midyett said, "but you put the whole thing together and they tweak them so that they're adding up to this huge thing that you could never get out of a single piece of equipment."
Albini said the multiple-amp configuration contributed to the final wall of guitar tones in a few different ways. They can have different pedals and different pickups send to different amplifiers.
"Also, each amp will have a particular breakup character that may be overbearing if the whole signal is breaking up, but as a component of the sound can be invigorating. There's a mode of distortion that Sunn O))) use where the individual notes disappear and you hear the buckling sound of the speakers as a principal voice. Blue Cheer and other heavy bands hint at that sound but Sunn O))) have really made it a trademark. This sound is a product of volume, and strictly speaking is a kind of failure mode for an amplifier. Each amplifier will enter that mode in different ways, and the effect, especially in stereo, can be startling," he wrote in an email.
Over the 70-minute run time, there are plenty of shifts in texture and variations in the sound.
Albini said that "the hack, stock way of thinking about electrical guitars in the studio is that they are unsubtle and don't require careful attention or technique. Stick a mic on there and don't ask too many questions. If I've learned anything over the years it's that guitarists are extremely particular about precisely what their instruments sound like, and doing them justice is as demanding as recording a string quartet or chamber orchestra."
He had to keep track of all those signals and then work in additional instruments like the cello, pipe organ, synth, baritone guitar, and halldorophone, a "self-contained amplified cello that produces feedback and infinite-sustain effects," he said.
In the fall, the band will release a second album, "Pyroclasts," with material from the same sessions. Midyett said they're fairly meditative pieces, in the 11- to 14-minute range, based on a single root note. They were recordings from the beginning or end of a session, "where everyone would gather together and play these things to kind of either wake up and introduce the studio to what was going to happen to it that day, or calm it down," he said.
Midyett, who is on tour with the group, said the new albums are the closest to the live Sunn experience yet. "It's essentially impossible to replicate that unless you have a really big stereo, and even then you're not going to have a bunch of people in robes and fog, probably in front of you, unless you hire somebody."
O'Malley and Anderson tune their lowest guitar string down a fifth from standard tuning, and which means it's lower than the famously heavy riffs on Sabbath records. They often have 15 amps on stage, with O'Malley and Anderson running their guitars through three Sunn amps, plus one more. Another member, Tos Nieuwenhuizen, plugs his Moog synthesizer in three amps. Steve Moore runs his synthesizers through several Fender amps (and plays trombone), and Midyett plays through two amps.
He estimates that it adds up to about 3,200 watts on stage. "The technical rider is very detailed, with particular focus on being able to source enough current to keep everything up and running," he said. Sound tech Chris Fullard is "super important to the whole thing coming off properly," and so is Anne Weckström's pink-and-blue lighting and fog design. "The fog is kind of a great leveler. It can transform any space you're in," he said.
O'Malley said the overall sonic experience to be "a kind of spiritualism in my life."
"I'd hesitate that the band has a unified philosophy as far as being inside the group as there are very distinct and different characters involved, with vastly differentiating points of view, tastes, tendencies, beliefs and lifestyles, but also vastly compatible and amenable ones as well. And these change all the time. We get together for the glory of being able to be part of the greater phenomena of sound of the O))) rather than individual philosophies, but those philosophies are all welcome inside of this."
Regarding the music itself, Midyett's been able to "live in the riffs for awhile, so I'm used to it."
He compared it to playing improvisational jazz, combined with modern composition, in which they have to listen closely and read the moment.
"There's a map, and the map is there and you have to know what the map is, but you can wander quite a bit as a group. It's a pretty wide trail. As long as you're going together, or if you going to go against things, you're doing it intentionally," he said.
With such long sustained notes, it adds a degree of difficulty.
"You might be living with whatever you do for awhile. So if you hit a wrong note, and you don't get it right, you've got to figure out a way to adapt whatever you did to make it work, but ideally you want to hit them right in the first place," he said.
The set, which can last for a couple of hours, is paced as one continuous piece of music, with several long songs stitched together through interstitial drones, which he compared to a monolith that you can view from multiple angles.
He said it's all of a piece, and that "a lot of art that's any good has a kind of fractal quality to it, where you can break it down to smaller subsections of the whole and it still maintains its integrity somehow," he said. "People have analyzed Jackson Pollock paintings and you look at a square inch of a Jackson Pollock painting and then it has the same compositional qualities as the whole thing has, and that's the reason you and me can't go drip-paint all over something and make it look like a Pollock."
He feels the same about the sound O'Malley and Anderson have created with Sunn, where any short section of the set is carefully considered. "But in terms of the texture of it, they're kind of the only band in the world that sounds like that," he said.
Midyett's band, Mint Mile, just finished a double album with a fall release planned. It's called "Ambertron," a word he coined himself. He likes music that tries to capture a feeling, impression or thought and presents it in a form that allows you to re-live it, although it might be slightly different, something preserved in amber. The "tron" part comes from Greek word for an instrument. 
"I think bands are kind of machines for doing that," he said.
Stay up-to-date on what's happening
Receive the latest in local entertainment news in your inbox weekly!