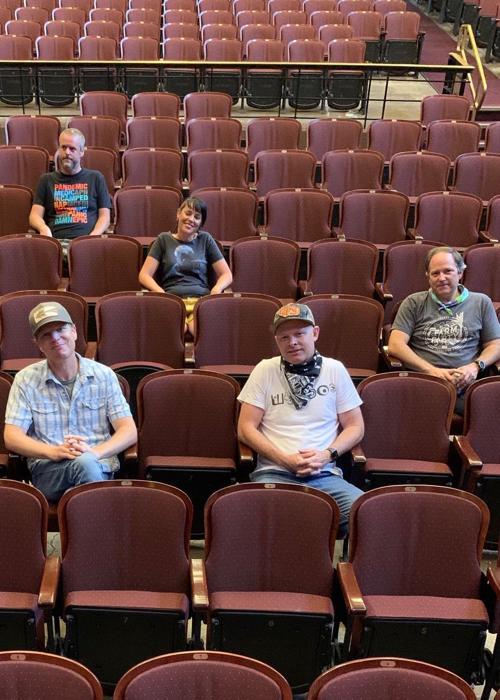 It was the backyard fire pit of the summer, with VTO band members all getting together in the same place for what would be the only official time throughout the pandemic. The excitement and awkwardness overcame them and one member slipped up, accidentally giving someone a hug. "Oh no!" they all joked, it would be their little secret, they promised they wouldn't tell anyone. Out of the hug came "Secret Hug Club," taunting, "be safe, don't get the bug, come and join our secret club!" on "Pendenema," their new album.
Charlie Beaton started the band in 1992 with fellow Goldsmith's ice cream coworkers Yale Kaul and Jeremy Richter. Since then, it's had a rotating lineup of characters and gone through breaks, with members having marriages and kids. The band fully rebooted about 10 years ago. The latest lineup for this album is composed of and features notable community members. Beaton himself is now the owner of Big Dipper Ice Cream. Bassist and backing vocalist Greg Twigg is a University of Montana Media Arts professor, Graham Black plays drums, Geoff Peddicord is on lead guitar, and Protest Kids guitarist and vocalist John Brownell's multi-instrumentation and vocals back, "Secret Hug Club."
The band's most notable new member has been a longtime pillar of the Missoula community for her journalism; "Death in the West" podcast co-producer and former Missoula Independent arts editor Erika Fredrickson provides powerful vocals, delivering songs with a snarl and nod to punk rock icons.
"What Erika did was just bring a ton of energy to the band," Beaton said, "Our guitar player is obsessed with Joan Jett, so having Erika join our band for him was like having Joan Jett join our band."
"Yeah, poor man's Missoula Joan Jett," said Fredrickson, who rocks Jett's jet-black shaggy haircut.
She grew up in the Missoula music scene. VTO was one of her first shows. Back then they were the cool older kids.
"I feel like there were some women but there was sort of this idea that you couldn't be aggro or assertive, that you had to have pretty sound," she said. "And I was just like 'I don't wanna do that, I want to yell, too'... I can sing kind of nicely if I need to but I prefer yelling." 
Though she was a self-described music geek her whole life, she had a nervousness in her head about pursuing it. By first taking the stage covering classic punk rock, she found herself empowered. Emulating more often than not frontmen, not women, she was able to get into it. She enjoyed the gender-bending stuff: "I am really into being this super masculine force on stage."
She is drawn to the irony of punk music having a snotty, careless attitude: "I always loved that. It's like this pretense. They are making something so they obviously care. I kind of felt that. I love VTO 'cause they are so goofy and always write these catchy songs, but there's levels to it. So even when you are laughing you may be connecting to something of a more serious tone."
VTO mainstay, singer, guitarist and songwriter Beaton says "Pandenema," marks the band's most politically perturbed sound.
"This one feels different," he said. "It's maybe a little more personal this time."
A compilation of two covers and five anxiety-ridden originals encapsulate the past year in all its isolation and agitation.
The covers were picked from their last appearance at the annual Skate Jam up in Big Sandy where they covered a bunch of old skate-punk songs: Agent Orange's "Bloodstains" and "Neat Neat Neat" by The Damned, with Fredrickson railing, "I'll be your man, your mystery man/I'll be your baby, your baby doll" and Pearl Jam bassist, Jeff Ament, who just so happens to be buddies with Beaton, shredding the bassline.
"American Jackass" is their most politically outright original. Beaton described it as being essentially about "those dudes who just stormed the Capitol." "Go West," takes an emotionally pointed, yet hauntingly ambiguous approach. It was originally written by Fredrickson as a theme song for her podcast "Death in the West," about the murder of union organizer Frank Little in 1917. It may have never made it onto the show but it glistens on the album, with guitar and bass mysteriously scowling, drums egging them on.
Despite the album being recorded right in the middle of the pandemic and the storm of events throughout, Beaton says it will feel special to look back on the memories of what they did accomplish. They will cherish the memories of an accidental hug at a backyard bonfire and recording nights in Beaton's basement studio, the VTO Beatlab. Not to mention recording drums in the empty Dennison Theatre, haunted by the ghosts of packed-rock-and-roll-shows-past. More than anything, they look forward to being able to practice together again, their favorite ritual, a bottle of whiskey on hand and toasting Rainiers as they play their jingle, "Rainier 4 life."
Noelle Huser is a freelance arts reporter, dancer and musician. She writes with a focus on the performing arts and the local music scene and is in her senior year at the University of Montana where she studies for her BFA in choreography and performance and BA in journalism.