John Brownell, the songwriter and lead vocalist for the Missoula rock band Protest Kids, writes the kind of hooks that people will sing along to at a gig. (See his former band, Oblio Joes.)
The melodies on "We Have the Technology," the debut album by his new band, Protest Kids, are even brighter, with more harmonies, so much so that they can mask some of the deeply personal lyrics.
"Why aren't you amazed to be a part of this game? Because I've been feeling amazed that you don't feel the same."
"Even in the darkest of times, the fact that we are here and we exist is pretty amazing," Brownell said in an interview. "At least, that is something worth exploring." It's not a sentimental notion, given all the things that Brownell, 45, said "seeped into this record," and he didn't realize himself "how personal they were becoming."
"Once you get past a certain age, you start seeing people around you — and yourself — struggling with health problems and mortality," he said.
The album opens with "Vodka Sunrise," whose jangling, melodic lightness is in contrast with lyrics about debilitating alcoholism. Brownell wrote the song about his mother, who "basically … committed suicide by alcoholism while we were making this record." It's not a critique of her, but an examination of the disease from a victim's perspective, someone in the midst of a haze, worried how they appear to others, and "hoping that I sleep tonight."
The closer, "Wish We Could Argue," winds the album down with a story about becoming friends and growing apart. With acoustic guitar, a melancholy but buoyant piano, synth strings and a shuffling drum rhythm, it ends on the lines, "Now that you're gone I wish that we could argue/Or just talk about music/I wanna talk about music."
He wrote it for his brother-in-law, who died of a heart attack about the same time Brownell himself had heart surgery. That was only weeks after his mother died. He traveled back and forth from Michigan and Missoula for the procedure and funeral.
"Much to Discuss," a more abstract story that touches on the oddity of existence, consciousness and mortality, was in part inspired by a close friend's cancer diagnosis. It has other facets, like a sci-fi-ish scenario that you can read into if you want, but the overriding sentiment is about a connection that may not last.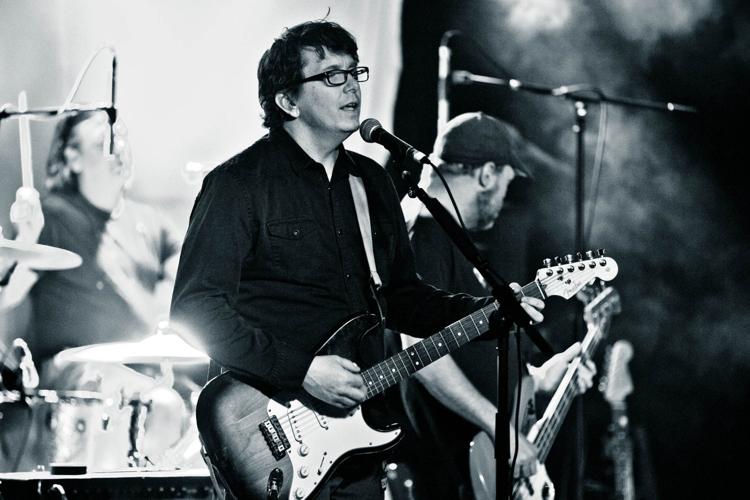 Brownell said he and his bandmates call their weekly get-togethers "therapy."
"No matter how bad things are, those few hours a week that we get together to practice or work on new songs — sometimes you go in there feeling like s---, but almost always come out kind of sweaty and just feeling good. It's usually the best part of the week," he said.
The rapport on the album comes from the drama-free approach of old friends: The record sounds tight for a debut, because it's not really one. Brownell and drummer Dan Strachan have been playing together since 1992, not long before they formed Oblio Joes. The legendary and shambling indie-rock group was part of the rock scene at the now-defunct Jay's Upstairs, where bands of all stripes (punk, metal, whatever goes) were formed and grew cult followings. The band, which brought on bassist John Fleming in 2002, released five studio albums before folding in 2007.
Brownell, Fleming and Strachan went on to play with Secret Powers, led by power-pop polymath Ryan Shmed Maynes, who'd moved here from Los Angeles. He was a member of Arlo, which put out albums on Sub Pop Records, the original home of Nirvana.
Secret Powers broke up a few years ago, but they and guitarist and singer Ryan Farley kept playing together at weekly jam sessions.
"Once we got to 12 or 13 songs, we were like, we should just do something. It sort of morphed into a new thing," Brownell said.
Despite having so many Oblio Joes on board, Protest Kids don't have the particular, Pavement-style feel.
Brownell said Maynes was "really good for us as musicians." He could play any instrument himself proficiently, for one. By contrast, the Oblio Joes were "always very, very loose, and I think it was part of what people liked about us," Brownell said. Maynes helped them "recognize that you can still be kind of indie or punk or whatever you call it, but also you know be technically proficient, you know, work on your ability to sing in tune," he said.
In Protest Kids, they lay on the vocal harmonies in a way that's familiar from Secret Powers albums, but overall Brownell feels that the band sounds halfway between his former groups.
The album, however, was supposed to be released months and months ago, but their first batch of vinyl had technical problems. In the interim, they already have more than half of the songs for the next album.
Not everything on the album is that heavy lyrically.
"Can't Go Home," he said, is "mostly about a specific set of events that involved my nephew, but it hopefully also evokes the general idea that at some point in your life, you can never 'go back home.'"
"Joy," meanwhile, was originally called "Roy," about an uncle. "Even though it is on its surface about living with an optimistic Christian during the End Times, it still always makes me think of my Uncle Roy living with his rigid, elderly mother," he said.
Brownell wrote most of "She Was Real," imagining a loose theme about someone sneaking out to see their significant other. Brownell's teenage daughter, Flora, had come recently come out as transgender, and Brownell used some of a poem she'd written to shift the meaning, from someone discovering another person to someone "meeting her true self."
Fleming, who owns Ear Candy Music, said "Technology" is one of the best albums he's played on, and is effusive about how underrated Brownell is.
"His lyrics are amazing, he just constructs good pop songs. To me, it's just crazy that he's not more well-known," he said. "I honestly cannot believe that a label like Matador or Sub Pop has not heard of that guy."
Stay up-to-date on what's happening
Receive the latest in local entertainment news in your inbox weekly!