The Black Tones, a rock group (whose music encompasses blues, punk, garage and gospel) out of Seattle, have made waves in recent years, with the success of their blunt single "The Key of Black (They Want Us Dead)" and charismatic live shows. The twin duo of Eva and Cedric Walker (on guitar and drums respectively) were named to numerous best Seattle bands of 2018 lists and have their debut record "Cobain and Cornbread" set to release in April 2019.
Eva Walker spoke over the phone with the Missoulian in advance of The Black Tones' headlining KBGA Endofthon on March 2. This interview has been condensed and edited for space.
You have a new album coming out later this spring. How was that process? Tell me about the record.
Yes, our debut album. Recorded by Jack Endino who recorded Nirvana's debut album actually. He's a good friend of ours. We're really excited. I'm excited to finally get it out there 'cause I've been listening to these songs for so long. We've been playing some of them live for a while, but haven't put them down.
The first time we recorded with Jack were the two singles we've already released ("The Key of Black (They Want Us Dead)" and "Plaid Pants"). I was intimidated, you know, but he's the nicest guy. He's not rubbing it in anyone's face that he's done this or this. We worked with him, he makes you feel super comfortable, he makes you feel welcome. He's like a scientist behind the soundboard, it's kind of amazing.
We all kind of hit it off, and said 'you know what? Let's record with Jack some more.' And before Jack, I didn't always have the best recording experiences. I've always considered myself a live music person, not a studio person.
Did you listen to that sort of music — Nirvana, Soundgarden — when you were growing up?
I did listen to Nirvana, but I wasn't 100 percent familiar with their catalog. I wasn't familiar with any of the songs from that record ("Bleach," the one produced by Endino). I had heard of Jack maybe only about 6 or 7 years ago because someone told me he lived in Seattle and I hoped to work with him one day.
(My fiancée) Jake sent Jack our music without telling me. He emailed him back and said, I'm paraphrasing, but he said something along the lines of "woah, this is amazing. I could record the s--- out of them."
Was it a natural fit, working with a classic rock/grunge producer to record your music?
What it did, listening to everything back, it actually developed our sound. It sounds much better than how I originally wrote it.
What he's done in a grunge background, was the best contribution to our sound. We've lived in the Northwest our whole lives, we've been around flannel, long hair, grunge music and indie rock music. But we were raised by southerners, so there was also this soul, which all has influenced the name of the record. It makes it more fitting that Jack's on it.
You usually use a very stripped-down setup, with a pedal or two and the amp's built-in distortion effect. Have you expanded on that at all after recording?
I use whatever distortion is on the amplifier I am using, whether it's a preset distortion setting or I have to make it distorted. I stay pretty vulnerable when I play live or in the studio. I still only use the wah pedal and then I have the tuner pedal.
I just didn't have any effects pedals and I didn't know how to shop for pedals. I thought they were cool and it was cool to see everyone open up these suitcases that were filled. Then it got to the point where, a lot of my heroes are blues musicians and you use what you can afford. And I just couldn't afford that kind of stuff.
For our sound I don't think it's necessary right now. Of course we're going to grow and start experimenting more. I actually did buy a reverb pedal, but it's not working with my amp for some reason. I used it on the album though.
I could get pedals, but I don't know. I like being honest with people. I'm not the world's greatest guitarist and I never would claim to be. I like sharing real life.
You released an 8-bit computer game with your single "The Key of Black (They Want Us Dead)" that features you and Cedric as playable characters fighting different hate groups. That's a pretty unique idea for a single launch. How did it come about?
I grew up with two brothers and an older sister and we loved video games. My favorite thing to do was sit and watch my brothers play video games.
In the climate of things, when we had decided to put the video game together, these people, I mean they always existed but just were under wraps for a while. So when these hate groups started to spring up more and more and more, we wrote the song "The Key of Black," which is a song that says what it is. They wanted us dead, that's it. I don't want to dance around paraphrasing, I don't want to dance around metaphor or simile. Let's just say what it is. It sucks, but it's true.
We were thinking about doing a music video and we didn't really have ideas. But somehow the idea of a video game came up. We ended up basing it off of the Nintendo "Kung Fu" game, which is pretty much a replica of the game, but our designers swapped everyone out. I believe the fighting moves are pretty much the same and it's backwards like "Kung Fu," so you're walking to the left.
So if this is going to be a fighting game, why not be fighting the hate groups we're singing about? There's four levels, each level we're going backwards in time, finding the root of the problem in the way.
The current movement is the alt-right, so we are fighting guys with tiki torches and little red "Make America Great Again" hats, and at the end of the level there's always a bad guy you fight. There's a guy we are calling "President Dump" — we could have probably made it so you can fight him, but we weren't really sure. He's the current president, so we'll just make him run away at the end. Let's avoid the CIA or whatever. Let's just make him run away like a pansy at the end. And as soon as he's not president, we're probably gonna change that s--- and let everyone beat the crap out of him.
The second level is the Ku Klux Klan … then we have the Nazis, the third level with of course Hitler at the end. Then the last level being Confederates.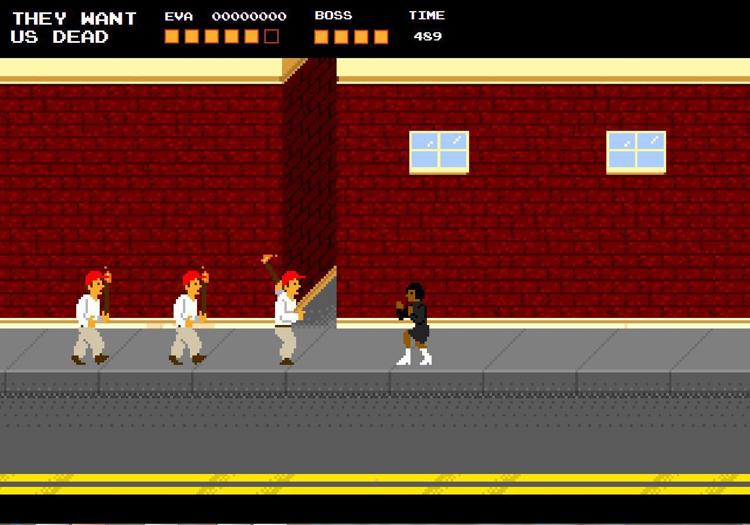 You're also a DJ at Seattle radio station KEXP as of September 2018, hosting "Audioasis," which highlights Northwest music. How have you found it being on the "other side" so to speak, given your involvement in the local music scene?
It's something that I would do anyway — we play with so many different bands, we discover a lot of new music, local music, underground music and in doing that I would explore some of those artists. And now I'm in a position where I can do that for people.
Audioasis is the longest-running local music show, I think, definitely on the station but probably in the city too. Pretty amazing people have sent music to the station — Kurt Cobain for example. The history of KEXP in general is pretty amazing and really rich.
As a musician who wants to be heard and wants to be seen, it's interesting being on the other side of it, because I've had these people I've heard about for years and now I'm getting music from them. I'm considering music from Krist Novoselic? What? I'm in this role, to consider these hall-of-famers of music? It's the local show, but people care about it. It's a really humbling position to be in.
But not just from them, from smaller bands, bands that are just getting started that are sending me stuff and it's blowing my mind. I am so excited to put you on the radio or do what I can for you. I've always known there are people who've been overlooked.
What I'm bringing to the show is diversity and that's in genre, that's in race, that's in identity, that's in creed. I want anyone that makes art and it's not hurting anyone. And that sounds good.
We have enough indie rock to last us 800 lifetimes. And I want to bring more.
I want it to be an inclusive show and I don't want anyone to be discouraged or feel like they have to play in an all-white, indie, skinny jeans band to be able to be on the radio. No, do your stuff.
It doesn't even have to be high quality. Send me your demo, if the song's kickass I'll play your demo on air.
And it helps inspire me musically. I hear sounds I've never heard before.