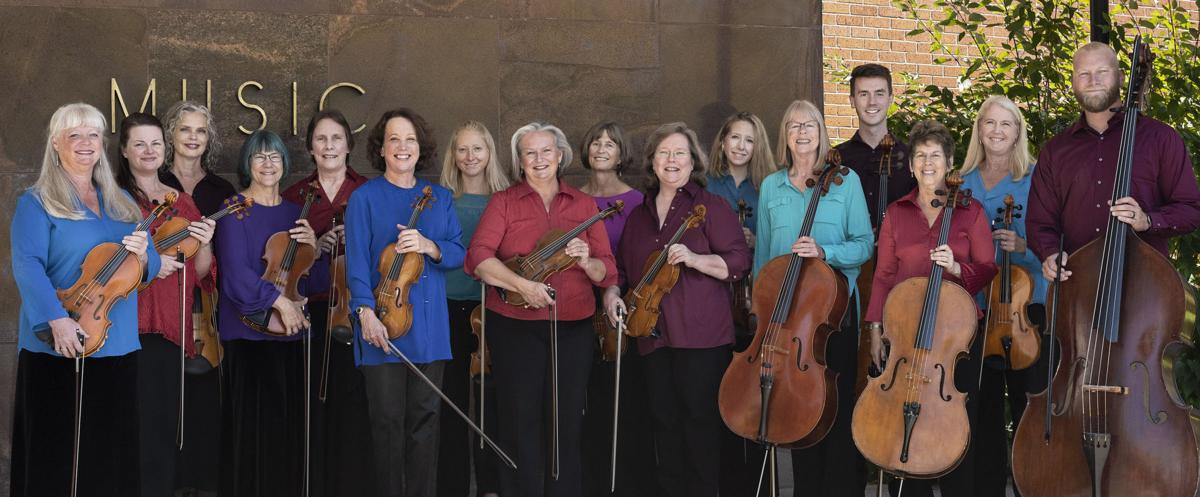 The String Orchestra of the Rockies is moving forward with a season of concerts with smaller ensembles playing for limited capacity audiences.
Maria Larionoff, the artistic director of the ensemble, said "orchestras all over the world are facing the same dilemma," and they believe "it's a workable solution to have smaller groups that have more space on the stage" for shorter, hourlong performances with fewer people in attendance.
After consulting with their board and musicians, comprising professionals from around the region, they came up with their model. Their shows will take place in the Music Recital Hall at the University of Montana, which already has cleaning and social distancing systems set up in the venue.
Instead of 400, they can allow 100 people who must sit with their immediate pod or by themselves. There will be one-way traffic in and out of the hall, and no intermission, with open doors and other ventilation. They've booked concerts only for September and October, and then will skip flu season and plan on a full orchestra show in April.
For the fall, they've designed concerts for smaller groups, such as a string quartet and octet. They'll have multiple performances to make up for the limited crowds.
The first concert also has a special, free performance at Bonner Park's bandshell on Saturday, Sept. 12, at noon.
A string quartet will play Mozart's Ein Kleine Nachtmusik and an octet will tackle Mendelssohn's Octet.
Larionoff said they've had to think creatively about what can make for a satisfying concert within the new limitations. In this case, these selections are both audience favorites that are "joyful" and "exuberant." She said the Mendelssohn is written almost symphonically, and is very delicate and precise.
After the outdoor show, there will be two more concerts at UM. (See schedule at the end of the article).
In October, the SOR String Quartet will play Schubert's "Rosamunde" Quartet and Prokofiev's String Quartet No. 2. The Schubert is very Viennese, with lilting melodies, Larionoff said, while the Prokofiev boasts folksy Russian qualities with dissonant melodies and strong rhythms.
The ensemble comprises Larionoff (violin), Margaret Baldridge (violin), Jennifer Smith (viola), and Adam Collins (cello). 
They're planning on separate recordings for their "Armchair Concerts" series on their site for people who can't or don't want to attend in person.
After that, the next concert won't be until April 25, 2021. They hope to bring guest violinist Stephanie Chase for an evening of Medelssohn, Gershwin and Kenji Bunch. This concert was originally set for April 2020, but was canceled. They're not sure of a venue yet.
These will be the first classical concerts in Missoula since March, and Larionoff said interest in tickets has been high.
Live music "fills a need for people to connect, emotionally," she said.
She travels from her home base in Seattle to perform, and said that many classical musicians in her circles are taking part in performances like these.
"If the venue has been structured so that traffic comes in and out safely ... events can happen in a safe manner," she said, and they wouldn't be moving ahead if they thought otherwise.
The orchestra has posted its full safety plan on sormt.org, and people are welcome to contact them with any questions.
Schedule
Here's the line-up. Tickets are available at Griz Tix outlets.
The SOR Octet and Quartet play Mozart and Mendelssohn
Saturday, Sept. 12, noon. Free concert at the Bonner Park bandshell, weather permitting.
Saturday, Sept. 12, 7 p.m., UM Recital Hall. Capacity limited to 100 tickets.
Sunday, Sept. 13, 3 p.m., UM Recital Hall. Capacity limited to 100 tickets.
The SOR Quartet plays Schubert and Prokofiev
Saturday, Oct. 10, 7 p.m., UM Recital Hall. Capacity limited to 100 tickets.
Sunday, Oct. 11, 3 p.m., UM Recital Hall. Capacity limited to 100 tickets.
'American Virtuosi' featuring Stephanie Chase, violin
April 25, 2021, 7 p.m. Location to be determined. Featuring Chase and the full orchestra ensemble, performing Mendelssoh's Concerto in D Minor; Gershwin's Lullaby for Strings; and works by Kenji Bunch.