The Cold Hard Cash Show, Montana's Johnny Cash tribute band that's traveled from dive bars and music festivals around the country to the stage of "The Late Show" with David Letterman, came to an end Tuesday.
Merle Travis Peterson, the front man and Johnny Cash double, made the announcement on social media. 
"After 13 years this long train ride has come to an end," the singer and guitarist wrote on Facebook. "I got off at the last station and I picked up my bags, and we all went our separate ways."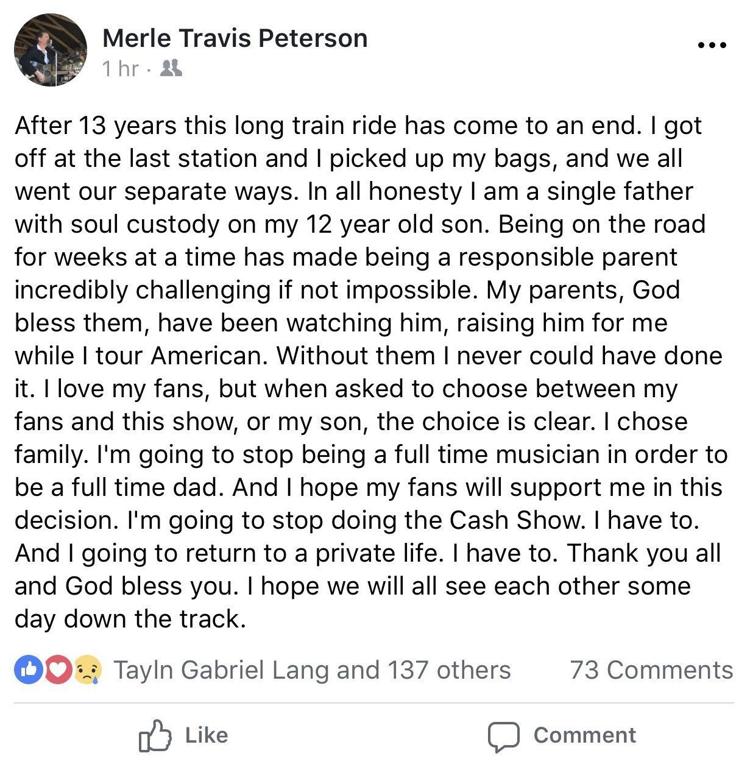 He declined to be interviewed when contacted by the Missoulian on Thursday.
"Hey, I'm not talking to the newspaper," he said before hanging up the phone.
You have free articles remaining.
Peterson broke up the act to spend more time with his family, particularly his son, according to his post. 
After the charges were publicized, people contacted Logjam Presents, the owner of the Wilma and Top Hat Lounge music venues, about whether it would continue to book the band in the future.
"We were contacted by a number of people. Our position was that we took the charges very seriously and that we were awaiting to have a full understanding of all the facts and that if the charges resulted in a conviction that we would be unlikely to book the band in the future," said Nick Checota, Logjam's owner.
The Cold Hard Cash Show still had two gigs lined up, a March 7 show in Gainesville, Florida, and March 23 show scheduled at the Hard Rock Cafe in Pittsburgh.
The band formed in 2005, and shared stages with the likes of Darryl Worley, John Anderson, Eric Church, Charlie Daniels, Lonestar, Eddie Money and more, according to a biography sent to the media in past years.