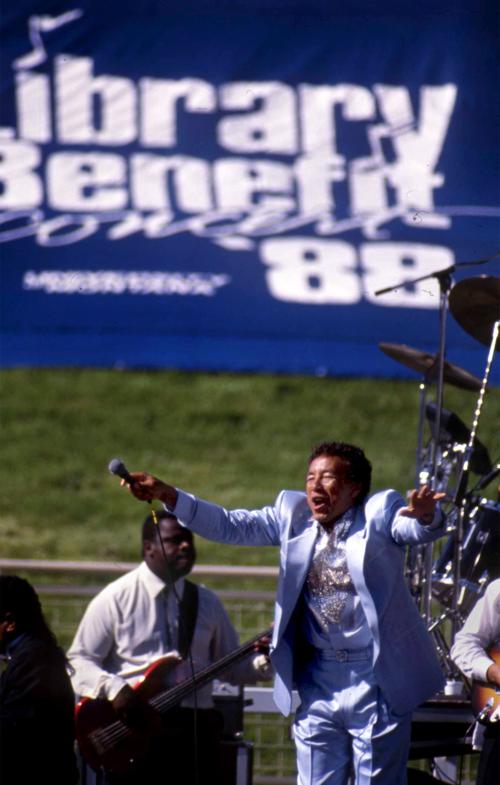 The idea of hosting concerts at Washington-Grizzly Stadium got off to an auspicious start.
In 1988, the Associated Students of the University of Montana handled all concerts on campus, and had had a recent run of successful, big-name events including REO Speedwagon and Alice Cooper. Smokey Robinson was up next.
"Over the last couple of years, we got the feeling we could handle big shows," Administrative Assistant Rick Ryan told the Missoulian in December 1988. "So suddenly, buying Smokey Robinson didn't seem like any big deal."
Well. Earlier that year, in May, ASUM hosted a 2,000-person crowd at the football stadium (about one zero short) to see Robinson, losing more than $33,000 on the concert.
That put the kibosh on Washington-Grizzly concerts for a while.
The loss "resulted in a return to the smaller-name concerts of previous years," Missoulian writer Patricia Sullivan noted in the same story. And it stayed that way until 1998, when Pearl Jam opened a tour in the stadium.
That wasn't nearly the first time Pearl Jam played at UM. They'd held concerts at the Adams Field House and the University Theater (now the Dennison). But it was the biggest — around 22,000 tickets were sold.
"The money lost on (Robinson) haunts UM Programming, the branch of student government that handles entertainment events, for years," the Missoulian wrote in a 1998 decade retrospective. "Pearl Jam wipes away that bitter memory."
You have free articles remaining.
And the memory stayed wiped — in 2006, the Rolling Stones upped the ante, selling out the stadium. Tickets were in such high demand that $115 field seats resold on eBay for $1,200. In 2014, Paul McCartney brought some 25,000 people into the stadium. On Aug. 13, Pearl Jam returns, with around 24,000 or 25,000 people in attendance, according to UM Associate Athletic Director Chuck Maes.
But, despite hitting on three out of four concerts in the last three decades, Washington-Grizzly remains empty of concertgoers most years. Why is the largest stadium in Montana not sold out more often?
There is a rising number of concerts in Missoula in recent years, and that makes for market competition. But no venue is even close to half the size of Washington-Grizzly. The next largest, Ogren Park at Allegiance Field, sits at around 8,000.
"It's a market-driven thing," said Eric Taber, assistant communications director for UM Athletics. "There's only so many big artists that want to come. It's a big venue."
Many things go into planning a concert at the stadium, Taber said, first and foremost the most obvious — practice schedules.
"It is an athletic facility first," he said. Football and soccer both have regular late-summer practices on the field, and later into the fall, Griz games obviously take priority.
But any event in the stadium is a major undertaking, Taber said. Although touring acts bring their own staff and crew, the university puts almost as much work into hosting the shows, meaning they don't want a concert to be a dud as much as the promoter.
"It does require a lot," Taber said. "It's a hard thing to pull of, logistically speaking."
Washington-Grizzly concerts are now put on by the Adams Center and the university, without ASUM involvement. They don't have any sort of goal for a number of concerts at the stadium, Taber said, but they are open to anything that comes their way – as long as there aren't 20,000 empty seats. 
"It just has to be the right fit," Taber said. "It's a great place to have a show. And it's exciting for the whole town. It's a major event."