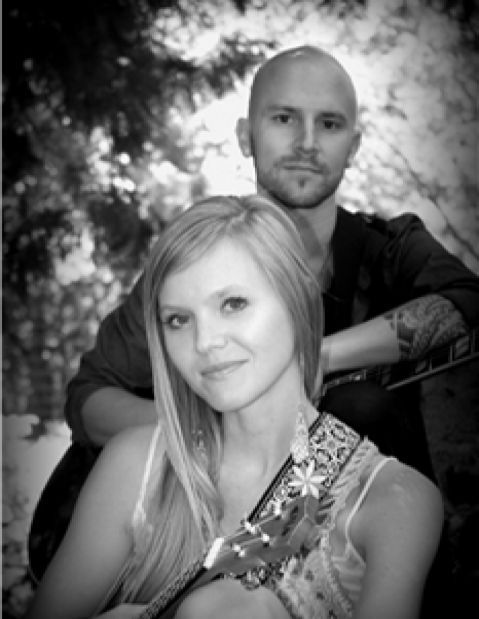 Can you still call a tour that's well into its second year a "tour," or has it become more of a habit? Or, maybe it's just a refusal to stick around in one place long enough to get labeled, pigeonholed, or otherwise mis-categorized?
In any case, listeners will have the opportunity to judge for themselves, when the Nashville-based (can they still say that?) Indie folk-rock duo "You Knew Me When" arrives at the Bitter Root Brewery at 6 p.m. on Thursday, Dec. 19.
The duo, "serving up craft-brewed compositions since 2009," is touring to promote their second album release, "You, Me, and the Rest of the World."
And, who still calls them "albums?"
Cie and Karisa Hoover do, and they still create and promote them the old way, by themselves, on the road playing their hearts out for audiences, with the confidence that their musical efforts will be rewarded with a steadily diminishing stock of unsold albums. Or discs, CDs, or whatever.
Cie Hoover spent years as the Global Events Production Manager for Gibson guitars, while sharpening his vocal and guitar licks in the hard-rock scene. Karisa, in contrast, was a public school music teacher and vocalist who favored a mellower style. They were nearly a decade into their marriage before they started creating music together, ending up with "a style that blends a singer-songwriter soul with a pop/rock mentality... all infused with a myriad of pulsing and stirring beats," according to their promotional material. Their vocal arrangements are "haunting, brooding, yet somehow angelic," and Karisa additionally contributes piano, ukulele, and glockenspiel tracks to their songs.
They have some range, but their music tends toward the brooding and melancholy, a timely complement to the dark and cold of December – and generally good for beer sales.
"If you're a fan of groups like Matt Costa, The Shins, The Postal Service, The Decemberists, and Coldplay, then you simply must check out You Knew Me When," suggests Jon C. Owens, a booking coordinator who felt he'd hit the jackpot with the duo.
Jeff Greene, of the Nashville Reel, reported that "You Knew Me When took the Nashville stage as completely unknown musicians, but by the end of the night they had made life-long fans of the entire audience. Their arrangements and compositions create a texture that's like nothing I've ever heard; soothing, eerie and oddly beautiful. Listening to them perform, I was constantly reminded of Swedish vampire films with their bleak, dreary cinematography and cold, yet beautiful ambiance."
"Swedish vampire films . . ." There's more than one?
You Knew Me When will be performing Dec. 19 at Bitter Root Brewing, 101 Marcus St. in Hamilton at 6 p.m., with no cover charge.