It wasn't so long ago that the idea of pulling up to your favorite brewery on a Sunday morning meant you were either early, or ready to get in some good day-drinking.
The slow but expansive addition of brunch offerings around Missoula, though, has made the mid-morning beer run into a raison d'etre, or an excuse to spend yet one more weekend day at your favorite brewery.
Starting around three years ago, brunch expanded from, you know, actual restaurants that stuck to breakfast sandwiches, pancakes and coffee (with an occasional sighting of mimosas or bloody marys) to more ornate affairs that begged photos of your plate and your beermosa. It was really the natural extension of Montana's brewery culture — spend Saturday afternoon on the Draught Works deck after a hike, then head back Sunday morning for a pre-hike beer and breakfast.
There's now five breweries (including Missoula's lone cidery) serving brunch, whether through their in-house kitchens or partnered with food trucks. That's about half the breweries in town, depending on whether you count all the KettleHouse locations separately.
"It's kind of a brunch extravaganza," deadpanned Western Cider co-owner Matt LaRubbio.
He started serving brunch last summer, when Western Cider was partnered with food truck Take It or Leave It. Response was good enough that they planned on doing it again in 2019, but switched to food prepared by Tia's Big Sky chefs.
"Cider lends itself to brunch," LaRubbio said. "We don't offer cocktails on a regular basis, so for us it's a great chance to show how diverse cider can be."
That's a large part of the brewery-brunch magic; experiencing your favorite local beers in new drinks, whether simply mixed with orange juice or stirred together with bitters, lemon or rosemary.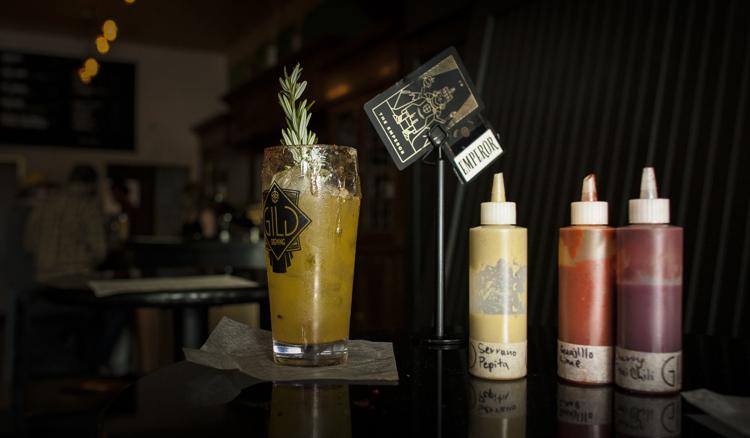 Every brewery that serves brunch in Missoula offers at least some basic beer cocktails, from variations on mimosas and bloody marys to more complicated affairs like Gild Brewing's Micheladas, which have six or seven ingredients and huge bunches of herbs sticking out of the glass.
Draught Works started serving brunch in 2017 in a similar manner to Western Cider. They'd been partnered with Burns St. Beastro food truck and were interested in expanding to brunch service.
Kori Christianson, marketing manager at Draught Works, said it was suggested by an employee, who'd visited a brewery brunch in another town and thought it could work in Missoula.
"It was something people were really interested in in the beginning," Christianson said.
The Draught Works brunch started to give people an alternative brunch experience, according to Christianson, who has definitely noticed the steady growth of brewery brunches around town.
"I think it's grown really organically," she said. "It benefits all of us, definitely."
Plus, Christianson pointed out, it's a fun undertaking for the brewery employees as well.
"We do a lot of testing in-house for the brunch cocktails, which is a fun job," she added. "It can be really bad, and then we try again."
Christianson estimated about half of their brunchgoers opt for alcohol with their food, and wasn't surprised it's become as popular as it has.
Same with LaRubbio, who pointed out brunch classics like mimosas and Bloody Marys easily translate to beer and cider cocktails.
Whenever people imbibe then, at least it's with some tasty food.
As Western Cider's tasting room manager Ellie Costello put it:
"Missoula's a really good town for easy, laid-back weekends."
Below, find a listing of every brewery brunch in Missoula:
Tagline: The best place to go on a rainy day, or if you're really craving sausage.
Location: 1507 Montana St.
Time: Sundays, 10 a.m.-2 p.m.
Drinks: Beer cocktails, coffee and any beer on tap.
Missoula's authentic German brewery comes paired with Edelweiss Bistro, an authentic Bavarian café that features locally grown and purchased meat, eggs and vegetables, with seasonings and sauces imported from Germany.
Their Biers and Brunch menu features skillets, German-style quiches and breakfasts of poached sausage, cherry compote pancakes and German rye toast.
Drinks include radlers (beer-juice combos), shandies (ditto) and bloody marys all made with Bayern beers.
Tagline: The downtown spot, the best place to eat if you left your car in front of the Union Saturday night.
Time: Saturday and Sunday, 10 a.m.-2 p.m.
Food: Special brunch menu from Conflux's kitchen.
Drinks: Beer cocktails, coffee and any beer on tap.
Conflux's kitchen turns to Southern-inspired brunch fare for the weekends, serving up shrimp and grits, fry bread and Creole eggs Benedict, along with some tasty-looking vegetarian and vegan options.
They also feature some beer cocktails, with a twist on the Arnold Palmer and bloody mary with their Chili Nelson Ale. Conflux also does half-pours of all of their tap beers, which are a great way to pace yourself before noon.
Tagline: The Missoula classic, a must for anyone who prioritizes deck seating over all else.
Time: Sundays, 10 a.m.-2 p.m.
Food: Burns St. Beastro food truck
Drinks: Beer cocktails, coffee, any beer on tap
The original brewery-food truck brunch pairing hasn't slowed in popularity since its 2017 inception. The Burns St. Beastro food truck slings a slightly more limited menu of the same quality as the permanent restaurant, with some favorites (like biscuits and gravy) alongside a meaty brunch toast (avocado, fried egg and tomato) and rotating specials.
The drinks are more straightforward, but high-quality, putting simple twists on classics. Take their recent shandy, made with Hefeweizen and ginger beer.
Tagline: The only one you could feasibly go to on a first date and it wouldn't be totally weird; also the most Instagram-worthy if that's your thing.
Location: 515 S Higgins Ave.
Time: Sundays, 10 a.m.-3 p.m.
Food: Special brunch menu from Gild's kitchen.
Drinks: Beer cocktails, coffee, any beer on tap.
The newest entrant into the brewery brunch game is Gild, which opened last summer on the Hip Strip. Their kitchen slings street-style Mexican food, with brunch items like breakfast tacos, enchiladas and chorizo Scotch eggs.
The drink menu is the most complex here, though it doesn't quite break the bank. Their beer cocktails top out at six or seven ingredients and come with honey-and-spice coated rims. They also feature sake as a mimosa and bloody mary mixer.
Tagline: The hidden gem, might give Gild a run for its Instagrammable money.
Location: 501 N. California St.
Time: Sundays, 10 a.m.-2 p.m.
Food: Rotates, summer 2019 is a menu from chefs Kim and Shelby of Tia's Big Sky.
Drinks: Cider cocktails, coffee, any cider on tap.
In their second brunch season, Western Cider has partnered with the chefs from Tia's Big Sky, to branch out from their usual authentic Mexican flavors.
The menu so far consists of savory bread pudding, with green chili, ham and poached eggs and a Parmesan scone topped with scrambled eggs, bacon and arugula.
The cider is made into bloody marys, mimosas and other fruit-forward cocktails and, as co-owner Matt LaRubbio pointed out, cider is a great alternative to those who don't drink beer, whether for the gluten content or taste.