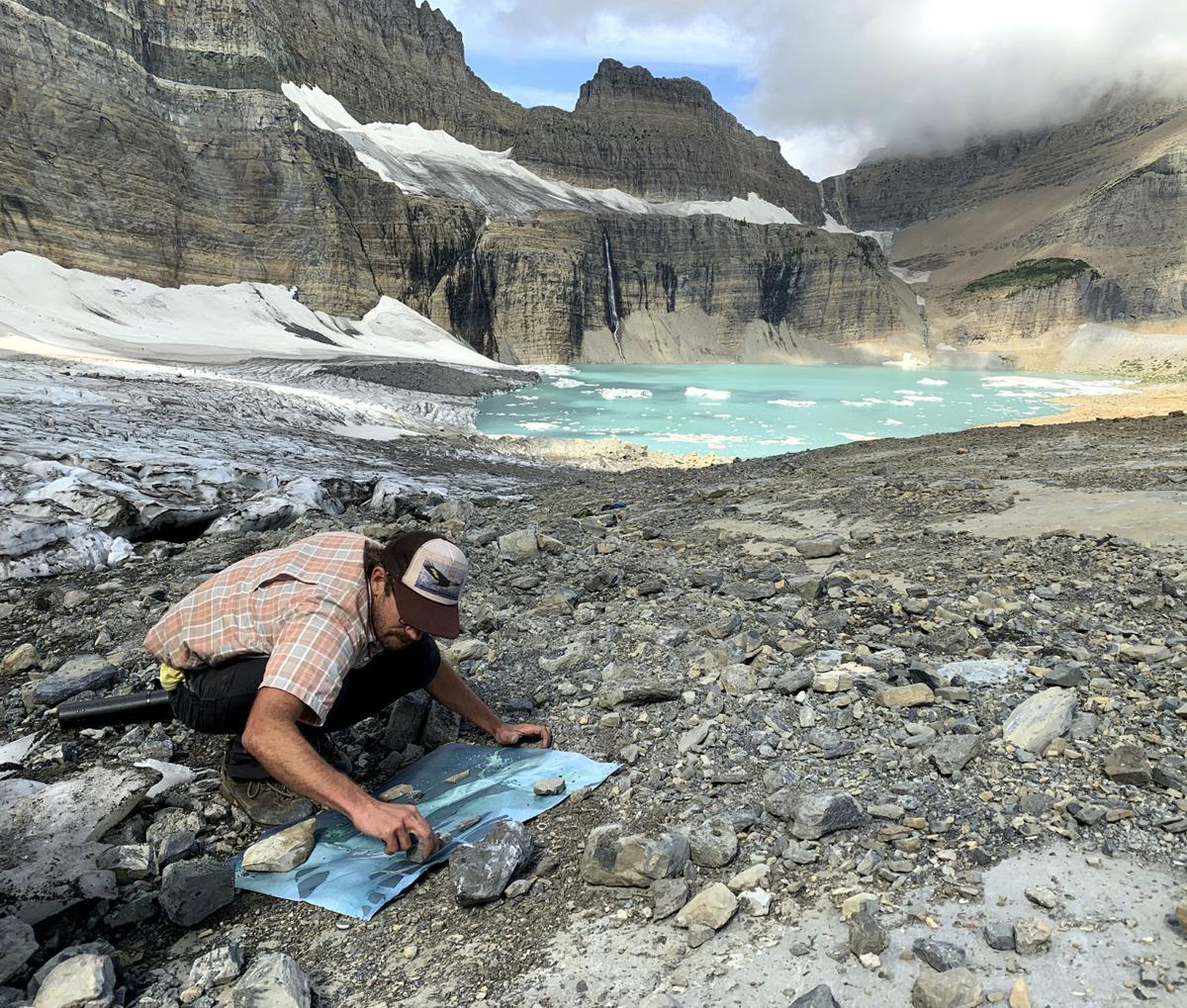 MANY GLACIER — When the mountains are your art studio, you sometimes need to get up early.
It's 5:30 a.m. when Jonathan Marquis leaves East Glacier, where he's been staying for the past several weeks, to make the hourlong drive and secure a parking spot before hundreds of other hikers arrive at the Grinnell Glacier trailhead, one of the most popular in Glacier National Park.
The "conditions of the day shape the work" is a mantra and it wasn't always clear whether they would cooperate.
He loads up his backpack with the usual gear — food, layers and water. The outlier is a protective document tube that passers-by on the trails often assume contains a fly-fishing rod and will ask him if he caught anything.
It holds light-sensitive paper to make cyanotypes, a photographic process in which objects set on treated paper create ghostly outlines on a blue backdrop. He thinks of them as "10-minute light paintings."
Marquis, an artist who spends his winters teaching in Arizona, comes back to Montana each summer to hike, climb and make art projects on site, whether cyanotypes or drawings, with many projects focused directly on glaciers. He thinks of himself as a painter and drawer more than a photographer, but regardless, the projects all encourage people to think about the landscape differently.
Once the trail reaches Grinnell Lake, he heads around the southeast edge to the glacier proper, past a sign with weathered, cracked paint that reads, "Warning Hazardous Snow Conditions Glacier Travel Not Recommended," and continues closer toward the edge of Mount Gould.
From a distance, the glacier is divided by discernible crevasses and disruptive piles of erratics — car-sized rocks pushed to the surface. Closer up, it's even more chaotic. The melting process has carved elegant ice sculptures some 10 feet high that would be tempting to explore. It's a changing landscape, speckled with rocks and silt and anything but pure white.
He's looking for the right spot at the edge of the ice to make cyanotypes. These are part of a series called "Downwaste," the term for a glacier's melting and thinning. The series grew out of an idea about removing himself from the process: "How can I make an image with a glacier rather than of a glacier?" he said.
It's now 11 a.m., he's ready to start work, having driven 63 miles and hiked around 6 or 7 miles in. It's a studio commute to savor, a part of the process, rather than an obstacle.
"The physicality and sensorial embeddedness of hiking to and making cyanotypes with glaciers is a driving force in the work. It's about being under the sky and on the ground," he said.
First, he starts with 8-by-10 sheets that were tucked in protective black plastic. He dips them into the running water, and rubs them face-down against the ice and sets them on the slanted rock slope.
The exposure on the light-sensitive paper begins immediately. "A minute at most," he said. "Within a minute you're already getting things that are turning pretty blue."
So he must quickly improvise abstract compositions. He sets a triangular wedge of ice onto one. Another might have rocks. He picks up glacial silt and pours it onto the paper, which will result in a splashy effect. The silt is the result of a geologic process — the glacier grinding rock into a flour that, suspended in water, heightens the color of the tarns into a milky turquoise. Water is flowing down the rocks, still scarred by that grinding, underneath the paper, which adds a rippled stripe in the center. Even with practice, he said it's still unpredictable what the final product will look like.
"I never feel like I'm in control of the art. Usually, it's always taking me for a ride. These are nice because I get to really lean into that," he said. He loves how fluid, messy and "almost ungraspable" the images appear.
He thinks of them as collaborations, a way to "let the glacier make its own art instead of me trying to represent it." They're messy and complex as the basin around him. "You gotta come out here and experience the complexity. That's what we're talking about losing … we're destroying the richness of this planet."
Climate change is a part of the subject matter, but he doesn't think of them as explicitly environmentalist. He alludes to "Do Glaciers Listen," a book by Julie Cruikshank that explains indigenous views on glaciers as having sentience. For the purposes of his art, he'd like for people to think of them as worth caring for and saving.
He hopes the art spurs thoughts about these places and ways to help them survive.
"We need to create the conditions that let glaciers thrive, let animals thrive, let bears thrive, all the critters around here. If we can let these types of places thrive, then we can maintain hopefully good biodiversity and safe resources and balance out the land and then hopefully you know, we still gotta lot of work to do to let humans thrive in good ways, too," he said.
After he's set the objects onto paper, it's up to the sun to do its work as the areas around the objects deepens into indigo from the chemicals or tan from the silt.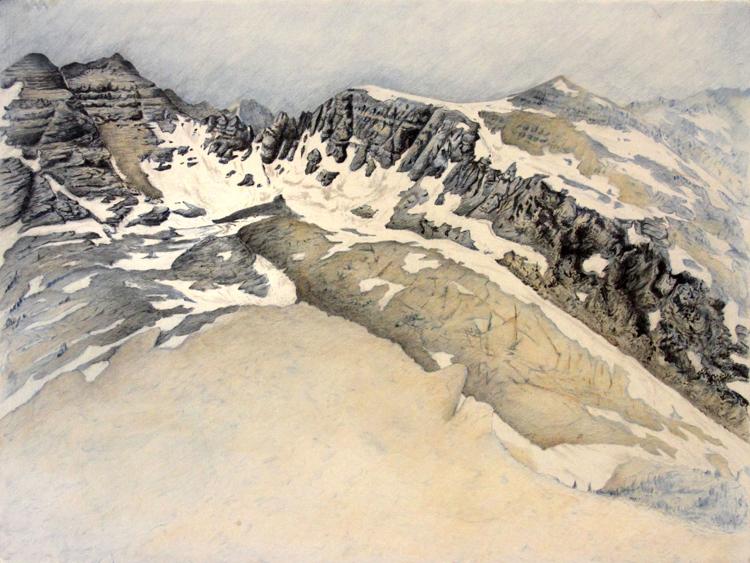 Marquis, 37, moved to Missoula to finish his bachelor's degree in art after starting out at Ball State University in his home state of Indiana. A few trips into the Montana backcountry and he was hooked.
He and some friends formed an art collective, VonCommon, where they split studio space and showed their own work.
He'd been making superhero-related paintings with collage elements when he switched over to mountain-themed work around 2013. The next year, he launched the Glacier Drawing Project, in which he set out to sketch all of the state's glaciers on site. There are almost 60, with 26 of them in Glacier National Park.
Around the same time, he headed south for graduate school at the University of Arizona at Tucson, first for an MFA in 2D studies and then an MA in art history.
His pop-culture themed paintings had collage and photo transfers, as he was trying "construct images without using your own mark, while still making a painting." He moved into landscape, something he'd previously avoided, by working the images through those processes, so they looked more like postmodern versions of landscape art.
He made ice blocks out of layered, dyed material and recorded them melting. For his thesis show, which had large paintings using cyanotypes, he placed an ice block in the gallery and let nature take its course.
"The blocks of ice were so pretty and so beautiful and interesting, I wanted to bring one of those into the gallery and let it melt during the show," he said.
Having finished up last year, he's started teaching at Pima Community College in Arizona. Just like before, he returns to Missoula, his artistic hometown in a way, to climb, hike, see friends and make art.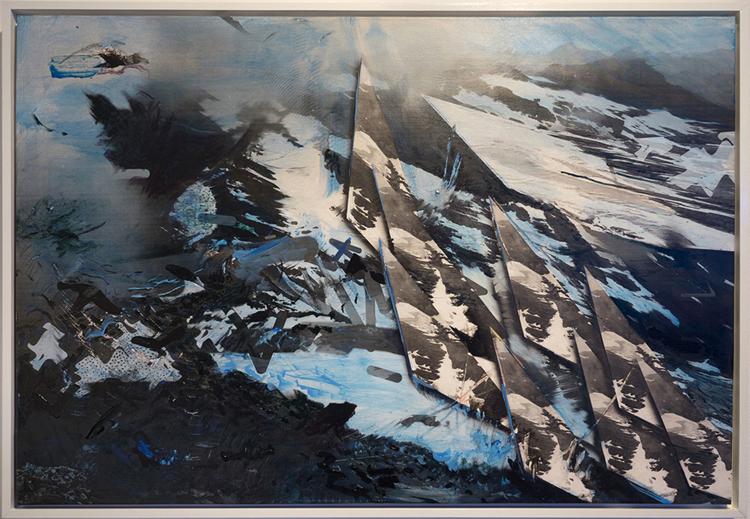 Out at Grinnell, having completed a few warm-ups with smaller pieces, he moves onto the larger paper, 30 by 22 inches, with five total, the most he can fit into that carrier tube.
It's a leave-no-trace form of making art. Once a piece is done, he discards the rocks and silt where he found them.
"The trace is just left on the paper through the sun and the glacier, and then that's the trace that has not affected the landscape. It's not even changed the landscape hardly. The landscape has changed it. It's almost like a recording, really. You're trying to record the process of geology, trying to condense 10,000 years into one image, you know?" he says with a laugh.
The Grinnell pieces are likely his last work or trip this season before he returns to Tucson, fit in despite a rain delay. Even without rain, cloudy skies are a detriment.
Mountains create their own weather and don't much care about ideal conditions for someone to lay objects on paper in the sun. The forecast for a trip up to Grinnell the day before changed overnight. Maybe thunderstorms would roll into Many Glacier in the afternoon; maybe they wouldn't. He'd need to hike 5 miles to find out whether he'd be able to make art, or simply find himself on an exposed area during a lightning storm with little to show for it.
The hiking intertwines with the art and hiking is forever time-sensitive, dependent on the outlook and perhaps the availability of other people.
Sometimes he goes alone. Earlier this month, he made cyanotypes at the edge of Sperry Glacier during a solo hike of the Floral Park Traverse. The 19-mile trek starts at Logan Pass at the Hidden Lake trailhead, winds around the base of Bearhat Mountain up to a pass, then drops down to Floral Park high above Avalanche Lake. Sperry sits above an alien-looking moraine with rippling red and purple rock, where he made cyanotypes and hiked to the summit of Gunsight Mountain before descending the trail that ends at Lake McDonald Lodge. Even without the Gunsight addition, the trip gains 4,000 feet of elevation and loses 7,000.
This year, he made cyanotypes at Swiftcurrent and Siyeh. One time at Sexton, small and dangerous but not deadly rocks occasionally fell through his work zone, and there were a few times he had to move out of the way. "Just an interesting element to the day's art work, where you're dodging rocks sliding down the slope," he said.
He just had to listen closely. It's inadvisable to listen to headphones on a trail, for safety purposes. Earlier this month, he saw three grizzly bears on the summit of Mount Cleveland, the tallest peak in the park at 10,466 feet. They scurried away, leaving a pile of scat like a signature on a summit register. Even if it weren't dangerous to have a soundtrack, and maybe inspiring to have one, he prefers to tune into the environment around him.
The mountains write a quiet music with its own soothing yet unpredictable compositional rules. At odd intervals, a weary block of ice gives way inside Grinnell and falls with a baritone timpani crash that resembles the sound of a low-speed car crash. "Hey, buddy," he says, in a joke-not-joke about the glacier's existence independent of human observation. The rapid wind, the same force that pushes clouds in and out of the direct sunlight the cyanotypes require, scrapes itself across the sides of the cathedral-like cirque in a constant low-level drone that you might miss if it were gone, as though a conversation just died. Drips of meltwater, the very sound of the glacier dissolving, tap out a percussive rhythm in free time against the trickle of small streams beneath the ice.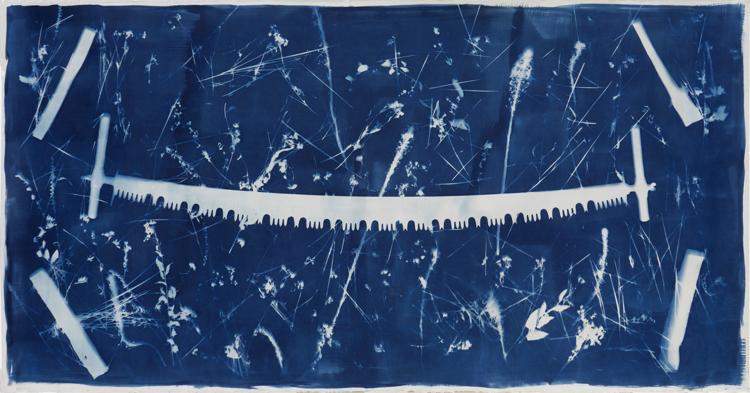 Earlier this summer, he spent two weeks at a cabin in the Selway-Bitterroot Wilderness as part of Open Air, a new artist-in-residence program. He flew in with supplies, and his girlfriend, Erin DiGiovanni, also an artist, hiked in 16 miles.
Since the cabin was a more controlled environment, he made several very large cyanotypes with cross-cut saws and wildflowers. The tools' "size and elegant shape speak to the sense of the scale and the challenges one encounters in one of the largest wilderness areas in the Lower 48," he said, while the flowers alluded to the "bumper crop" this particular summer.
"Combining the manufactured saws with the lively, yet fragile and transient wildflowers is a pairing that creates a bit of tension. It is decorative and yet destructive with an air of violence. It adds a bit of silliness too, in that why would you use such a big saw to cut down wildflowers? There is a bit of beautiful absurdity."
He's thinking of ways he can bring larger pieces of cyanotype paper up in the mountains, possibly packing in a portfolio that could hold 20.
That will have to wait until next summer. It's just past 12:30 p.m., and the large and small pieces alike are complete as the clouds begin to settle over the basin.
He carefully rolls them up and places them back into the tube. By midday, the crowds at Grinnell have become thick. He takes off down the trail and weaves past them, hits the trailhead and then drives back to Missoula. He wants to return to the area next year to make work at Salamander and Gem glaciers, which sit higher above Grinnell.
After he's back in town, the colors on the cyanotypes have deepened — crisp blues, naturalistic arrangements of incandescent white, pools and streaks and splatters and trace brown-gray from the silt — and match the palette of the mountains and glacial lakes and sky, just like a field recording.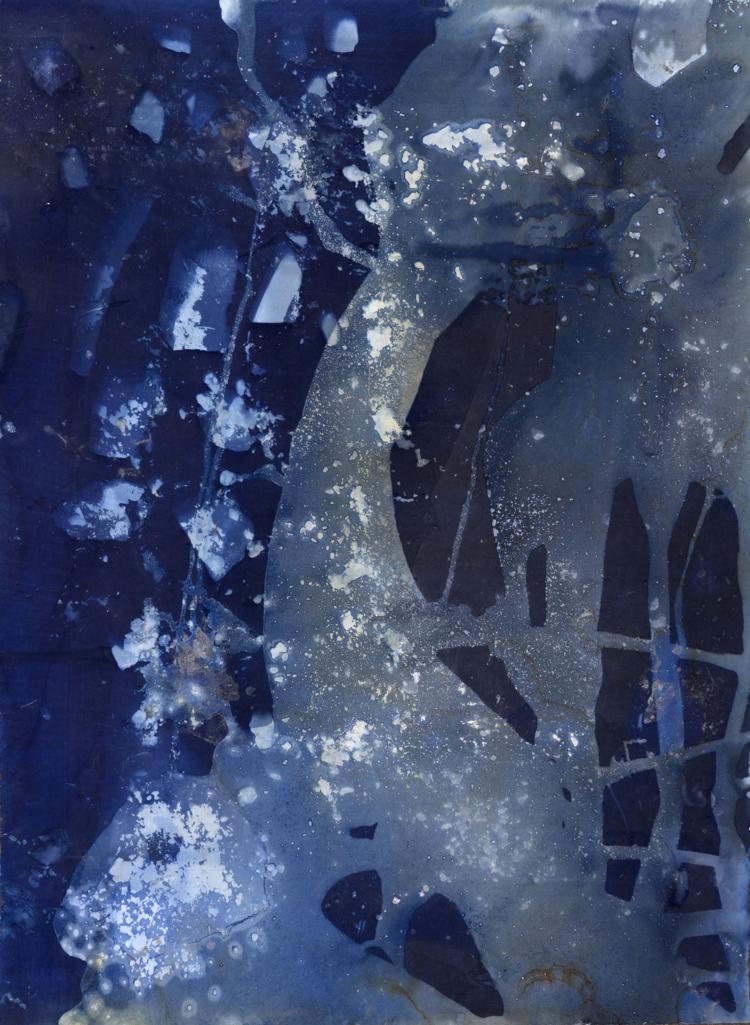 Stay up-to-date on what's happening
Receive the latest in local entertainment news in your inbox weekly!