Missoula's music history can look a lot like its present.
As Leif Fredrickson sifted through stacks of flyers, record covers and news clippings from the '80s and '90s music scene, he pointed out people like Charlie Beaton, in several bands at a time, playing different instruments in different genres.
People like Aaron Bolton, who helped turned a burgeoning house venue (The Badlander) into Missoula's first established electronic music venue.
It sounds a bit familiar: Missoula's apparently always been home to a highly interconnected music scene, full of determined people who help reinvent the town every few years.
"It goes through different phases," Fredrickson said. "It is ultimately driven by individuals who are involved for a number of years and then go on to have children or something."
As part of their Downtown Heritage Interpretation Plan, the Missoula Downtown Association has tapped local historians to put together an exhibit on Missoula's music history. The team, which includes Fredrickson, Jimmy Grant of Historical Research Associates, and Dave Martens, will present their initial findings in a pop-up show at River City Roots Fest on Aug. 23 and 24.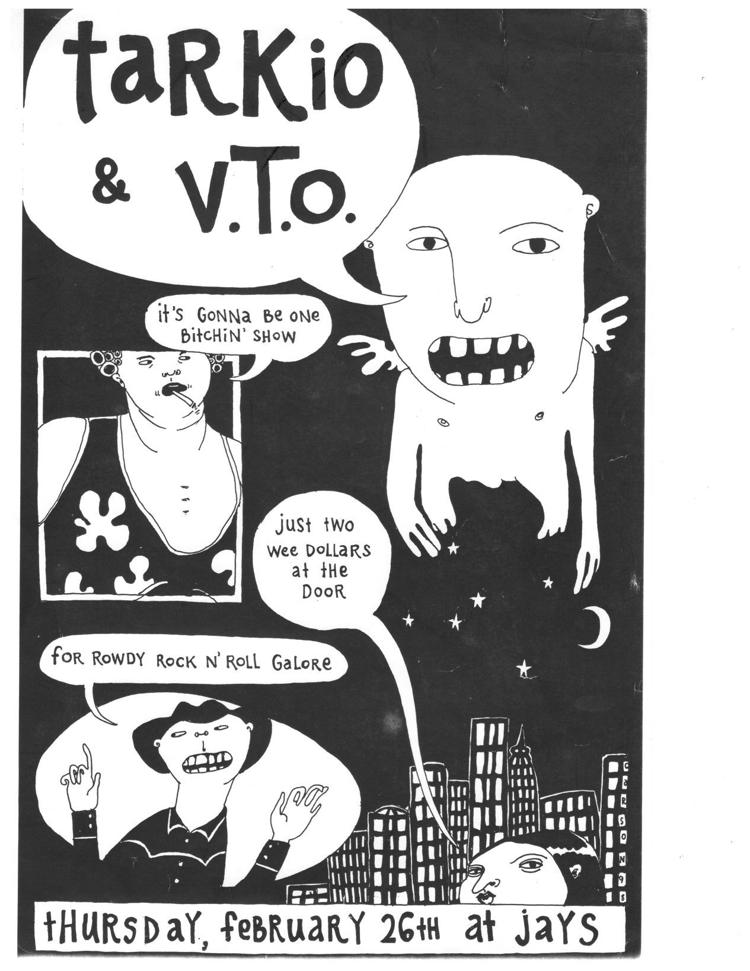 Fredrickson, who teaches history at the University of Montana, was involved in the music scene in the'90s. He unfolded a newspaper article from the Hellgate Lance on the "Badlander Sound," with photos of kids spinning records in a wood-paneled basement. Byline: Leif Fredrickson.
A small flyer promotes what Fredrickson thinks might be Missoula's first hip-hop group, Poor White Trash. A 45 record sleeve has a hand-drawn image of "The Banned" band members (a punk group from the late '80s) riding a covered wagon into the Missoula Valley.
You have free articles remaining.
Most of the material, as of right now, is from the '80s and '90s, Fredrickson said, largely because that's when his collection (and, by extension, his friendships in the music scene) started.
He and Grant are working to get more from the '60s and '70s as well, and have reached out to Martens, who has collected memorabilia and recordings from the '60s to the '80s for his Lost Sounds Montana project.
"Part of the story that we're telling is how there was this emergence of '60s garage and psych bands in Missoula," Fredrickson said. "In the '80s, the emergence of punk music here and some early influential bands … when a venue like Jay's came around in the early '90s that really catalyzed a robust scene that lasted through the '90s."
There are, of course, flyers bearing the names of early Steve Albini and Jeff Ament bands like Just Ducky and Deranged Diction. A house show flyer lists Colin Meloy's college group Tarkio. Sitting alongside the lineup is a hand-drawn gargoyle, with a speech bubble: "Okay now … I've got to remember not to call Colin Meloy 'alternahunk.' "
The focus, for now at least, is on local bands, and contextualizing Missoula's music scene in each era — from its connections to the larger Pacific Northwest in the garage and punk days, to a DIY connectivity more recently.
It's also doing plenty to enshrine places like Jay's Upstairs, which defined a generation of Missoula, but eventually closed down as part of the churn of taste and talent. Eventually, Fredrickson admitted, younger kids just didn't like Jay's and turned to their own venues.
There's a sense that nothing was a given in Missoula's music scene, from the upstart house venues that turned into real venues, to the continual turnover of new bands, names and styles that recycle and shift from year to year.
Fredrickson summed it up well, although he was describing putting on house shows.
"There's a real vibrancy," Fredrickson said. "But it's also a lot of work."