April Richardson is a stand-up comedian and podcast host from Atlanta, Georgia, who regularly tours and is well-known for her "Saved By the Bell"- themed podcast, "Go Bayside," and the pop-culture show, "Sordid Details."
She moved to Los Angeles with a journalism degree, and eventually made her way into comedy writing, appearing regularly on "Chelsea Lately."
Richardson is coming through Missoula as part of her "Trivial Moonlight" tour, featuring shows in Sioux Falls, South Dakota, and Bend, Oregon. She spoke with the Missoulian the day before her Minneapolis show. This interview has been condensed and edited for space.
You're in Minneapolis tonight?
I play 7th Street Entry tomorrow night, which is kind of mind-blowing that I'm going to be walking in a building that Prince also walked in. That's what I wanted them to put on the posters, but they wouldn't. So I'm performing here tomorrow night.
Are you going to see Paisley Park?
As soon as I hang up with you I am going to Paisley Park. We have a 6 p.m. appointment because you have to make appointments to go to it. I'm freaking out. The only bummer is we just read all the rules and they make you check your phone. No pics! No secret pics in Paisley Park, which is a bummer.
This tour is a list of cities that you were just interested in visiting. Is that why Minneapolis is on the list, because of Paisley Park?
Minneapolis, specifically, yes, is for Paisley Park.
When I planned this I just sat down with a map and a calendar because I didn't have anything to do in the summer. I specifically wanted to go to places I've never been before. I've been to Minneapolis before, but (not) Paisley Park. But other places were just, oh I've never played this city before, why not go there? And if it would make sense on a driving route.
And Missoula, specifically, because Chris Fairbanks is from there, one of my dearest friends who I've toured with a lot, and he said you gotta hit up Missoula, it's the best, and put me in touch with people there.
For the most part, this is just a, kind of, "give me something to do tour 2018," in the summer. Because it was either drive around the country or sit on my couch. So I chose the former.
That's pretty cool. I like that Chris is spreading the good word about Missoula. We don't get a lot of touring comedians through here.
I think that kind of bums him out too. I think he was eager to say "go to Missoula!"
There might be a reason. The last time I saw Chris, he opened for Tig Notaro a few years ago. It probably wasn't the best show. Missoulians are really good at talking through any show they're at.
Oh cool, so I should just go ahead and skip. That's good that you're telling me this on tape. Why did I skip your town? Did you not hear what Peter said to me in the interview? He told me you're all going to talk through my jokes. This is exactly the details that Fairbanks left out, so good to know.
You are playing at a place that is well-known to the comedy fans. It should be easier going.
Listen, some of the shows that I've had so far, nothing can be worse than them. I'm really not worried.
Are those experiences with places that are unused to knowing how to act at comedy shows?
I did it two summers ago, where I decided to just drive around the country and I'm richer for it and it's a fun thing to do, but it's rare that I play a comedy club. It's mainly shit-kicker bars or really dive-y punk clubs. It's part experiment. It is to get better and have more stage time and do it for the love of the game. It's also sometimes just for the story.
There's been a few places where, they've definitely never done comedy before. And I'm like cool, cool, cool. But some of those have turned out great. Some of those have turned out to be the best shows.
Some of them were pleasant surprises and some of them were like, let's just get through this together. Missoula, I'm sure, will be great.
Part of this is for the story and the experience – is the other part a trial-by-fire to learn how to handle all kinds of crowds and environments?
Yeah. Doing shows in L.A., you can't really learn that much, because you're kind of just doing shows to the same people.
Doing something like this absolutely teaches you, not only just by doing shows every night for two months you're going to get new jokes and new material out of it, but I'm in a different city every night with an entirely different kind of crowd.
You can't help but toughen up when you're going into situations where I'm not from this town, I've never been to this town, I don't know what the vibe is in this town, I don't know what these people are like and I'm about to walk on stage and tell jokes.
In L.A., you can know this is going to be a crowd of hipsters, or a crowd of whatever. You already know and can kind of cater to them. In this, I've gotta do what I do and if they like it they like it and if they don't they don't. It is so interesting and it does teach you a lot.
There's definitely been crowds where – and again I don't want to name cities – the crowd was almost all people my parents' age. And I was like, what? How do any of you know who I am, how did you know what was happening tonight? They were really subdued and I really had to, break them down is a weird term, but it was this thing where I had to figure out some kind of common ground with a room full of people that are 25 years older than me. That was really interesting. That was a thing that would never happen in L.A.
It seems like some comedians are really drawn to the idea of having to actually work the crowd, and not just go up and do your set, but look for weird interjections and random things to happen that'll mess you up.
Let me tell you this — I'm not looking to get heckled, which I did get in Savannah. My drunk aunt heckled me. My entire extended family lives in Savannah and they thought it would be a real goof to come see me and heckle me. You don't get to do that even if you're related to me.
Heckling is one thing, but you're right. It is this sort of thing where it tests how good you are or how quick you are on your feet. Last night a guy was kind of talking, and was technically heckling, but he was nice. He was yelling out things he wanted me to talk about or something.
In the one way it was cool, because maybe I will try to talk about that subject you just mentioned, but on the other hand you don't get to just yell out requests. This is not a concert.
You have free articles remaining.
Other than my own aunt, I've yet to get mean-heckled, it's always just that people who are enthusiastically yelling out nice things, or trying to participate in a way that's nice and encouraging. It's definitely made me less likely to rely on my set. I've been trying to wing it more.
Have you done full crowd-work sets?
No, I'm not a crowd work dude normally. If I can tell the room is really tense, then I'll go out in the crowd and talk to people as if I'm talking to my friends. But I'm not really a crowd-work dude, cause I don't like, as a fan…I still go see comedy and stuff, and I don't like how uncomfortable it is.
Nine times out of 10 the front row will be empty, cause people don't want to sit there because they think they're going to get made fun of and I just want it to be clear to people that come see me that I'm 100 percent not going to make fun of you. I hate it when people do that. I just paid to see you, why are you making fun of me?
So I never do that. I'll go out and say hey how's it going, but I'm not good enough to do crowd work. I'm not like Jimmy Pardo who's at that genius level who can riff that quickly.
It kind of sounds like you have the same ethos to some degree. When you're talking about handling hard rooms and figuring out what you need to do to get a crowd with you, it makes me think of "Pompous Clown," which is all Jimmy Pardo working with a crowd that didn't care when he started, but by the end was totally with it.
I love Jimmy, he's one of my closest friends and definitely that's aspirational to me. The idea of that I'm very much into. I'm very conscious of – and this isn't just me being self-deprecating – I know where I am, I know what level I'm at and I know I'm not ever near that ability.
I can't turn people around like that, but the idea of on-purpose going somewhere where I know I'm going to be uncomfortable appeals to me.
It's been so interesting. I wish I had a better word for it. I want to write a book about it or something. I've played some places where it's been like, did David Lynch film a movie here?
How did the "Trivial Moonlight" tour idea come about?
Other than it being the coolest sounding thing ever? Is that what you mean to ask?
I was going to call it "Trivial Moonlight," or "Frivolous Moonlight." A friend of mine said trivial sounds better. I looked in a thesaurus and it was actually listed as an antonym for serious, which frivolous was not. So I did my work.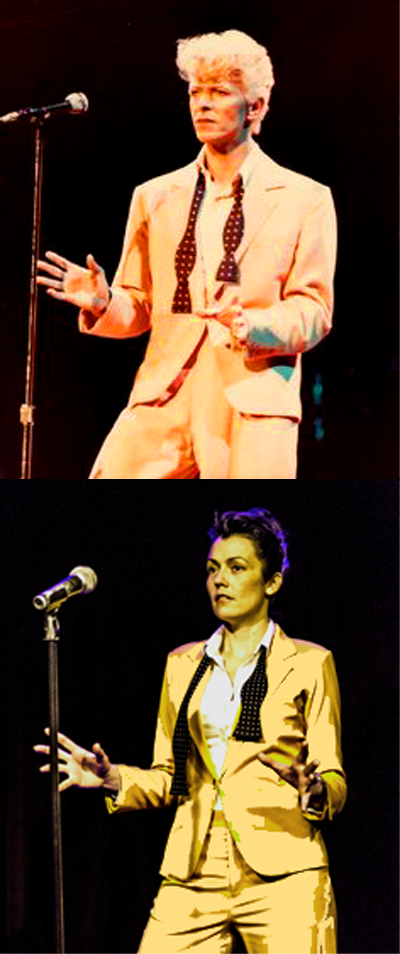 Obviously that's a goof on the Bowie tour (the Serious Moonlight tour) in the '80s. I'm 40, so my Bowie is '80s Bowie. Because, whenever you were a kid, that's who your Bowie was, you know? That was my dude, the "Modern Love" dude in that yellow suit. That was the most baller-ass look ever when I was a kid, like this guy's the coolest guy of all time.
When he died, I, now that I'm an adult with adult money, called this tailor that I know and asked, can you make me a suit? I just sent her a link to the "Modern Love" video. Can you just make me this exact yellow suit?
And she did, and I just wear it. I wear it normally. I've worn it to the movies, and people are like whoa, holy shit, and I'm like that's right, don't worry about it, exact replica of the "Modern Love" video.  
Originally, when I was going to do an album, I was going to call it "Trivial Moonlight," and then I was going to goof on the cover of the "Modern Love" single. But then it became this tour.
What a long-winded way to answer the question.
I wanted to ask whether it was a real suit. The tour photo looked to me like it might have been photoshopped, but I couldn't tell.
My friend took those pictures. I looked up pictures from the Serious Moonlight tour and specific poses where I did the same thing, so he helped me do that. It's real dude. I put my hair up in a fake pompadour as best I could and put on my Bowie suit and copied his poses.
I love it when people do that. Genuinely, I get excited when people do things like that and I can tell. Something is so satisfying about completely being able to recreate someone else's idea.
You're spending the whole summer driving around. What are you listening to in the car? Did you pick out stuff before you left?
I can answer this probably with three answers. First of all, people send me mixtapes to my P.O. box all the time.
CDs. I still have a CD player in my car, so people send me hand-made mix CDs with handmade tracklists. The dream of the '90s lives in my car. I have a whole Tupperware of those in my car. So I've been listening to mixtapes strangers have made me, I just have an iPod that's permanently in my car, a really old first-generation iPod that's loaded that just stays on shuffle.
Then I change it up with podcasts, and I can tell you right now I've been listening to "Cocaine and Rhinestones," it's a podcast about old country music and it totally rules. It's truly amazing.
So that, "The Dollop," which is my number-one traveling-around podcast, and...
(To someone else) Do we have to leave?
I'm sorry Peter, I'm going to have to go in two seconds. We're all leaving to go to Paisley Park right now.
What's the other podcast?
"You Must Remember This."