Stars began popping into view as the sun's light faded from Missoula on the summer solstice. This left the lot behind Free Cycles dark, but the lack of light wouldn't last long.
Shane Morgan, wearing a leather coat, apron and chaps, a hardhat (in silver, with maroon Griz logo) and goggles on his head, lifted a large metal spike and sledgehammer toward the spigot of a tall oven, burning between 2,000 and 3,000 degrees.
A handful of other leather-clad artists (yes, this is art) scrambled around him to get in place, two holding a ceramic bucket suspended on long handles, others ready with shovels.
Morgan placed the spike into the spigot, lifted the hammer, and with one, two, three, four taps, molten iron poured forth, a hellacious froth of the brightest orange that ran into the bucket and on the ground, sending sparks everywhere.
The artists and watching crowd cheered and clapped in the daylight glow.
"Happy summer solstice!" cried lead artist Jesse Blumenthal.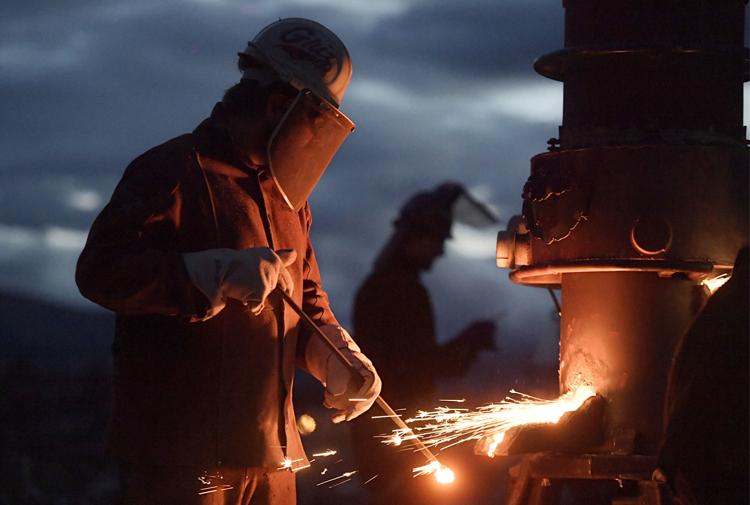 Business as usual for iron artists.
Around a decade ago, Blumenthal started working in cast iron in Maine in small foundry workshops, where he found jobs due to his metalworking background. His interest in cast iron grew, taking him to Minnesota and Crested Butte, Colorado, where he started an informal group of iron artists, who would put on event-ized pours like the one described above.
"That was the first time I saw the community aspect," Blumenthal said. "That really inspired me."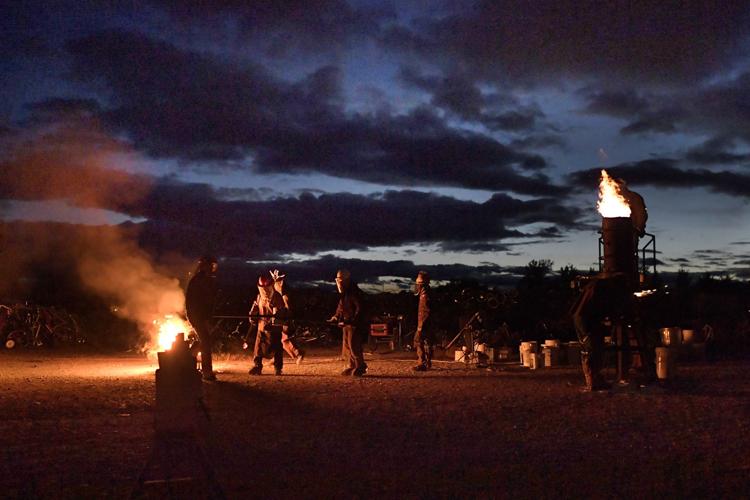 Blumenthal makes most of these moves centered on his fascination with metal.
"Iron in particular," he said. "Working in metal and working increasingly in blacksmithing, I saw the potential in the plasticity of metal."
The "transformation aspect" still awes Blumenthal.
Though iron is quick to grab people's interest, it's not a particularly easy medium to get into. Rather than go to the art supply store and pick up paints, one has to have a large amount of scrap metal, some way to melt it down, a mold to pour it into, and enough friends to help with the work.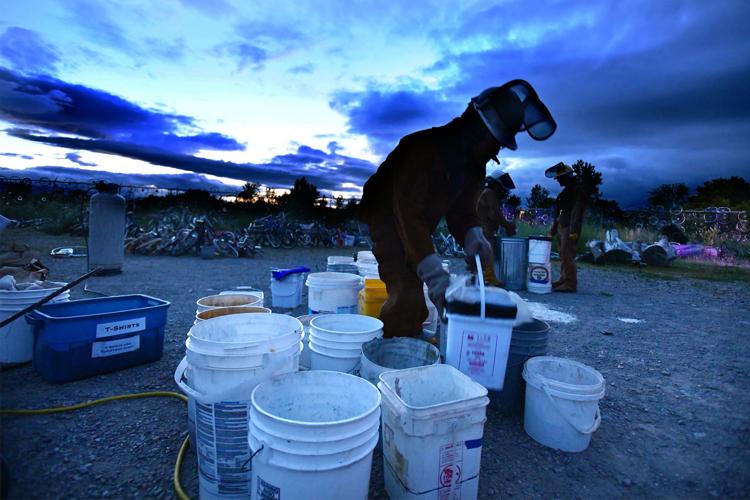 So sprung up the idea of iron pours as events, where Blumenthal would invite everyone he knew to a pour, invite people in town to come watch, and raise some money to fund the art.
Artists from Oklahoma, Washington and Colorado came to Missoula for the solstice pour.
"Travelling is part of the culture," Blumenthal said. "There's only a few dozen people, really."
These few dozen artists have bought into the idea that iron pours – which are increasingly unfunded by art schools, due to the high cost of upkeep – have a place in communities, as a way to help people make their own art and for performance value.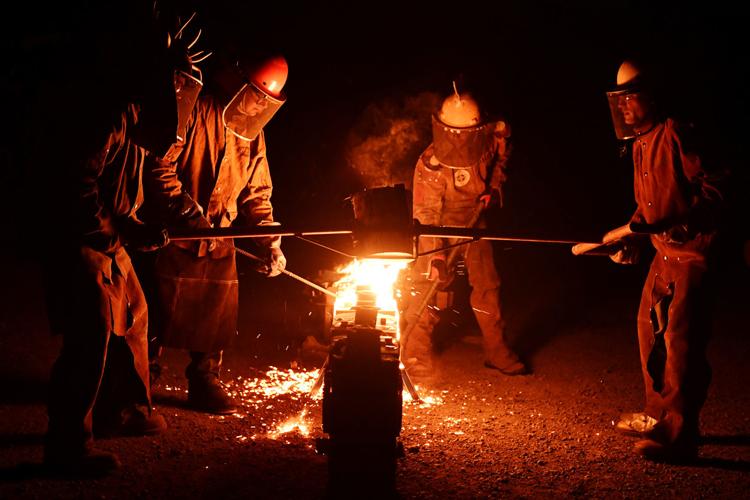 But it is dangerous – spectators at Free Cycles are cordoned off about 20 feet away from the oven and artists are required to have the full leather getup, covered from head to toe in non-combustible material. (That includes heat-resistant helmets. "I have seen people melt their hard hats," Blumenthal said.)
Iron, however, is not necessarily more dangerous than other metals (like aluminum or steel), Blumenthal explained. Since iron reacts so strongly to moisture, it can be less harmful if it hits a patch of bare skin.
"The water in you boils, and steams and rolls the iron off," Blumenthal said. "So iron's actually a bit safer than aluminum, cause aluminum sticks."
You have free articles remaining.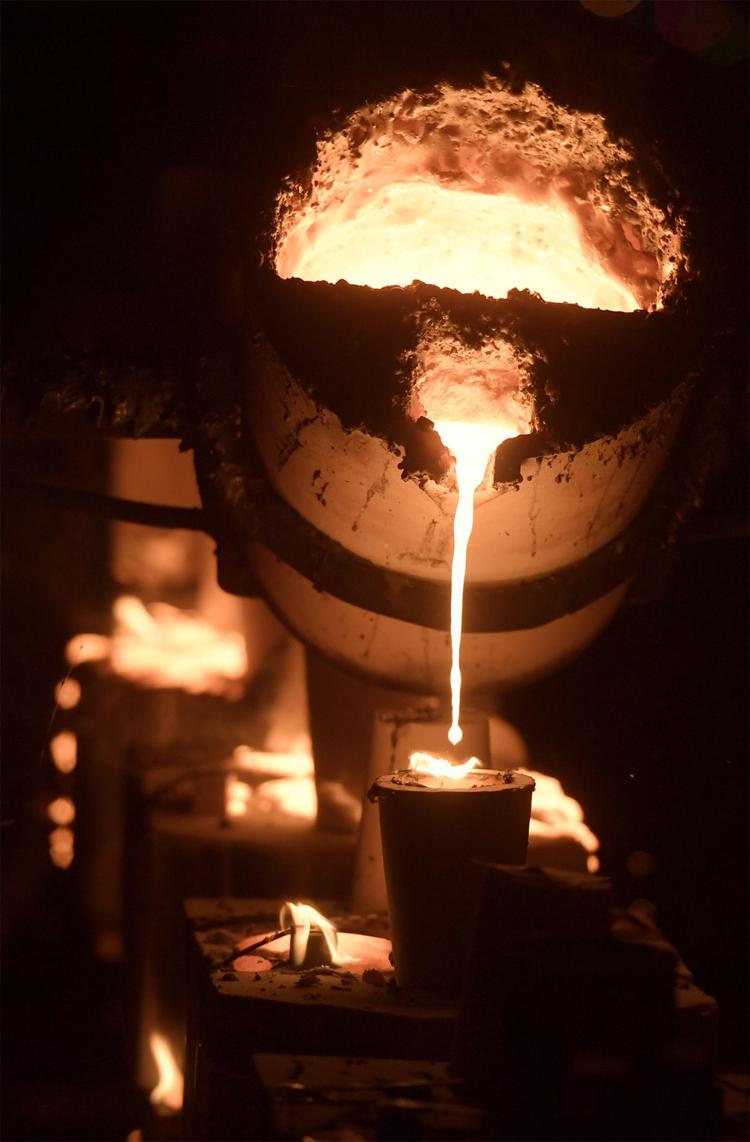 So iron pours, while not the most dangerous, are still plenty risky, requiring a clear hierarchy among the 6 to 12 artists working. One mans the oven, one taps the spigot. Two carry the "ladle" (that ceramic bucket that catches the iron) and a handful shovel dirt over stray bits of molten iron. One is the leader – that was Blumenthal on the summer solstice.
"It requires a different kind of awareness."
Now for an explainer of the iron pour process:
The night centers on the coke oven, a large tube oven that is fed from the top and tapped from the spigot at the base, which sits around four feet off the ground. Stairs are required to reach the open top of the 10-foot-tall oven.
Grant Boston, with motorcycle-gang-style patches on the back of his leathers reading "Hot Stuff" and "You Can't Make Sculpture Sitting Down," stood at the top of the stairs for hours, taking buckets of coal (or "coke") and scrap iron and feeding them into the oven.
By the way, the oven was named the "Coke-y Monster" – "cause it eats coke."
The oven burns around 2,700 degrees, and it's controlled by pokers jammed into holes above the spigot.
"It's just feeding oxygen to the beast," Blumenthal said.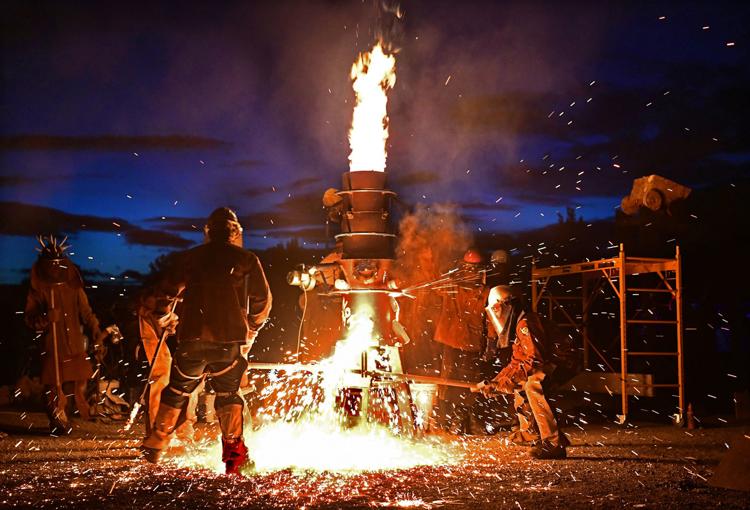 The scrap iron is broken-up iron radiators donated by Home Resource and smashed by hand into chip-sized pieces.
Dozens of molds are lined up on benches, ready to be filled with iron. Most are by the artists working the iron pour, but a handful are from attendees, who could pay $20 for a mold to carve themselves before the event.
Rob McKirdie and LX Aguirre worked the ladle, each taking one end of the long poles that held the ceramic bucket, which holds around 50 pounds of melted iron at a time.
They had to blast the ladle with heat before pouring iron into it to clear the ceramic of any moisture and prepare it for the shock of molten metal.
The two moved slowly with the ladle, carefully pouring into molds at Blumenthal's direction.
"You've got to keep everything level," McKirdie said. "If you see iron coming out of your vents, you know it's filled."
After a half-dozen taps, filled ladles, and poured molds, the real show begins.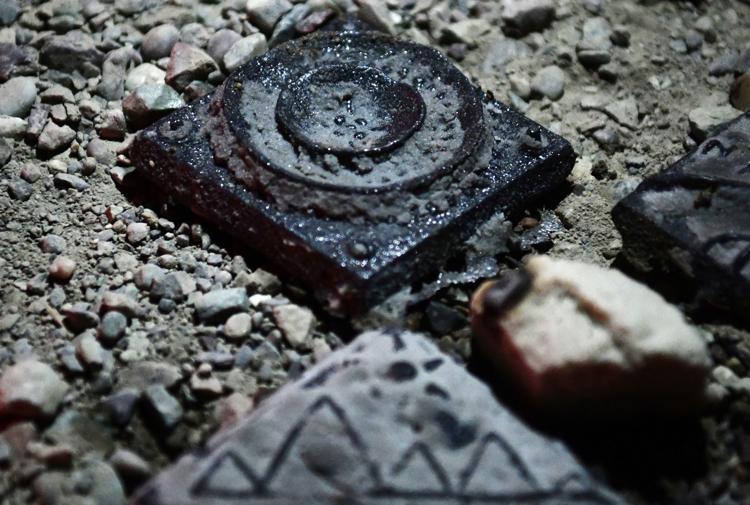 The summer solstice pour featured three performances. One sent an iron-filled mine cart down a ramp, crashing and spraying hot metal everywhere.
A demonstration of Da Shuhua, an ancient form of fireworks, was next, with artists using a long spoon to fling iron at a wall, sending showers of sparks into the night.
Then, finally, artists poured iron onto a spinning wheel angled to fling sparks across the Free Cycles lot.
"A lot of people don't like to throw it around," Blumenthal said. "Because of all the work that goes into it."
But the performances are often what get people into iron casting, drawn in by the awe-inspiring sight of liquid metal pouring, flying and sparking.
"The spectacle of it doesn't need to be ignored," Blumenthal said. "Don't downplay its power."