WHITEFISH — Bones Owens, in his skinny white jeans, baggy T-shirt, western boots and cowboy hat, is a poster child for 2019 Nashville if there ever was one. Sleeves full of tattoos, Owens sings a modern mix of country, rock, alternative and roots music. On Sunday, he stood outside the Aloha Cowboy tiki bar at Under the Big Sky Festival, taking selfies with kids and signing freshly purchased cowboy hats.
He would soon walk over to a grassy corner of the festival grounds to record a video interview with the festival's public relations team, along with Kalispell singer-songwriter Mike Murray.
People streamed past, on their way to the merch barn, or one of the two barn bars (these were the only three barns). A woman stopped to ask if Owens was someone she should know.
Some 15,000 people came to the first year of Under the Big Sky, a music festival put on at Big Mountain Ranch outside Whitefish. The ranch's owner, Johnny Shockey, promotes large-scale music events in California and was inspired to put on a festival on his own property, with the help of other Los Angeles-based companies.
Tickets for the festival ranged from $99-129 for general admission and $250-275 for VIPs.
Alastair Duncan, director of Infamous PR, said Shockey wanted a festival that would benefit his part-time home of Whitefish, by filling hotels, bars and restaurants, and employing locals — "to do it in a way where everyone is comfortable and has an amazing time, and the artists enjoy it," Duncan said. "And the community isn't  (negatively) affected."
Organizers planned for around 15,000 attendees, Duncan said, though it wasn't sold out, per se.
"The site could accommodate more, but that was what we felt comfortable with."
As well, around 400 people were employed from the area, and there were a large number of volunteers (he didn't have an exact figure).
Duncan said they would analyze the event in the next few weeks before making a firm decision, but hoped it would become an annual event.
For us Montanans, 15,000 probably felt like plenty. The festival was on 10 acres, with two stages at opposite ends of the site, separated by paved walking paths and plenty of food vendors, a few shaded seats and bars.
The Big Mountain stage sat at the bottom of a steep, grassy hill on the opposite side of a small stream, making for an especially idyllic spot as the sun went down over the huge farm fields. The Great Northern stage had more of a generic festival feel, but the organizers smartly countered this by leaving the back of the stage wide open, instead of hanging a banner or video screen behind the artists. Those clouds, swaying pines and distant mountaintops were the ideal backdrop.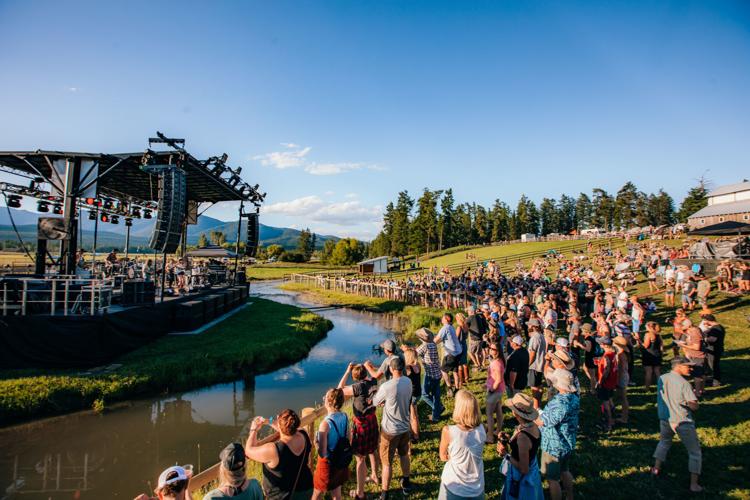 The experience itself varied from idyllic to somewhat strange and confusing. There was a curious lack of signage, aside from arrows tacked onto trees between each stage. Neither stage was labeled, and the only posted schedule of bands was on the main screens next to the Great Northern stage.
Unless an attendee visited the festival's Facebook page and took a screenshot of a map posted several days earlier, it was impossible to know exactly what was where, and what it was called (except for the bars. Those were very well-marked).
Other little things: Montana's notoriously awful cell service got even worse with all of those 15,000 people trying to use LTE in the same spot. This made it even harder to find info about the festival from their website.
The one completely reasonable thing, weirdly, was the price of alcohol, which, at $6-$9 for beer and $7-$12 for liquor and cocktails, was right in line with prices at The Wilma.
You have free articles remaining.
There were also beautiful moments, watching artists play the Big Mountain stage as the sun set behind them, casting golden-hour light onto the hay fields and stream that trickled past the stage.
A train horn interrupted Jenny Lewis as she paused for dramatic effect during the middle of her set, making her break into laughter along with the crowd.
And Under the Big Sky's main stage presented the oh-so-rare opportunity to feel one with thousands of other people during a good concert.
All of these things added up to make Under the Big Sky feel simultaneously grandiose and imperfect.
If you've been to Whitefish, you would immediately recognize the vibe of Under the Big Sky — a sort of purpose-built version of Montana that decorates your aunt's cabin. To some it may feel exploitative, but it's really the inevitability of a Montana with more opportunity. For every Red Ants Pants, there's going to be a nicer, hipper option more attractive to those who've heard of Glacier National Park, but have never been, who get to tell their friends yes they did ride horses in Montana ($30 for 30 minutes, courtesy of Swann Outfitters) and yes, people do wear cowboy hats there.
It is the natural defense of the native to say that this version of Montana doesn't represent who we are. In fact, it does; it's just a specific version of Montana that is being shared. If you don't like it, stay away, but the beer costs just as much, the scenery was just as pretty and there were enough shirtless rednecks to prove that this is still Montana, despite the star-spangled cowboy hat vendors (or perhaps because of, I can't say).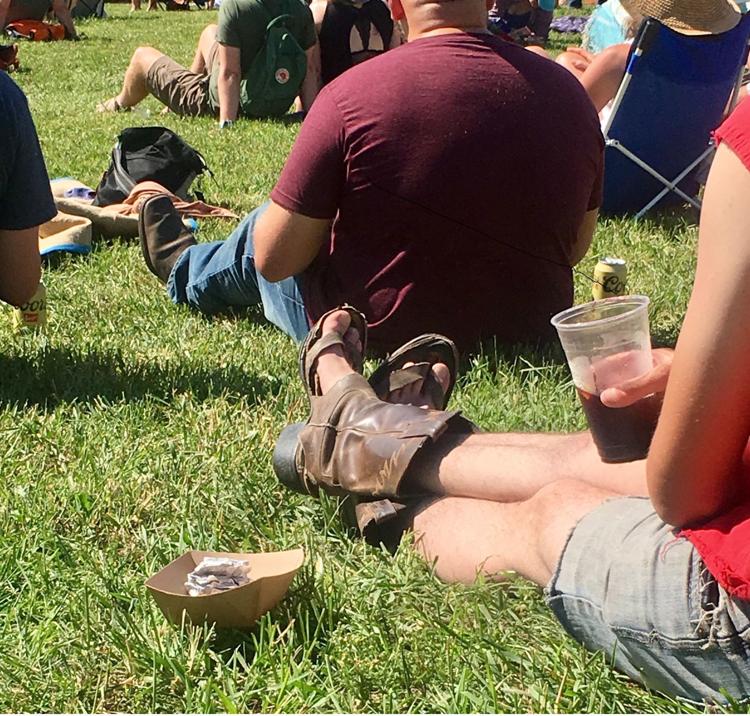 This dichotomy was really all summed up best by the rodeo announcer, who took a half-hour four times per day to announce and explain bull and bronc riding.
The rodeo is a dangerous sport, he said, so we gotta pray for our riders before we start. So he led a prayer for the couple-thousand spectators, making sure to thank the troops first.
Welcome to Montana, check out the farm animal petting zoo behind the bar.
It is inaccurate to believe everyone at the festival was an outsider. Shockey and his team deftly walked a line between appealing to those who wanted to visit Montana, and appealing to those already here, who would recognize artificiality.
Five of the 28 groups were all from northwest Montana, including the Lil Smokies, Cara Alboucq, the Bad Larrys, Jameson & the Sordid Seeds and Mike Murray.
A friend's mother recognized each of these bands immediately, remembering seeing them in various bars and venues around Whitefish and Kalispell. Murray said he loved seeing the same faces at the festival he sees at the grocery store, as well as meeting new people who hadn't heard him.
Murray, who was following up Bones Owens for video interviews, thought the organizer's care for the community was genuine.
"I never got the feel from the festival that it was a favor for the locals, they wanted to include some locals in this," Murray said. "I think the thing that was really cool was imagining playing a large-scale event like this and it feels a little abstract. Then once we got on stage, I looked out and saw a lot of the same faces that were at a lot of my small gigs around town. And it was grounding. They were excited to see us have that scale and that opportunity."
Let's see if they'll be back next year.