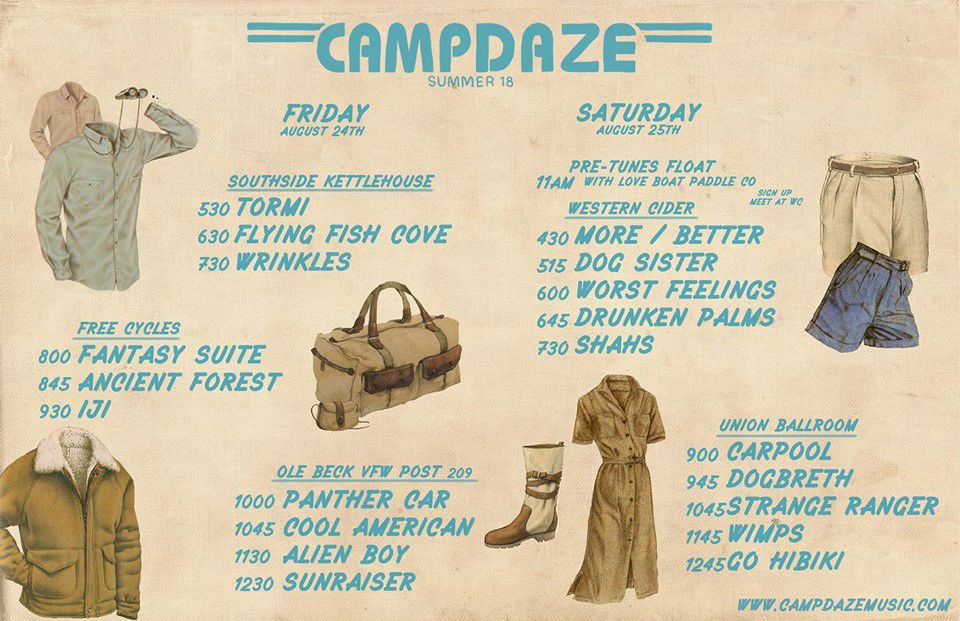 After five years, the local alternative music festival Camp Daze is hanging it up.
"Potentially, probably," said Nick Hawksley, one-quarter of the team that puts Camp Daze together.
"I think we're all feeling a little burnt out," he explained. "We all just feel like we want to do other projects."
Hawksley, along with Foster Caffrey, Kale Huseby and Andrea Wyman started the festival small, but it quickly grew, with some 50 bands by the 2016 and 2017 iterations, over four days.
That continual growth put pressure on the local organizers, Hawksley said.
"It's gotten progressively more intense," he said. "That's become really stressful."
So this year, their last, they cut it down to (just) 20 bands over two days (Aug. 24 and 25), and invited some old friends back for a final hurrah.
The festival's official Facebook page is full of emotional write-ups of band announcements, either welcoming new groups or bidding a celebratory goodbye to old standbys like Dogbreth, Go Hibiki, Strange Ranger (formerly Sioux Falls) and Sunraiser.
"Struggling to know where to even begin with this post!" begins the Dogbreth announcement, which ends, "new friends become old friends with time. yeah, we love dogbreth."
Sunraiser, a Missoula staple, will play their final show at Camp Daze V, while Go Hibiki's Saturday night set will act as album release party for their new record "At Home in the Dark World."
The friendship and emotional attachment to the groups that come through Camp Daze is part of the experience; Hawksley said they started the festival by just inviting friends with bands, which grew to include more and more people over the years.
Establishing that network is one of Hawksley's proudest accomplishments with the festival.
"It's mostly remained a community-focused thing," he said, adding many bands have met and befriended each other through Camp Daze. "They continue to communicate with each other and that's cool to see."
Hawksley's other goal — for "people that we book to think that Missoula's cool and come back" — has been fulfilled as well, and he's open to booking one-off shows in the future for bands interested in returning (there's already a Camp Daze show set for Sep. 4 featuring LVL UP).
He likened it to a relationship:
"When you love somebody, and you know it's not that good right now, you've got to give it some space," Hawksley said. "We want to want to do it. We don't want it to be a chore."
But there's still one Camp Daze left, and it's set to be on par with all the others, with shows booked at Free Cycles, Western Cider, the Union Ballroom, the VFW and Southside KettleHouse.
The KettleHouse and cidery shows, which start at 5:30 p.m. and 4:30 p.m. respectively, will be outdoors and free; Hawksley's hoping to catch some back-to-school and River City Roots Festival traffic. The other shows will be $10 apiece, or $25 for a weekend pass.
"Because there's going to be a bunch of people downtown that'll help us," he predicted. "I think we will benefit from having a larger crowd around."
Both the outdoor shows will mark the first time Camp Daze has held concerts at KettleHouse or the cidery, but it's in the latest in a line of non-traditional spaces to host the festival.
Just off the top of his head, Hawksley knew they'd held shows at the Zootown Arts Community Center, Badlander, the Palace and Betty's Divine. A check with the records shows concerts were held at Zootown Brew and the Northside/Westside Block party in the last couple of years as well.
"It's always bounced around," he said. "The alternative space is always fun."
It has over time, woven itself into the fabric of the festival, but it's never been easy — Hawksley said alt venues were used out of necessity, and require them to rent PA systems and hire (or wrangle volunteers) to work the sound board.
"Free Cycles, I think is one of the best places in town to see a show," he said. "I just think it's a bummer that there's not a good small rock club."
Stay up-to-date on what's happening
Receive the latest in local entertainment news in your inbox weekly!