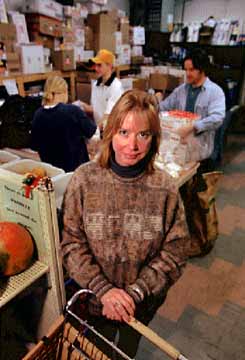 New Missoula Food Bank director
Of the 60-some people who each wanted to be the new director of the Missoula Food Bank, 50 were highly qualified, 10 were enormously qualified and one was a perfect fit: Cynthia Roney, recently of the north shore of Lake Tahoe, Calif., now of Potomac.
So says Food Bank board president John Engen, who will welcome Roney officially at a reception Dec. 30 just as he and the staff say goodbye and good luck to Bill Carey, who has had the job for a decade.
"She reminds me of Bill," Engen said of Roney. "There's no pretense. There's no self-righteousness. The job is to help people who are hungry. Period."
Roney directed the Lake Tahoe area's Project MANA - Making Available Nutrition Accessible - which fed 9,229 people in more than 2,000 households last year. One might not think a high-rolling resort atmosphere like Tahoe's would include hunger.
"It's a sociological fact that where there's affluence there will also be a need for hunger relief," she said. "There is a great deal of affluence there. But there's a lot of working poor families, and there's no affordable housing."
Missoula and Tahoe have an unnerving number of parallels, said Engen and Roney: a growing segment of wealthy people, an economy increasingly based on service jobs for the rest of the people, escalating housing costs - and a need for hunger relief.
The Missoula Food Bank distributes food to more than 26,000 people each year, most of them working families who don't earn enough to keep food on the table through the month. During Carey's 10 years at its head, the Food Bank grew into one of Montana's most prosperous, with 70 volunteers, a board of 21 and an enormously popular Holiday Food Drive that last year raised $72,000 and 64,000 pounds of food.
Carey, who leaves to begin a six-year term as a Missoula County commissioner, has a growing sense of the links among social issues and the consequences of growth. He sees the need for the Food Bank to broaden its approaches to easing hunger.
"We rely heavily on this Holiday Food Drive," Carey said. "I think one of things to look at is how to expand our base."
Roney lived in the Tahoe area - in a town called Incline Village - for eight years. Before that, she lived in Los Angeles for eight years. She is originally from Connecticut and has worked for Big Brothers and Big Sisters organizations, United Way and Special Olympics. She earned degrees in sociology and community psychology.
Roney and her husband visited Montana on vacation and, she said, fell in love with it while driving up the Blackfoot River at sunset.
"I just knew this was the place I was supposed to be," she said. "My husband and I wanted to leave the resort-based type of life, so we came here and bought 40 acres and a house and a barn."