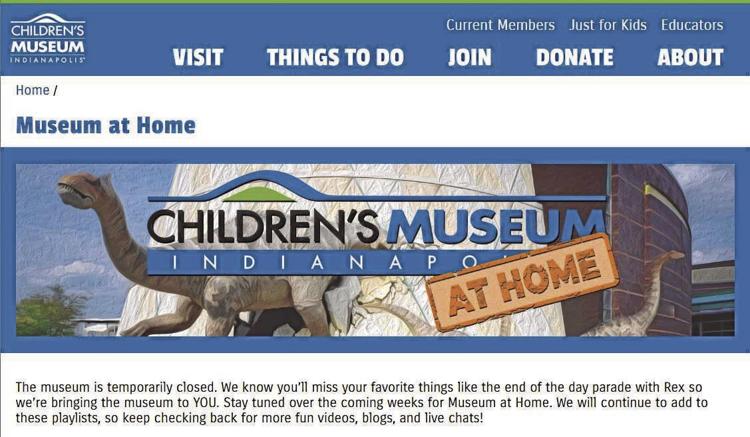 The Children's Museum of Indianapolis, the world's largest children's museum (www.childrensmuseum.org), continues its outstanding Museum at Home programming that includes an array of engaging and action-oriented skill- and knowledge-building fun: one-minute exhibit tours, science experiments, physical-fitness workouts, storytime – even demos on curating collections from backyard discoveries and junk drawer treasures.
"Learning how some trees are alike and some are different by collecting and arranging their leaves and needles by color, shape and texture can teach observation and verbal skills," said Chris Carron, director of collections. "A walk along a creek bed can turn into an expedition to add to a fossil collection, and researching the subjects on postage stamps can provide topics for discussion and reading about history and geography."
A look at the landing page on the museum's specially created Museum at Home website (www.childrensmuseum.org/museum-at-home) shows an array of clickable content. Enter the DIY science portal, and learn how to make monster balloons and rainbow unicorn slime and conduct at-home science-in-action experiments about germs (with glitter standing in for microbes) or fossilization (using cupcakes).
Set up a bowling alley, play trashcan basketball and host an alien invasion – all at home – with the museum's Sports Legends Experience coaches. Slip into a world of miniature masterpieces or one of giant prehistoric beasts, one that reaches back in time or another that zooms into the future on a Museum in Minutes tour.
"Through these DIY science experiment videos, families can see what life was like in the Cretaceous for the animals living there and step into the role of archaeologist and explorer," said Jennifer Pace Robinson, vice president of family learning and experience development.
Each Museum at Home category includes an ever-expanding playlist of topics families can explore together. Keep an eye on the website for updated activities and virtual events.
Be the first to know
Get local news delivered to your inbox!