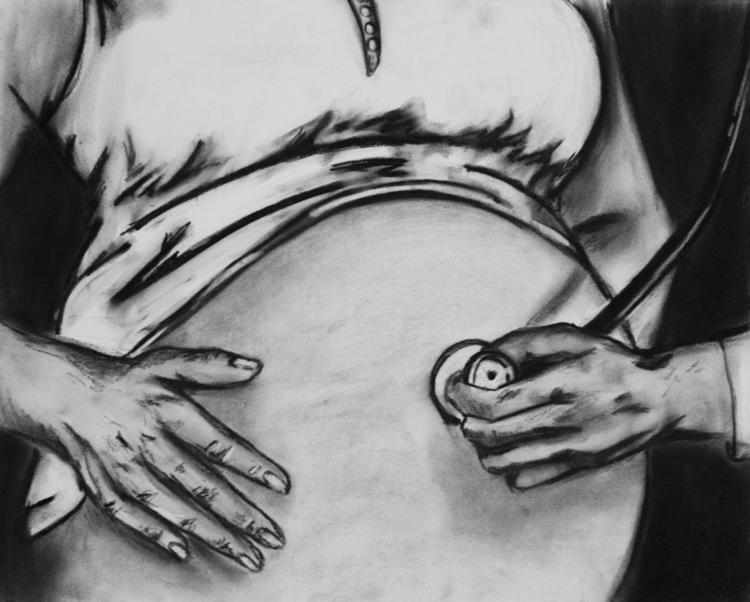 When she learned she was pregnant, Leekynne Snelson had no money left for food, bought enough heroin to keep withdrawals at bay and was couch-surfing in Olympia, Washington, because she had nowhere to live.
In the fall of 2016, she walked the supermarket deli aisle, high, searching for sandwiches, bottled water — anything she could stuff in her purse. As she left the store, she knew she needed help.
Snelson, then 27, had been using heroin for two years. Her partner, Jantzen Redle, had been addicted to pills and heroin for a decade.
But Snelson's story is different from those of so many expecting mothers addicted to opioids. Her baby didn't go through weeks of painful withdrawals. She didn't lose her child to foster care. And four months after the birth, Snelson and Redle have not gone back to using drugs.
Snelson attributes her success to Kalispell Regional Medical Center, where she gave birth after moving with Redle to Lakeside, Montana, where her mother lives.
"We just sort of came here not knowing they were that good of a program, and it was a blessing in disguise," Snelson said.
In 2014, Kalispell Regional began an innovative program that aimed to reinvent how its doctors care for pregnant women who use drugs. Over three years, the hospital tore down silos that previously separated maternal care from addiction treatment and social services, so patients received the care and services they needed in one place.
And there is a new commitment among staff to focus on drug-addicted women as patients, without judging their character.
The hospital hopes to soon take it a step further when it completes construction of a new neonatal intensive care unit, or NICU, that will give some women private rooms with their infants.
The changes are not radical, and have been used by hospitals in other states, but they have been implemented more thoroughly in Kalispell than anywhere else in Montana.
The program has been widely successful. Foster care placement of children born at the hospital declined nearly 70 percent, according to hospital statistics, and the average length of stay for drug-exposed babies in the NICU dropped by 11 days, or more than half, from 2014 to 2016, radically reducing bills typically paid by the state through Medicaid.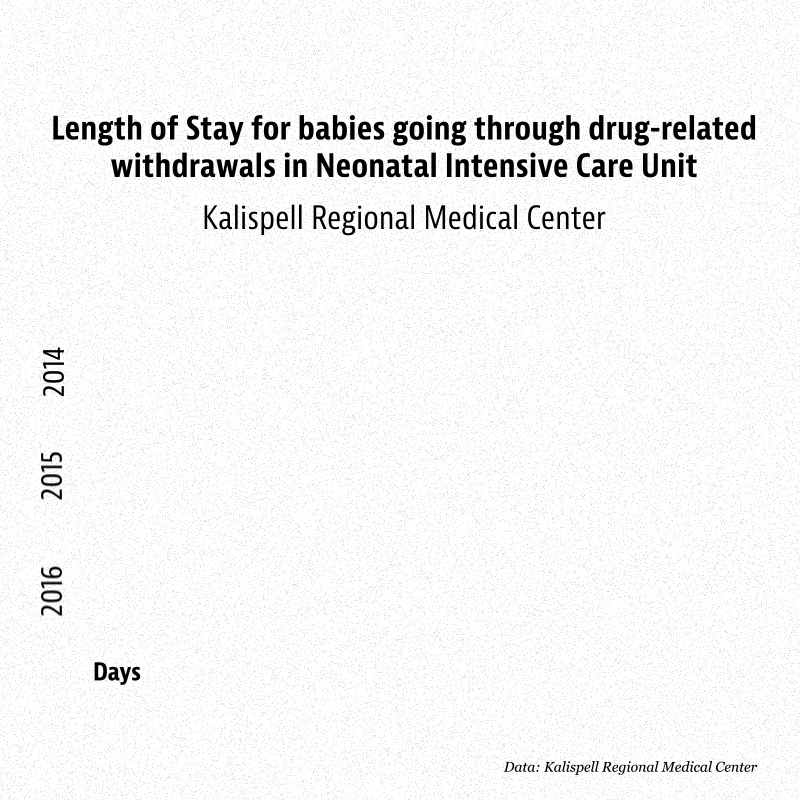 The program comes at little to no cost to the hospital, and neonatologists in Kalispell have been urging other medical centers in the state to try their methods.
Aside from the unique coordinated care Kalispell Regional offers pregnant women, the most effective change may be an attitude shift in how staff members approach women with addictions.
Neonatologist Dr. Mark Kaneta, who helped develop the program, said a 2014 presentation on addiction by Robert Sherrick, a doctor at a nearby methadone clinic, changed his attitude toward pregnant women addicted to opioids.
Learning how severely drugs impact the brain's chemistry was revelatory, Kaneta said. That knowledge helped him and others at the hospital treat their patients with acceptance and compassion rather than blame.
"Being nice, caring — that transcends everything," he said.
Dr. Stephen Kandall, a pediatrician who coordinated with the nation's earliest methadone clinic to conduct the first trials on pregnant women in the 1970s, is not surprised many doctors are just now learning precisely how addiction works.
"Physicians are getting little to no training on addiction, and they may not be getting the best information," the researcher and textbook author said. "There's a tremendous amount of misinformation, largely fueled by the press. It still feeds into this anger toward these patients: They're using up resources, no good to society, they don't deserve treatment."
Before the new program, Kaneta said it was common for women to avoid the hospital until delivery because they were afraid of how they would be treated, sometimes based on the experience of past pregnancies. After the children and mothers went home, contact usually stopped. As a result, many babies were going to foster care, and women dropped out of substance use treatment.
Now, the hospital works to address newborn needs while also caring for the health of their parents, from the beginning of the pregnancy to long after the birth. Pregnancy and NICU stays are prime opportunities to build trust with a captive audience, Kaneta said, and research shows that the first year after delivery is a critical time to stabilize mothers.
During prenatal care, the hospital focuses on placing women on medication-assisted treatment, which reduces cravings and helps prevent the withdrawals that can be risky for the fetus.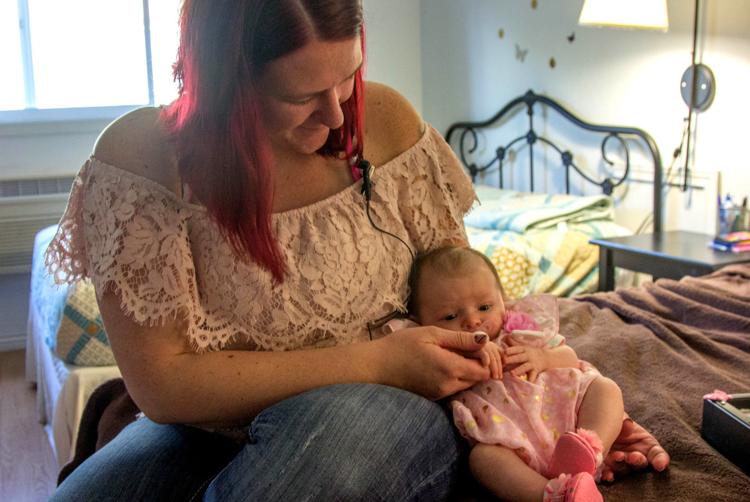 When Snelson walked into the emergency room almost 7 months pregnant, she spent about $50 a day to buy half a gram of heroin.
She had grown up with an addicted relative, and Snelson judged her harshly for it. Now, that anger was directed at herself. Snelson said she wanted to do the right thing for her unborn child, but she was afraid the doctors would confirm what she already thought: She was a bad mother.
At the ER, Snelson met Jessie Blanc, a social worker who praised Snelson for coming to the hospital. Blanc told Snelson she was doing the best thing for her child and that she was not a bad person.  Suddenly, the hospital became less scary.
"She knew exactly what to say to make it feel like everything was going to be OK," Snelson said.
Kaneta said the general idea is to motivate women and their partners to see themselves as good parents with an important role in their child's care rather than drug-using failures who should stay out of the way. The more women identify as mothers, the easier it becomes for them to rebuild their lives and push through the challenges of recovery, he said.
In the past, Child and Family Services case workers faulted mothers who spent little time in the NICU. Kaneta said he understands now that was, in part, the fault of doctors, who offered women few examples of what they could be doing to help their children.
Earlier this year, Kaneta presented the program's early results at the Montana Perinatal Conference, in the hopes of inspiring other hospitals to follow.  
Only a few have adopted pieces of the program, he said. None has implemented the full strategy.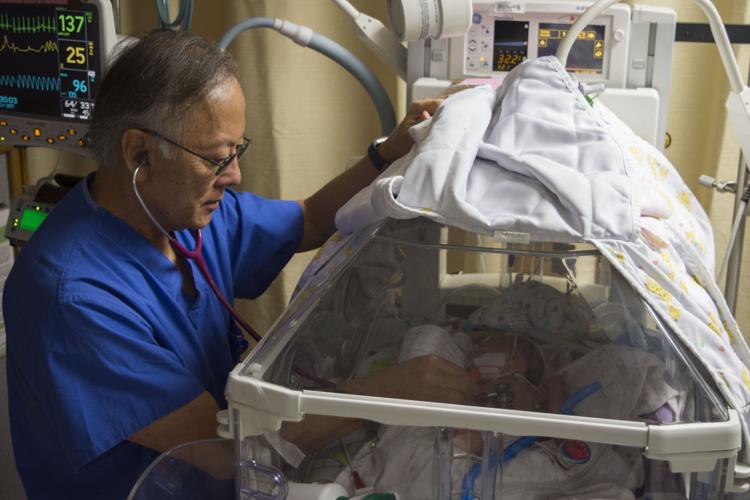 Yet, Kaneta remains hopeful, as the Montana Healthcare Foundation, a nonprofit dedicated to improving quality of care in the state, is also spreading the word about the program.
On a recent afternoon in their apartment at a Columbia Falls campground and motel where Snelson and Redle live with their baby girl, Snelson talked about the importance of the Kalispell program.
When her daughter was born, the infant went through withdrawal from the Subutex prescribed to treat Snelson's addiction. But the baby's stay was one of the the shortest of any child in the program to date, in large part her doctors say, because her parents visited her every few hours, holding her close, reading or talking to her.
In the months since the birth, Snelson and Redle have bought a car, and Snelson cares for her daughter while Redle earns a steady paycheck working for a fencing company.
Snelson and Redle have not relapsed into drug use. Their baby is healthy and has just started lifting her head and smiling.
"I feel like most hospitals should have some kind of program like what they have here at the Kalispell Regional (Hospital)," Redle said. "Because it just made everything so much less scary."