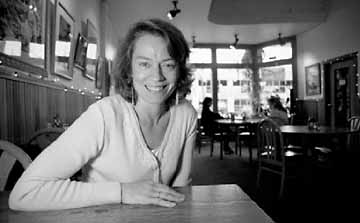 Downtown stalwart Mammyth Bakery Cafe closing at end of the month landmarkAfter 19 years as an anchor for the downtown Missoula lunch crowd, Mammyth Bakery Cafe will close at the end of December.
But don't be sad, says proprietor Kim Lugthart. Just think of it as a new chapter.
And come in for lunch - and a truffle - this month to celebrate "all the days of Mammyth."
"I have come to this decision," Lugthart said in an interview. "And I am now ready to spend the next month celebrating my history."
"There is a process of honoring what has been," she said. "It's sort of a composting. I want to offer Missoula a month of knowing this and coming in to celebrate this with us."
The closing of Mammyth's restaurant is the result of Lugthart's pending divorce from Jim "Bates" Kuethe, requiring a division of the family's assets.
"We don't have money, we have property," said Lugthart, who has returned to her maiden name, which means "light heart" in German. "So I'm going to sell the building."
She reached the decision, she said, last weekend. It was sparked by her wish to keep and run the other two pieces of the business - the wholesale bakery, a long-time component, and the Mammyth Bakery Cafe Catering, which Lugthart began three years ago. The restaurant alone is not profitable enough, especially for a new owner with a mortgage on the building, to stand alone.
"I have to say, 'OK, what's the need?' " she said. "It's the catering. The cafe, sometimes it's good, sometimes it's horrible."
The strengths and weaknesses of the business are part of evolution, too, Lugthart said. When Mammyth moved to 131 W. Main St. in December 1979, it had a corner on lunch downtown.
"Even as recently as 10 years ago," Lugthart said, "if you worked downtown and you wanted to go out to lunch, you had to walk at least two blocks. Now, you can stand in one place and look and you have four choices."
The age of specialization has also brought change to the downtown food-and-beverage scene. At its start downtown, Mammyth could cover all the specialty-food bases - whole foods, organic-whole-grain breads, good coffee. Today, a number of small bakeries compete, and the rise of the espresso shop has meant that no one has a coffee monopoly. The niche is the thing, and Lugthart sees one niche in catering and another in the wholesale bakery. Her business at Southgate Mall, Cafe Dolce, which she runs with partner Peter Lambros, has a good foothold on the courtyard near Herberger's. It will be the only outlet for all the baked goods and sweets - including the beloved truffles - once Mammyth's storefront is gone Jan. 1.
Mammyth's beginnings were humble ones that saw Susan Printz (now Susan Stampley, a Missoula acupuncturist) selling bagels out of a hole in the wall on Ryman Street to Freddy's Feed & Read, the Good Food Store (then downtown), on the steps of university buildings and even out of a basket at the old Eddy's Club tavern on North Higgins Avenue in 1975.
The next year, the business found a new place in the Warehouse Mall on West Alder Street. Kim Lugthart celebrated her 20th birthday in February 1977 with several days with a friend at Elkhorn Hot Springs. They were the only guests, and they spent mornings in the Elkhorn kitchen baking cinnamon rolls and the like with caretaker Ernie Harvey (today a partner in Lifeline Farm in the Bitterroot). Lugthart loved to bake, and Harvey encouraged her to talk to Stampley, who was looking for a pastry chef.
"Susan Printz, she hired me right now. Like right now. 'Put an apron on,' " Lugthart remembers.
"She was totally my mentor. We had such a great time. I felt like a little kid baking. We just used bigger measuring cups."
The two became business partners and moved to West Main Street in December 1979, as a full-blown cafe. Stampley left for other things two years later.
"I'm feeling sad about it," she said of Mammyth's closing. " I don't feel emotionally attached anymore. But in the context of the days when it started, and some of the small businesses that were owner-operated and really visionary and community-spirited, it's a loss."
one of its lowest moments, in the wake of the opening of Southgate Mall in August 1978.
"There was really a huge sucking sound downtown, and it was people leaving the area," said Geoff Badenoch, director of the Missoula Redevelopment Agency.
But that set the area up as a haven for small, new businesses that needed cheap rents.
"It was the only place the start-up, young entrepreneur could go," Badenoch said.
The place and time gave a start to such business people as Bob and Nick Zimorino of Red Pies Over Montana and Scott Sproull of Hide & Sole.
"These were young, energetic people, many of whom borrowed money from family to get started," Badenoch said. "I like to think of them as ex-hippies. They've all kind of gone from being the post-hippie era to being the mainstream business people."
That era still characterizes downtown Missoula, he said."People like downtown because of the energy of people like Kim," he said.
Lugthart, Bob Zimorino and Sproull have all taken their turns as Missoula Downtown Association president. Lugthart counts among her favorite projects the rooftop fund-raiser when the downtown parking garage was new, the Soul of Missoula fund-raiser featuring the Temptations, the pavilion in Caras Park and First Night, the New Year's Eve celebration that brings hundreds of people downtown.
"I always had faith in Missoula's downtown and its ability to revitalize itself," Lugthart said. "You create excitement, and it builds."
Mammyth's food changed with the times, too.
"The truth be known, we did not even have any sugar in the place," Lugthart said. "We used honey and molasses. We were very organic. We ground our own flour. We were one of the first places making organic whole wheat bread.
In the mid-1980s, Mammyth added chocolates and high-end pastries, as well as meat choices on the menu. Another partner, Michelle Neal, joined the business from 1981 to '86. Since then, Lugthart has been on her own. The cafe became a place for community, adding art shows and Mammyth Showcase performance nights with the Missoula Folklore Society. Throughout, her two kids grew up in the business.
Three years ago, Lugthart began catering in earnest, doing business lunches, cocktail parties, buffet dinners and weddings with catering director Reva Clarys. She'll keep on out of the Mammyth kitchen until the building sells.
Lugthart still subscribes to the notion that "Small is beautiful," she said. That's what Mammyth was named for.
"It was a myth that we were mammoth," she said, "and we wanted to stay small."
Many Mammyth customers who move away come back every time they come to town. Lugthart invites them all to come in this month.
"I really am committed to this entire month being a big celebration," she said. "Then it's time to write the next chapter."
Badenoch, who notes a time when downtown Missoula had four drug stores and four places to buy hardware, will be in for lunch himself. Times change, he said.
"I have a meeting there once a week myself," he said. "So it's going to affect me.
"Remember when Queen of Tarts closed? We all thought life as we knew it was coming to an end. In a way, it did. We're going to miss Mammyth the way we miss the Queen of Tarts."
Sunday - 12/6/98